Stocks just made an epic comeback.
Last week, the S&P 500 rallied 5.9% while the tech-heavy Nasdaq climbed 6.5%.
But it wasn't just the indices…
It was a broad-based rally. All 11 sectors closed the week higher, with many important "risk on" industries leading the way.
Some traders worry this rally will run out of steam. But my research indicates this could be the start of something big.
If true, NOW is the perfect time to start positioning ourselves in the very best stocks.
That brings me to the latest Trade of the Week: Synopsys (SNPS).
Synopsys is very similar to Cadence Design Systems (CDNS), which I encouraged readers to buy a month ago. (It specializes in chip design, making it a direct beneficiary of the artificial intelligence movement.)
In fact, SNPS and CDNS are among today's strongest stocks. To understand why, let's pull up a weekly chart of SNPS.
She's a beauty, isn't she?
As you can see, SNPS barely gave back any gains during the recent market pullback. This is clear evidence of relative strength. It tells me institutions stepped in every time the stock dipped. That's what we love to see.
As a result, SNPS is still trading above its rising 10- and 30-week moving averages. And it's still in a strong uptrend: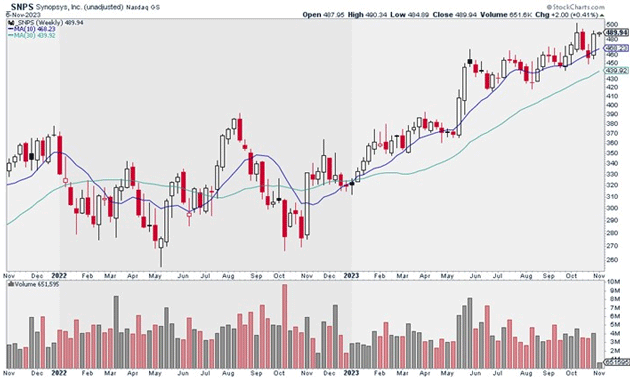 Source: StockCharts
SNPS is also in one of the "best industries" groups. See, semiconductor and software stocks held up extremely well during the recent correction. There's an excellent chance they lead the market higher from here.
The same is true of Synopsys, which is why I suggest buying a starter position in SNPS today. I believe the stock can hit $620 within the next 12–18 months.
Exit your position if SNPS closes below $445. That gives us a risk-reward ratio of 3:1 on this trade.
Action to take: Buy SNPS at current market prices.
Risk management: Exit your position if SNPS closes below $445.
Justin Spittler
Chief Trader, RiskHedge
PS: You're invited to RiskHedge's first-ever private online AI event—the "Trillion-Dollar AI Investment Portfolio."
During the big event, my colleague Stephen McBride will share 5 popular stocks about to be disrupted by AI... 5 AI stocks to buy ASAP... and 1 pre-IPO company to add to your watchlist. Plus, much more.
It's a full AI portfolio you'll receive just for attending, complete with Stephen's full analysis and research.