Pullbacks are a blessing in disguise.
They reveal a ton about market conditions.
They tell us which areas of the market are the strongest… and which to avoid.
They also reveal market leaders.
During corrections, the best stocks show their true colors.
These are the ones that hold well or even rally when most stocks are falling.
I mention this because the market just sold off.
The S&P 500 has fallen 5% from its recent highs, while the Nasdaq 100 dropped nearly 9%. Many individual stocks got hit much harder. Some fell 20% or more.
Now, it's too early to know if the indices have bottomed.
But the best stocks tend to bottom before the major indices give an "all clear" signal.
That brings us to our new Trade of the Week: Old Dominion Freight Line (ODFL).
Old Dominion is a $45 billion trucking company. It's also one of the strongest stocks in the entire market.
As you can see below, ODFL didn't break down during the recent pullback. Instead, it pulled back into its rising 10-week moving average, where buyers stepped in.
Everything about this chart is bullish…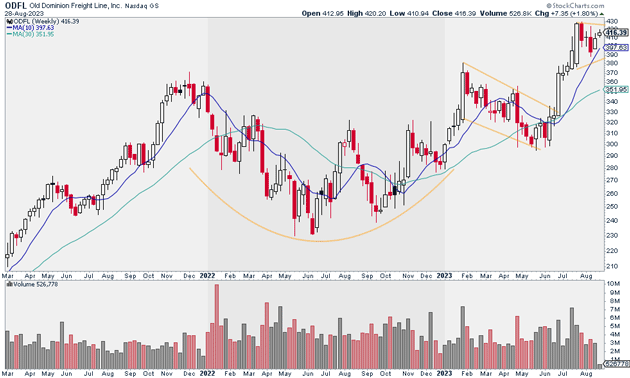 Source: StockCharts
ODFL bottomed last summer, well ahead of the indices. From there, it went on to build out a "cup-and-handle" pattern… one of my favorite setups.
It broke out of this pattern and has since been printing a bull flag.
I expect ODFL to reemerge as a market leader… making right now a great time to get involved.
Buy a starter position in ODFL today. I believe the stock can hit $550 within the next 12 to 18 months.
Exit your position if ODFL closes below $382. That gives us a risk-reward ratio of 3:1 on this trade.
Action to take: Buy ODFL at current market prices.
Risk management: Exit your position if ODFL closes below $382.
Justin Spittler
Chief Trader, RiskHedge