Have you checked your "Zestimate" yet?
Zestimate is internet realtor Zillow (ZG)'s popular home valuation tool.
Its algorithm looks at comparable homes in your area, price trends, and other data to estimate the value of your home.
Just type in your address… click the blue button… and in seconds Zestimate spits out what your home's worth (give or take).
You can check it out here—it's generally accurate within 1–2%.
According to my Zestimate, the value of my South Florida townhome has risen 23% in the past year.
But that's nothing compared to my colleague…
The value of his home in Vermont spiked from $550K to $800K in just the past few months: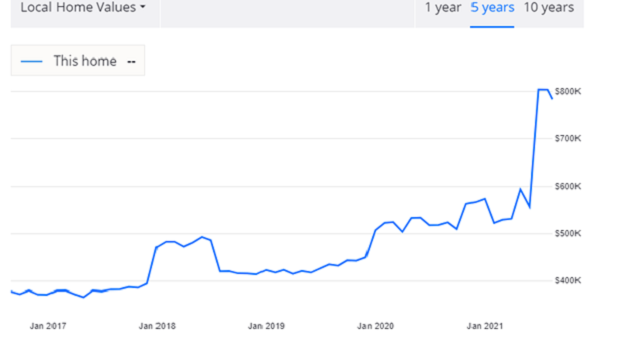 Source: Zillow
American home values are rising fast. In June, US home prices rose at their fastest rate in 34 years, according to S&P Global. The average home for sale was snapped up in just 17 days, a record low.
Of course, this boom won't come as a surprise to longtime RiskHedge readers. We've been urging folks to invest in housing since early 2019.
But how much longer can the boom last?
Today, I'll share four important charts that suggest that housing will keep booming for a lot longer than you might expect. And more important, how to profit from it with one click.
First, the most important chart in housing…
This chart shows the percentage of Americans under 35 that own a house.
Source: US Census Bureau
Home ownership for young adults fell to record lows in the last decade.
Now, that percentage is recovering as a tidal wave of young folks are buying their first homes. According to RiskHedge Chief Analyst Stephen McBride:
Millennials—folks who are in roughly the 25–40 age bracket—now make up the largest share of homebuyers for the first time ever, according to NAR.
Above all else, this is why US housing is smashing every record in the books. Millennials alone could snap up at least 15 million homes in the next decade, according to mortgage specialist First American Financial.
But that's not the only indicator that suggests this boom is still in the early innings.
I called my friend John, a 25-year real estate veteran…
Starting from scratch, John built and sold a successful real estate brokerage. Today, he works for virtual real estate disruptor eXp World Holdings (EXPI).
(The company might be familiar to certain subscribers. Readers of microcap expert Chris Wood's Project 5X advisory cashed out of the stock for a 375% gain last October.)
John agrees with us that there's lots of room for this housing boom to run… and the charts below prove why.
First, John pointed me to a chart of 30-year fixed mortgage rates: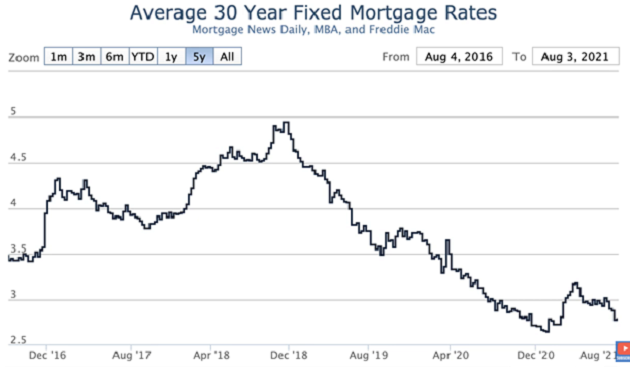 Source: Mortgage News Daily, MBA, Freddie Mac
They've been sliding lower ever since December 2018, and are now under 3%. It's hard to imagine the housing market stalling anytime soon as long as people can borrow money to buy houses at historically low rates.
Second, John pointed out that builders have made surprisingly few new single-family homes in the past decade: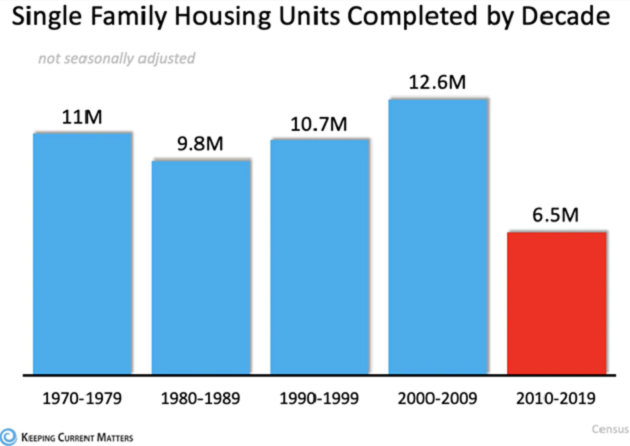 Source: Keeping Current Matters
In the last decade about 6.5 million single-family housing units hit the market.
That may seem like a lot…
But as you can see, it's nothing compared to the 10–12 million units being finished over the four previous decades. It's nowhere near enough to satisfy the flood of Millennial homebuyers.
Finally, John says it's important to look at average credit scores across America.
According to FICO, the average credit score in America is 711—the highest it's been in the last 15 years.
That's important because, leading up to the 2008 housing bust, mortgages were handed out like candy to people with poor credit.
In 2006, people with credit scores under 620 borrowed $376 billion to buy homes.
Today? That number has plunged to $74 billion.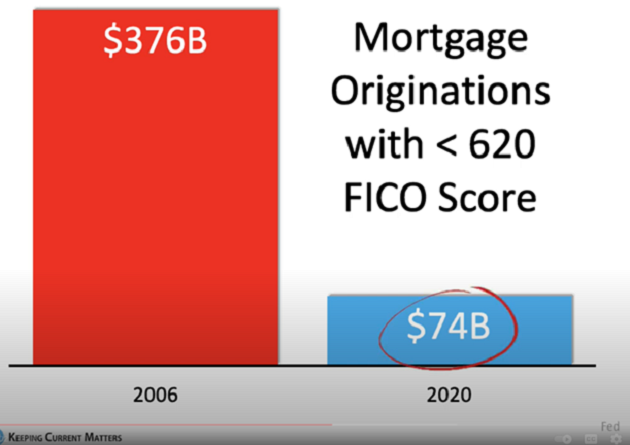 Source: Keeping Current Matters
In short, mortgage lending has gotten tighter and credit scores have improved.
It's the complete opposite of what happened leading up to the 2008 housing market crash.
So, how do you play this housing boom for profits?
Stephen McBride says homebuilder stocks are the #1 way to take advantage of this historic setup:
Builders are in control of the most sought-after good in America today: homes.
This is frustrating buyers, but it's great for homebuilders. A record shortage of homes at a time when millions of first-time buyers are rushing to buy… all but guarantees housing will boom for the next decade.
Homebuilders MUST build more houses—tens of millions more—over the coming decade. They'll be posting profit and revenue growth that are on par with fast-growing tech startups.
The Homebuilders ETF (XHB) has doubled since Stephen first wrote about this opportunity in early 2019. But he says the best is yet to come. Now's a great time to buy XHB if you don't already own it.
Chris Reilly
Executive Editor, RiskHedge
P.S. Millennials aren't just buying homes at a record pace… they're also buying stocks.
According to Stephen, the greatest transfer of wealth in history is now underway: a massive $68 trillion shift that will fuel the next phase of this bull market…
And send a new breed of stocks soaring in the months ahead.
Position yourself now and you could add a decade's worth of gains to your nest egg in the next 12 to 24 months. Stephen lays out all the details for you here.