What stocks are leading the market?
Ask five different traders this question, and you'll get five different answers.
Some might say "big tech" because Microsoft (MSFT) and Google (GOOG) have been on a tear lately.
Others might say "semiconductors." After all, Nvidia (NVDA) has soared 89% this year, making it the best-performing stock in the S&P 500.
Another answer you might get is homebuilders. Not a bad choice. "Homies" have been ripping, despite widespread concerns of a housing market crash.
But in today's Trade of the Week, I'm targeting one group of market leaders being completely overlooked: solar stocks.
Solar stocks are some of the most explosive on the market. The Solar ETF (TAN) rallied nearly 500% between March 2020 and January 2021.
After going parabolic during COVID, solar stocks peaked early—nearly a year before the S&P 500.
They also began their bottoming process long before the broad market did. TAN started to bottom out in February 2022… and has since rallied more than 36% off its lows.
But I think it's about to go much higher…
Take a look at TAN's daily chart below. We can see it closed above its 200-day moving average yesterday. And buying volume has increased over the past few sessions.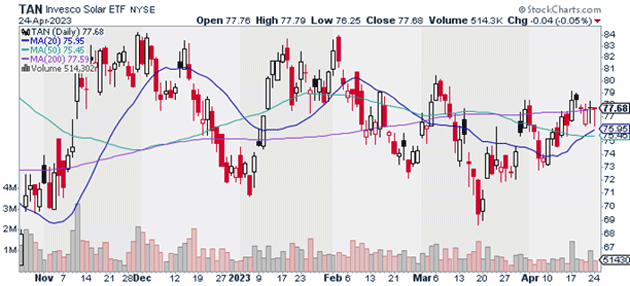 Source: StockCharts
When we turn to the weekly chart, TAN looks even better. It's back above its 30-week moving average (which I use to determine the long-term trend of a stock).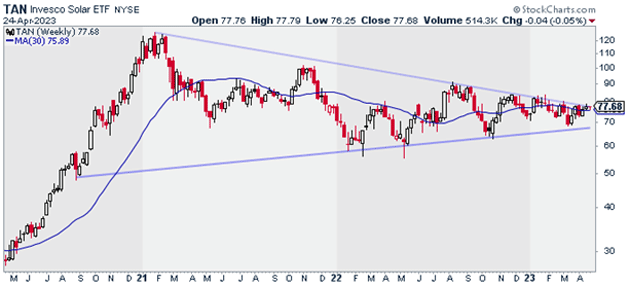 Source: StockCharts
More important, its chart has been getting very tight. This tells me solar stocks are on the verge of a major move. And I think it will be to the upside.
I say this because individual solar stocks are starting to break out of multi-month consolidation patterns.
I suggest buying TAN at current market prices, and I'm targeting $100/share over the next few months. That'd be about a 29% move from today's prices.
Exit your position if TAN closes below $70. That gives us a risk-reward ratio of 3:1 on this trade.
Action to take: Buy TAN at current market prices.
Risk management: Exit your position if TAN closes below $70.
Justin Spittler
Chief Trader, RiskHedge