Where will you be tomorrow at 6 pm?
If you have kids under the age of 15 like I do, there's a good chance you'll be sitting in a movie theater.
Even if you don't have kids, you've likely seen TV commercials for the spectacle that is Avengers Endgame.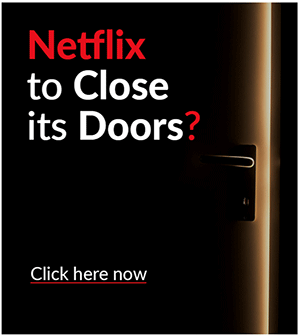 America sure loves its superhero movies. Tomorrow's premiere is set to be the biggest moneymaker yet. Some projections have Avengers Endgame topping $1 billion on opening weekend, which no movie has ever achieved. Overall, it should surpass $2 billion in ticket sales.
A dollar doesn't go as far as it used to, but two billion dollars is still a lot of money. Netflix (NFLX) doesn't collect two billion dollars in a whole month, let alone on a single movie!
So who's milking this cash cow?
In the heist of the decade, Disney (DIS) acquired Marvel Entertainment for $4 billion in 2009.
Since then Marvel superhero movies have collected more than $17 billion.
As profitable as this weekend will be, it's only the second most exciting thing to happen with Disney this month...
Look at this leap Disney's stock took on April 12: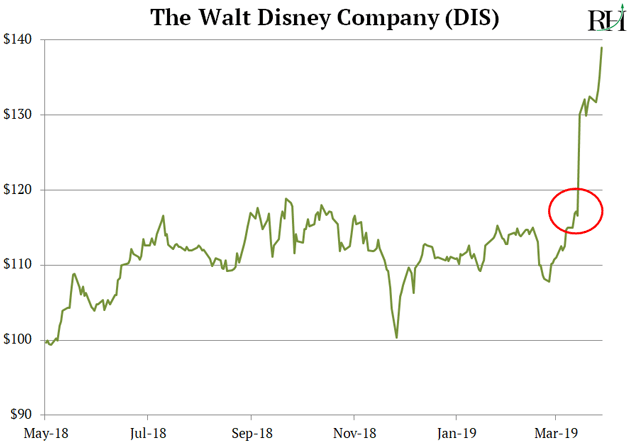 That's a 12% one-day gain.
Big, safe stocks like Disney don't often jump 5% in a day, let alone 12%. Disney isn't a small, medium, or even large company. It is a GIANT company. It's the 18th-biggest publicly traded American company—bigger than Coca Cola, McDonald's, and Wells Fargo.
Disney's leap happened on its "big reveal"...
It announced details of its new streaming service, Disney+, which will compete with Netflix.
If you've been reading the RiskHedge Report, you know this has been a long time coming. I've been pounding the table to buy Disney stock for this very reason since last July.
My thesis was simple. Netflix pioneered "streaming" where you watch shows through the internet rather than on cable TV. For years it was the only streaming game in town. Early investors rode this first-mover advantage to 10,000% gains from 2008 to July of last year.
But nothing lasts forever. Disruptive companies go through cycles. Netflix is now what I call a "disruptor in decline."
You can review my full reasoning here. In short, big media giants like Disney were asleep when Netflix introduced streaming. It took years, but Disney has finally gathered itself and is fighting back.
(But Disney is not Netflix's worst nightmare. There's a little-known company that has Netflix by the throat. Not 1 in 100 investors know about this stock. Click here to learn more.)
Unfortunately for Netflix, it's not a fair fight.
As we've discussed, Disney is far and away the king of producing movies and TV shows people want to watch.
It owns Marvel, which is the most profitable movie franchise in history.
It owns Star Wars, which is the second most profitable movie franchise in history.
It owns Pixar Animation Studios, which continues to pump out moneymaking sequels to hits like Monsters, Inc., The Incredibles, Finding Nemo, and Toy Story.
It owns National Geographic, The Simpsons... not to mention all the traditional characters like Mickey Mouse and Donald Duck.
For Netflix, going up against Disney in a content war is just not a fair fight. It's like a little league team taking on the New York Yankees.
To start, Disney+ will have 7,500 television shows and 500 movies, including practically every film your children and grandchildren will want to watch.
And Disney's entire 2019 film slate will stream only on Disney+. It won't be on Netflix.
So folks who miss Avengers Endgame in theaters will have to subscribe to Disney+ to stream it at home.
The same goes for upcoming Disney hits Toy Story 4 and Frozen 2.
(There's a company that controls a precious resource that is the lifeblood of streaming businesses like Netflix. Without this resource, even Disney is dead in the water. For this reason, this stock is set to DOUBLE every 2 ½ years. Learn more here.)
How much would you pay to make your kids happy?
How about $6.99/month?
That's all Disney+ will cost.
That's less than half the cost of Netflix's most popular plan.
Can you imagine how many parents will sign up?
At seven bucks a month, what family with kids under 12 won't subscribe?
Disney has mastered the art of producing profitable blockbusters...
Since 2012, 11 of the 16 highest-grossing movies in the world have been Disney productions.
Six of these 11 were Marvel movies.
Disney has never lost money on a Marvel movie, or even come close. Every superhero flick it produces is a sure bet to make hundreds of millions at a minimum.
You won't be surprised to learn that six more Marvel movies are in the works.
Back in November I put a $170/share price target on Disney...
We're already halfway there. I see it reaching $170 within 12 months. Within 3–5 years, it could easily double from today's price of $135.
Streaming gives Disney a whole new way to monetize its movies and TV shows. Disney estimates Disney+ will have between 60–90 million paying subscribers by 2024.
That works out to 12 million new subscribers a year for the next five years. That's easily achievable. In fact, I predict Disney will beat it. Netflix has added an average of 20 million subscribers a year since 2014. Disney has far better content and costs half as much.
The case for Disney gets even better when you consider that it owns America's #1 sports network, ESPN. It also owns a controlling stake in the fastest-growing streaming service, Hulu.
My research suggests it can attract another 90 million paying subscribers with these services, too.
Altogether, Disney should be collecting around $16 billion/yr. from streaming by 2024—up from zero today.
Another great thing about streaming is it allows Disney to cut out middlemen and retain more profit. Research from S&P Global Market Intelligence shows Disney collects roughly $7.50/month per ESPN subscriber today. Yet tens of millions of Americans pay cable companies at least fifty bucks to get ESPN in a bundle.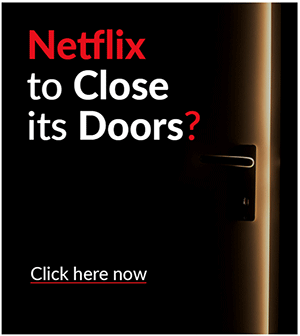 By cutting out the cable company, Disney can keep more money and slash the price of accessing ESPN.
As much as I like Disney, my team and I are studying a different stock that we're calling the "Netflix Killer" around the office. It's smaller and less well-known than Disney, with far more upside. Learn more here.
It's part of a special project we've been working on behind the scenes for months.
Stephen McBride
Chief Analyst, RiskHedge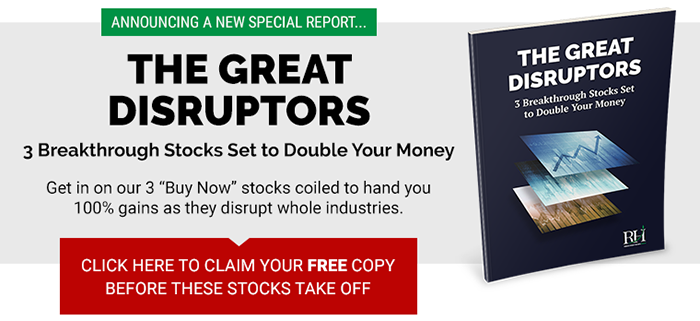 Reader Mailbag
RiskHedge reader Alex has a question about my recommendation of Google's stock.
"First off, your weekly emails are pure gold!
The research is thorough and this piece on Waymo just confirmed how great your emails are.
I have been recommending Google as a stock to buy and hold until you're old enough to give it to your kids or grandkids. That being said, I was wondering if you shouldn't be recommending GOOGL instead of GOOG?
Thanks for everything and have a great weekend!"
Alex, thanks for your question. I'm glad you're enjoying the letter.
There's one difference between Google's Class C shares (GOOG) and its Class A shares (GOOGL). Its Class A shares have voting rights, and its Class C shares do not.
For this reason, GOOGL trades at a slight premium to GOOG. But the two move in tandem. Since April 2014, the correlation between GOOG and GOOGL has been 0.99. 1.0 is a perfect correlation. So for individual investors, there's no real difference between the two classes.