It's one of the world's best-kept investing secrets…
A "hidden tech hub," home to some of today's most exciting, disruptive companies…
I'm not talking about Silicon Valley or anything like that.
This place isn't even in the US…
It's not in China… Japan… or Singapore, either…
It's in the Middle East.
I'm talking about Israel…
…aka "startup nation."
Not many people know this: but Israel is home to more high-tech startups per capita than any other country.
As I'll show you—many of these startups go on to become world-class companies, quietly making everyday investors a fortune in the process
I'll tell you about my #1 way to profit off overlooked Israeli stocks. And don't worry…
You don't need to set up a special account or anything. You can buy these stocks as easily as you would a share of Apple (AAPL) or Microsoft (MSFT).
But let's first start by looking at why you should be paying attention to Israel as an investor.
Israel is a hotbed of innovation…
That probably comes as a huge surprise to most people.
After all, Israel isn't a big country. It's home to just 7 million people.
But it attracts about $2 billion in venture capital (VC) funding. That's more than Germany and France combined.
As I mentioned, Israel is home to more high-tech startups than any other country.
Israel also spends the second most per capita on research and development (R&D). More than 4.1% of its annual economic output goes to R&D. That's more than double what the typical developed nation spends.
You're probably wondering why this is the case. Well, there are many factors. For starters…
Israel is one of the most highly educated countries on the planet.
It's home to the most engineers and scientists per capita.
Israel also has a thriving VC ecosystem. According to Deloitte, Israel far outperforms the rest of the world in terms of VC funding per capita.
Israel's mandatory military service is another important factor.
You see, all Israeli citizens over the age of 18 are required to enlist in the military.
And the military is a breeding ground for disruptive innovation. The internet, GPS, microwave ovens, penicillin, and even super glue were all born out of the military.
It's also no secret the military also teaches self-reliance and problem solving. These skills are invaluable to entrepreneurs.
And some of these Israeli entrepreneurs founded startups that have gone on to become world-class companies. But don't just take my word for it…
Israeli stocks have been quietly making everyday investors fortunes…
Rada Electronic Industries (RADA)—a company that's developed cutting-edge military radar solutions—has skyrocketed more than 1,600% over the past five years.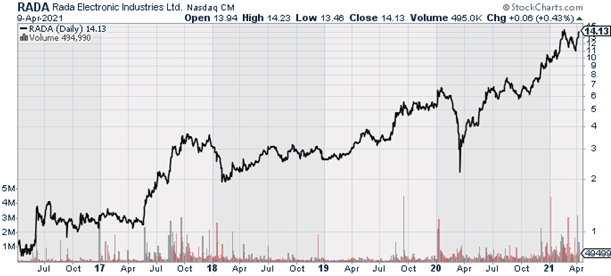 Source: StockCharts
Israeli semiconductor manufacturer Camtek (CAMT) has surged nearly 1,500% since 2016.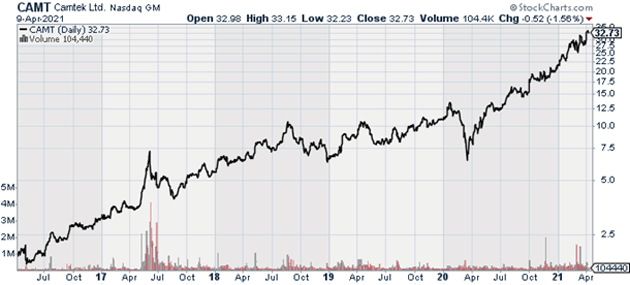 Source: StockCharts
Nova Measuring Instruments (NVMI)—another Israeli semiconductor company—has climbed 832% over the same period. And InMode (INMD)—a company disrupting the $50 billion global plastic surgery market—has surged nearly 500% since its 2019 initial public offering (IPO)!
These are excellent returns. Unfortunately, most folks missed out on these tremendous gains.
Most investors only buy US stocks…
And I get it. There's no shortage of great US stocks to invest in.
But that's no reason to ignore the massive opportunity in Israeli stocks.
You see, every single Israeli stock I just mentioned trades on US stock exchanges.
Still, I understand that most investors have never heard of these companies… let alone "know" them well enough to invest in them.
Fortunately, there's a simple way to cash in on disruptive Israeli companies.
You can buy the ARK Israel Innovative Technology ETF (IZRL).
IZRL is my #1 way to profit off this overlooked opportunity…
As regular readers know, ARK Invest is an investment management firm home to some of the world's greatest stock pickers.
They're led by investor extraordinaire Cathie Wood. And they're known for being early investors in Tesla (TSLA), Square (SQ), Roku (ROKU), and Bitcoin.
Ark Invest has also made it easy for everyday investors to bet on "disruptive innovation."
You don't need to be super wealthy or have special connections.
ARK has funds for autonomous vehicles/robotics, 3D printing, genomics, and space.
And yes, they have an Israeli tech fund that most folks don't know about, IZRL.
This fund is currently invested in more than 40 Israeli stocks, including all of the highfliers I already mentioned.
You can see below that it's delivered big returns since it launched in 2017.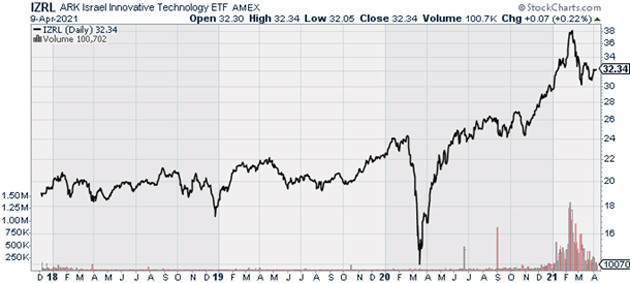 Source: StockCharts
I expect IZRL to continue to perform well in coming years. So, consider picking up some shares if you're looking for a way to bet on Israel's thriving tech hub.
Justin Spittler
Chief Trader, RiskHedge