Imagine you're faced with a choice between two fast-growing stocks...
You can buy stock A—which has declined 50% in the recent "correction" in growth stocks.
Or, you can buy stock B—which has bucked the trend and gained 2% in the last month.
If you had to make a decision based on this single piece of information—which stock would you buy?
In my experience, 4 in 5 investors choose the wrong answer...
We'll come back to this in a second.
And I'll also share one of my favorite growth stocks to consider buying today—one that has shown its "true colors" in the recent correction.
As you probably know, some of last year's highest-flying growth stocks have pulled back hard…
Like Zoom Video (ZM), down 27% over the past month... Peloton (PTON), down 35% since mid-January… and Tesla (TSLA), down 24% in the same time frame.
First, you should know this is fairly normal behavior for growth stocks...
Last year, Zoom Video soared an incredible 700%+ in 11 months. Any stock that rises that fast is also at risk to fall quite fast.
You can think of this like Newton's third law of motion, which says every action has an "equal and opposite reaction."
In my experience, this almost always holds true in stocks. The more furious the rally, the bigger the correction is likely to be on the other side.
After rallying 700%, Zoom Video is now down 44% from its October 2020 highs. It's a nasty correction. But in the context of last year's historic rally, it's normal. And keep in mind, Zoom Video is still up 404% since the beginning of 2020.
As a RiskHedge reader, you know buying growth stocks can be very financially rewarding. And a pullback in growth stocks, like we're experiencing now, is often the perfect opportunity to invest at a great, lower-risk entry point.
In markets, you'll hear this referred to as "buying the dip."
Buying the dip can be very profitable.
But there's a right and wrong way to do it... and I estimate 4 in 5 investors are doing it the wrong way.
Let me show you the right way...
Now, I get it... it's tempting to buy some of last year's high-fliers off the clearance rack today...
I've had rookie-investor friends tell me they're "loading up on all these great bargains!"
But I'll never buy a stock just because it's sold off hard... and you shouldn't either.
There's a much safer way to cash in on the recent volatility in growth stocks.
You see, the best stocks show their true colors during or shortly after pullbacks.
I call these "market leaders."
These stocks lead the market higher during rallies.
But just as important, they recover the strongest and fastest following market pullbacks like we just had.
And they tend to fall less than most stocks during a pullback. Sometimes, they even buck the trend entirely.
That's right. The very best stocks hold steady or rise when most stocks are plunging.
This is the complete opposite of how most folks think about pullbacks...
Our brains are trained to seek "fire sale" deals.
Most investors think that if a stock down 25% from its recent highs is good... a stock down 50% is even better.
This is incorrect. This mindset leads to buying the weakest stocks.
Instead, you want to buy the strongest stocks. You want to identify and buy the leaders of tomorrow.
So… how can you spot market leaders?
There are 2 easy ways I do this in my own trading…
One, look for stocks showing "relative strength"…
In short, it pays to own stocks that maintained their bullish structures during periods of heightened volatility.
These stocks are easy to identify. Simply look for stocks that put in "higher lows" during the recent pullback rather than "lower lows." Or, even better, look for growth stocks that are flirting with or setting new highs.
There aren't many, but they are out there...
You also want to identify stocks that are climbing out of a "base."
A stock forms a base when it trades within a narrow price range for a period of time. After the recent selloff, many growth stocks have been trading "sideways."
As I've shown in the past, it's an extremely bullish indicator when a stock breaks out of a base. Once a stock clears its recent high, it's often off to the races.
Today, Digital Turbine (APPS) passes these two tests with flying colors…
Digital Turbine helps companies sell digital apps to consumers. Specifically, it helps developers feature certain apps when a device is being set up for the first time.
In short, its opportunity is massive. In 2020, the global app ad spend hit $76 billion. By 2022, it's forecasted to top $118 billion.
And Digital Turbine is quietly conquering this market. Its sales have grown 38% per year since 2015. Last quarter, revenue surged 116%, while its earnings per share (EPS) jumped 124%.
APPS doesn't just have exceptional fundamentals. It was one of last year's top-performing stocks… soaring over 800%.
As you can see below, the stock is still riding a beautiful uptrend… despite the recent market turmoil.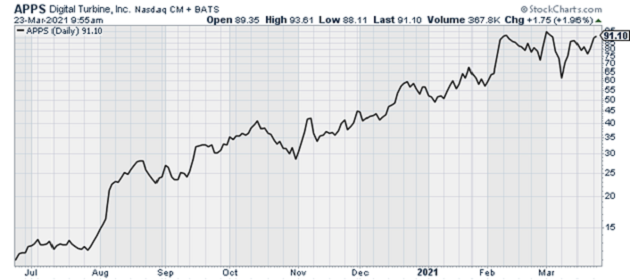 Source: StockCharts
It's up 44% over the past 2 weeks while the S&P 500 has only risen 4%.
Yesterday, it exploded out of its base and rallied another 10% on a day where many growth stocks finished the day in the red.
I originally recommended Digital Turbine in December with my colleague Stephen McBride in our Disruption Trader advisory. It's up 87% since then, but I believe its run is just getting started.
It's a leader in every sense of the word.
And the perfect kind of stock to buy during a pullback.
Justin Spittler
Chief Trader, RiskHedge
PS: Have you signed up yet for next week's important broadcast—America's Final Tech Panic?
In short: Many investors (hopefully you're not one of them) are making a huge mistake with their money right now. Something much, much costlier than buying the dip the wrong way, as my colleague Stephen McBride will show you.
During the broadcast, Stephen will show you exactly where to park your money today to come out on top of the wildest stock market we've seen in 11 years.
Already more than 7,000 investors have signed up. I'll be tuning in as well, and you can join me by locking in your spot here.