Today, I want to let you in on a little secret…
One that can make you a fortune… and put you light-years ahead of other investors.
Look for what I call "invisible stocks."
These companies are critical to our world and everyday lives. Yet, they're completely out of sight for 99% of investors!
These companies don't advertise on television…
You almost never see their logos…
And they don't have stores you can walk into…
Because of this, they're easy to miss.
But if you can spot them, before they're all over the mainstream media, you'll set yourself up for massive profits.
In a minute, I'll share one of my top "invisible stocks" with you. But let's first look at why it pays to invest in these companies.
SkyWorks Solutions (SWKS) is one invisible stock that delivered life-changing returns…
SkyWorks is a semiconductor company. It makes the chips that go into Apple (AAPL) iPhones, iPads, and laptops.
In other words, over 100 million Americans buy SkyWorks products without even realizing it! Investors who took the time to get to know SkyWorks have made a fortune. SkyWorks has soared over 2,100% since March 2009.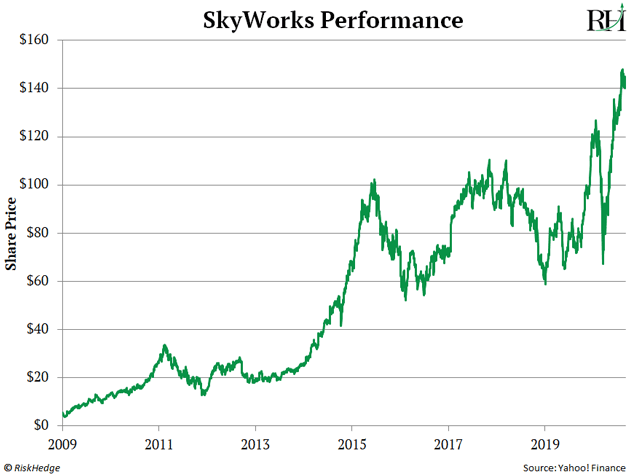 Nvidia (NVDA) is another invisible company that made its early investors rich.
Nvidia is one of the world's top semiconductor companies. You know how today's video games look incredibly realistic? Nvidia's cutting-edge graphics chips are the main reason why.
Most investors probably still couldn't pick out Nvidia's logo. Yet it's been one of the hottest stocks of this century.
Nvidia has soared 146,000% since 2000. That's enough to turn every $10,000 into nearly $1.5 million.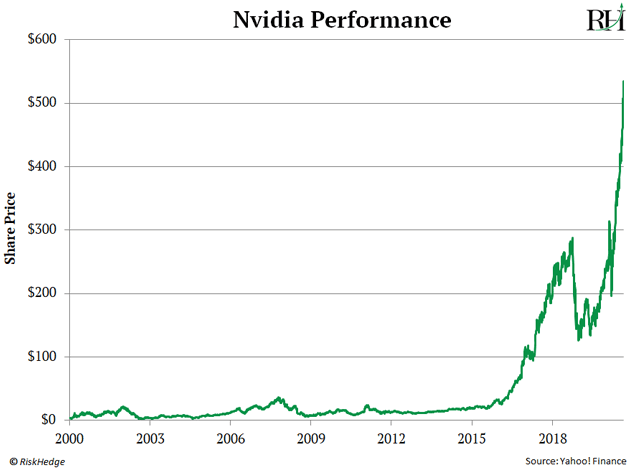 Advanced Micro Devices (AMD) is another invisible stock that's made a fortune for its investors. Like Nvidia, AMD makes cutting-edge semiconductors. In fact, it manufactures special graphics chips for the Xbox One and the PlayStation 4.
Yet, until AMD stock went on a run for the ages, most folks had never heard of it. AMD has soared 50x since 2016. It was also the #1 S&P 500 stock in 2018 and 2019!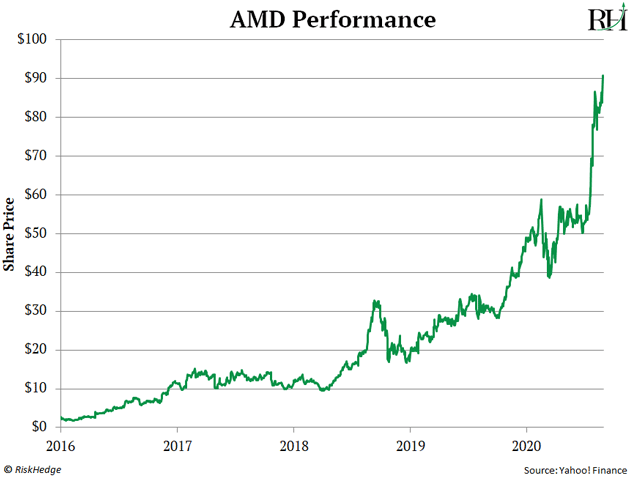 The trick is to identify invisible stocks early… before they go ballistic and become well known in the investing community.
Take Fastly (FSLY), for example...
Fastly is a rare "hypergrowth" stock that's quietly changing the world. It's a pioneer in the brand new "edge computing" industry. In short, its technology allows the world's most important companies to seamlessly serve their customers.
Amazon (AMZN), Microsoft (MSFT), Shopify (SHOP), Pinterest (PINS), Slack Technologies (WORK), and Spotify (SPOT) all run on its network.
Fastly is the definition of an invisible company. When I recommended it in my IPO Insider advisory in April, no one was talking about it. But it's since become the talk of the investing world.
Fastly has soared 299% since my premium readers bought in. At one point, it was the top-performing tech stock of 2020… even ahead of high-flying Zoom Video (ZM).
Cloudflare (NET) is another invisible company that my readers got into early. Like Fastly, Cloudflare is far from a household name. Which is a shame... because about 10% of the world's internet traffic runs on Cloudflare's network! It's indispensable to the modern world.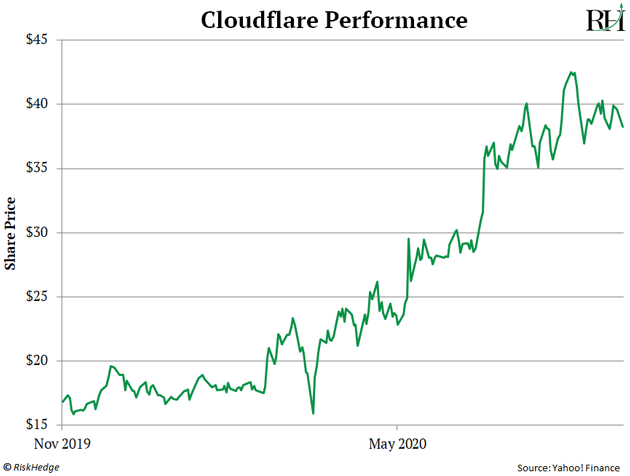 Again, the trick is to identify invisible stocks BEFORE the mainstream media spotlights them. When a stock goes on a run like Cloudflare did, analysts on CNBC start telling their millions of viewers to buy it. From there, it's off to the races.
If you're positioned in the stock ahead of time, you're in for a fun and profitable ride. That's why I'm sharing one of my favorite invisible stocks that's just now emerging from the shadows...
I'm talking about Elastic (ESTC)…
Elastic is a search company like Google (GOOG). But you wouldn't use it to find a restaurant or look up the name of the fourth president of the United States.
Instead, it specializes in what's known as "enterprise search." It helps companies sift through huge piles of data. It also helps them analyze and visualize data.
Nearly 6,000 companies trust Elastic for this vital task. Its customers include Microsoft, Netflix (NFLX), Twitter (TWTR), Walmart (WMT), Walgreens (WBA), and many more.
Elastic also powers about 90% of all search bars on the internet! It even performs jobs that most people consider a search…
When you hail an Uber on your phone, Elastic matches you with nearby drivers.
When you shop for groceries on Instacart, Elastic helps you find what you're looking for, and even makes recommendations.
When you swipe through Tinder (the world's most popular dating app), Elastic matches you with potential dates based on your location, gender, and age.
In short, Elastic is the unsung hero behind some of today's most popular apps…
You probably use Elastic every day without realizing it. Its business is as invisible as it gets.
In fact, it's probably the most important tech company that most people haven't heard of.
Its share price fell 62% from July 2019 to this March.
Many investors threw in the towel on Elastic, because they doubted it would ever be profitable. Some thought it would get eaten alive by Amazon or another tech giant.
But Elastic has silenced the doubters. Its sales have grown 50% and 44% in the past two quarters.
Elastic has surged 21% since June. It's now up 46% since I recommended it in IPO Insider last November. Over that stretch, it's outperformed the S&P 500 nearly 4 to 1.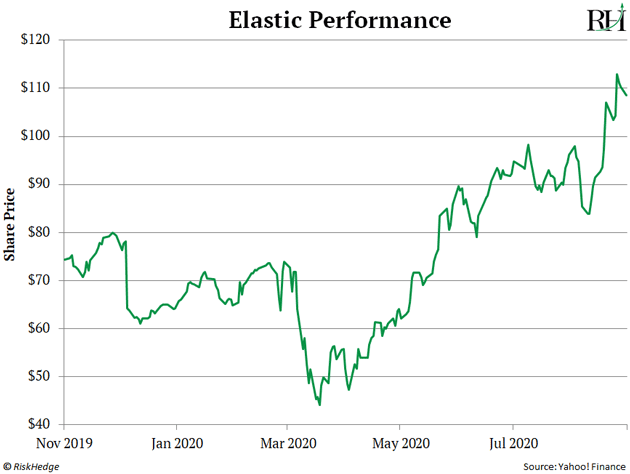 As impressive as that run is, I see Elastic headed much higher. In fact, I think it's a $200 stock within the next two years.
So, consider investing in this invisible stock if you haven't yet.
Justin Spittler
Chief Trader, RiskHedge
P.S. I just recommended another invisible stock in my premium IPO Insider advisory.
Like SkyWorks, it's a key supplier to Apple and many of the world's tech giants. And because it's just one-eighth the size of Elastic, this stock is bursting with upside.
It's also my top way to cash in on the internet of things (IoT) megatrend. And yet, no one is talking about this stock. I wouldn't be surprised if it triples over the next two years.
You can access its name—and see exactly how my hated stocks system works—by going here.