It might just be the best opportunity ever for this investment…
But I know most folks won't seize the moment.
You might even click off this letter when you see what it is.
Still, I'll try to convince you to place at least a little money in this opportunity before it's too late.
Because the last time we saw this setup, investors made 16X their money.
The time before that, folks "only" banked 1,200% profits.
And right now, this investment is in the early stages of its third big boom.
It's jumped 132% since March, and we're only getting warmed up.
Before I tell you what it is, a warning...
This big profit opportunity is outside of our typical wheelhouse. It's not a new, disruptive technology. In fact, it's one of the oldest investments on earth.
But don't let that stop you from taking it seriously. I've invested my own money in it.
In short, it's a way to profit off one of the hottest sectors on the planet right now.
Have you seen the gold price lately? It's ripped higher since March… and is now above $2,000 per ounce for the first time ever!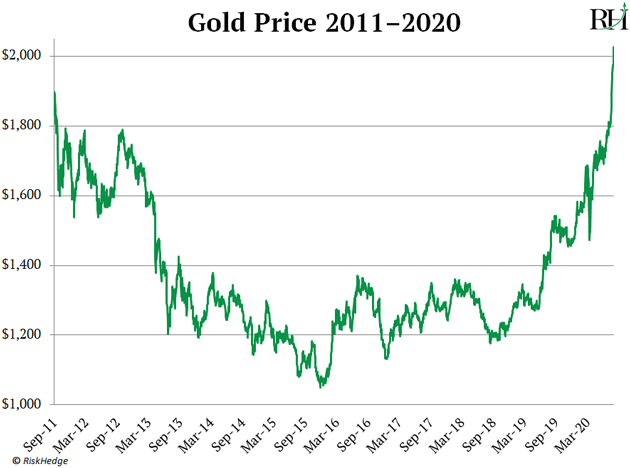 But here's the thing…
Buying gold ISN'T today's biggest opportunity.
You see, when folks pile into gold like they are right now… you can make an absolute killing buying gold stocks.
These companies make money finding gold and pulling it out of the ground. That's important because it gives them "leverage" to the price of gold. Meaning when gold moves an inch, gold stocks can move a mile.
For example, when gold spiked 600% between 2000 and 2010, the average miner surged over 1,600%!
Many individual gold stocks soared much higher. Agnico Eagle Mines (AEM) surged 2,850%... Kinross Gold (KGC) shot up 1,940%. And Newcrest Mining (NCM.AX) jumped 2,640%.
Gold stocks are like gold on steroids.
And there's one key rule you must follow when buying these stocks…
Gold miners live in a tiny corner of the market that most investors ignore.
For example, JPMorgan (JPM) is worth roughly 3X more than every gold stock in North America combined!
But every couple of years, this unloved group of stocks hands out huge gains to decisive investors.
In fact, gold stocks have exploded 100% or more eight times since 1982.
Gold moves in big, multi-year patterns. This extreme "cyclicality" trips most folks up. Gold had been more or less declining since it peaked around $1,900 in 2011. In other words, gold was dead money for almost nine years!
If you get involved in gold stocks when gold is stuck in a downtrend, you're overwhelmingly likely to lose money.
On the other hand, if you buy gold stocks when gold is in an uptrend, you're overwhelmingly likely to make money.
You only want to buy gold stocks when gold is in a clear uptrend.
For example, gold hit rock bottom in early 1970. Investors who got into gold stocks when the trend turned banked 1,200% gains.
Gold miners went on another monster run between 2000 and 2011, handing investors 16X their money.
Gold stocks have launched into a "confirmed" new uptrend… and it could be the most lucrative yet.
Regular RiskHedge readers will remember I first alerted you to this opportunity back on April 23.
Gold stocks have jumped 35% since then. In fact, they are among the best-performing stocks on earth. The average miner has shot up 132% since March.
It's obvious gold has entered a new upcycle when you look at the chart: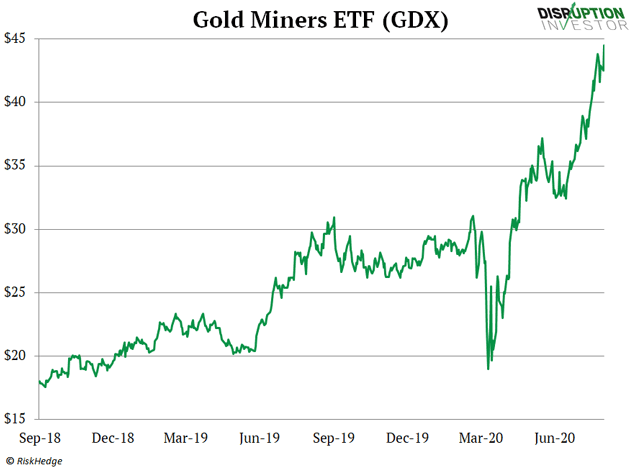 With gold breaking out to all-time highs, miners are headed much higher.
As I explained a few months back, out-of-control government spending ignited this uptrend in gold.
In short, when folks see governments throwing trillions of dollars around, it triggers a thought.
Smart investors begin to question the wisdom of keeping their savings in a paper currency that the government can create at will. And they're drawn to "real" assets the government can't create out of thin air.
Having served as "hard money" for thousands of years, gold is the ultimate real asset.
Following the 2008 meltdown, the US government launched a $1 trillion+ stimulus package. Gold investors doubled their money in two years.
Gold miners surged 319%.
In the past few months, world governments have borrowed and spent over $8 trillion!
Wall Street usually hates gold…
Most bank analysts think investing in shiny rocks is "dumb."
When I wrote about this opportunity in April, Wall Street was oblivious.. But with gold ripping to all-time highs, several big names have jumped on the bandwagon.
Bank of America forecasts the gold price could hit $3,000 in the next 18 months…
Goldman Sachs is betting the metal will soon surge above $2,300/ounce.
Wall Street is waking up to this opportunity, and it's only adding fuel to the fire. According to the World Gold Council, investors poured a record $24 billion into gold stocks over the past few months.
Remember, buying gold stocks near the start of an upcycle—NOW—is one of the few legitimate ways to make big returns quickly in the stock market.
If you're interested in profiting from gold, here are your choices:
You can buy physical gold. Or, you can buy GLD on the stock market, which tracks the price of gold.
You'll likely do well with either of these options. If gold moves to $3,000/oz in the next couple of years, you'll make 50%.
Or… if you're shooting for much bigger returns in a shorter period of time, you can buy gold stocks. As I've shown you, a 50% rise in the price of gold can cause gold stocks to jump 500% or more.
And as history shows, the best gold stocks will return 1,000%, 2,000%, 3,000%, or much more as gold really gets going.
If you choose to profit in gold stocks, here's my #1 piece of guidance:
Don't go it alone. Follow the picks of a proven expert.
When I want an insider's take on gold, I call up the best gold stock picker in the industry: hedge-fund manager Marin Katusa.
Marin is our go-to guy in the resource space.
Not only is he one of the most trusted and well-connected dealmakers in the industry. He has personally financed some of the most successful mining businesses. And his track record in the mining space is unmatched, with wins as high as 2,400%... and even 4,160%.
I'm in total agreement with Marin's call that "2020 could be the start of the greatest gold bull market of all time."
So we've called in a favor for you.
Because the opportunity to make 1,000% or more in gold stocks only comes around once every eight years or so, we've asked Marin to do something special for RiskHedge readers.
And I'm happy to report he came through. Marin put up this private page where RiskHedge readers can join his premium service at 40% less than what other folks are paying.
Marin's research is a must-read for all of us in the RiskHedge offices.
And following Marin's gold stock picks is hands down the #1 way to profit on the gold stock boom that's just getting started.
Go here to review this offer (limited time only) and gain access to Marin's top gold stocks today.
Stephen McBride
Editor — Disruption Investor
PS: Will you buy gold or gold stocks in 2020? Let me know why or why not at Stephen@Riskhedge.com.