615% gains the last time this was triggered… "This is incredibly bullish"… "Someone big" is loading up… I'm no gold bug, but… In the mailbag: Was your college degree worth the money?
Gold is closing in on its all-time highs.
On Monday, gold broke above $2,000 per ounce—the highest it's been in over a year: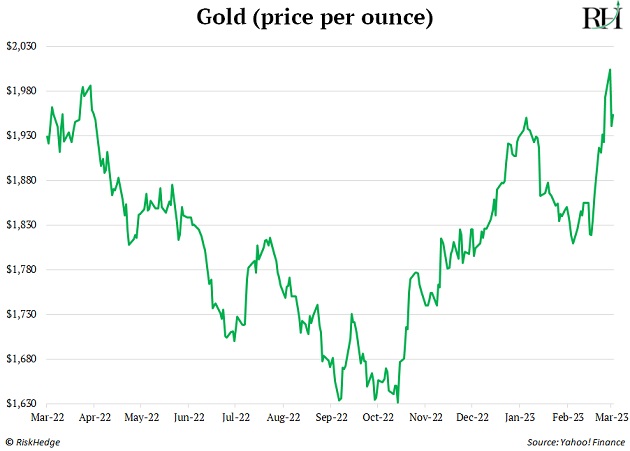 Its all-time high of $2,074 is now within reach.
And if history repeats, gold could soar 600% from here.
Here's what I mean…
The gold price has been stuck in neutral for the last 12 years.
In 2011, gold traded at $1,920 per ounce.
Today, it's at $1,951.
In other words, gold's risen just 2% in 12 years.
We can blame that mostly on the strength of the US dollar.
Since May 2011, the dollar index has gained 40%. At its peak it was up 58%.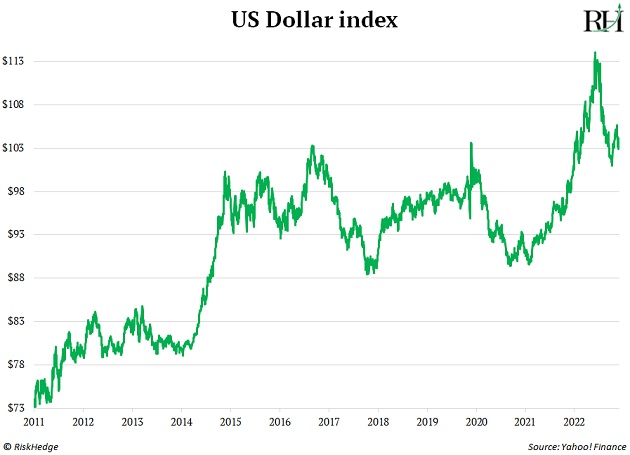 That's only the second time in the last 30 years the dollar gained 50% or more. The other was from 1995 to 2001. And it killed the gold market. Gold lost 30% of its value from January 1995 to January 2001.
However, once the dollar peaked, gold skyrocketed. It soared 615% over the next 10 years.
We're on the cusp of another such opportunity…
As I showed you, gold's on a tear.
Co-founder of RiskHedge: "This is the surest, easiest-to-follow, and quickest-to-get-started way to beat the market with your core portfolio I've found. And it works particularly well in highly uncertain markets like we're seeing today."
Click to discover more about the strategy and how this little-known way of investing produced 302% returns in the worst markets of our lifetimes.
(Monthly subscriptions available.)
It bottomed in October and is up 20% since.
Guess what else happened in October?
The dollar peaked. Just like it did in 2001 when it sparked the last gold bull market: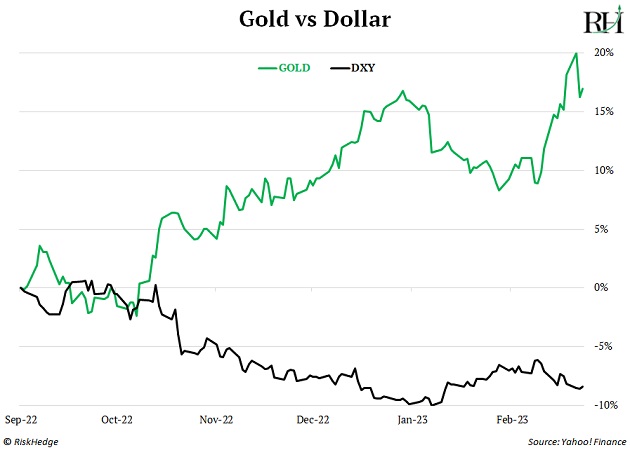 This is incredibly bullish for gold.
And it's not the only signal screaming "buy gold"…
"The longer the base, the higher the space."
This is a popular saying amongst traders.
Generally, the longer an asset consolidates (trades sideways), the bigger gains it will produce when it finally breaks out.
Gold's been consolidating since 2011…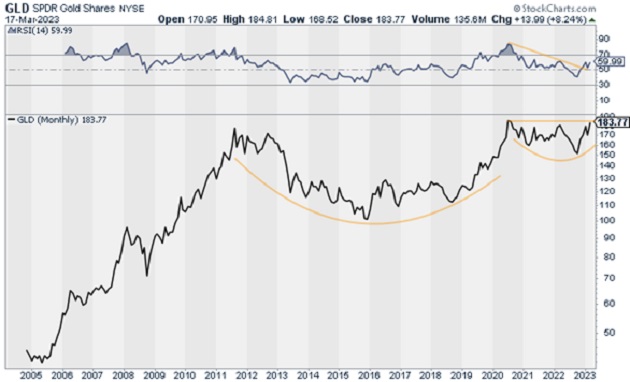 Source: StockCharts
What you see is a massive "cup-and-handle" pattern.
It's probably the single most bullish pattern there is. When the price breaks above the "handle," the pattern is complete, and the uptrend continues.
For now, gold remains in the handle portion of the pattern. But it looks on the cusp of breaking out.
If it does, it would signal a new gold bull market has begun.
Recent price action tells me this breakout could be just days or weeks away…
SPDR Gold Trust (GLD) is an ETF that tracks the price of gold.
On Friday, it broke above last month's highs. And it did so on heavy volume…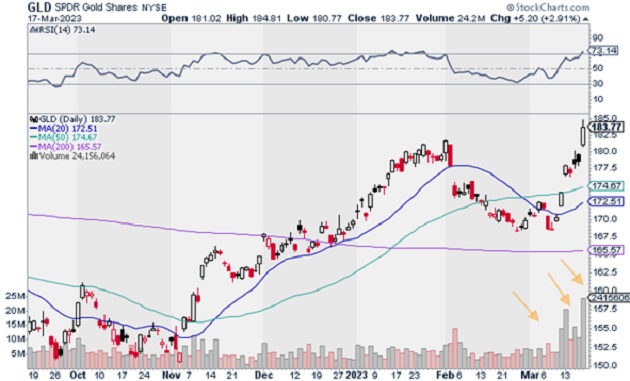 Source: StockCharts
The bars on the bottom represent volume. Notice how they surged in recent days? It tells me "someone big" is loading up on gold. By that, I mean hedge funds, institutional investors, or other big-money players who often control billions of dollars.
That means this rally likely has legs... and the gold price could be just days or weeks away from breaking to new all-time highs.
The leveraged way to profit off rising gold prices is to buy gold stocks.
These companies make money finding gold and pulling it out of the ground. That's important because it gives them "leverage" to the price of gold. When gold moves an inch, gold stocks can move a mile.
Again, gold spiked 615% between 2001 and 2011. But the average gold stock soared much higher.
For example, Agnico Eagle Mines (AEM) surged 1,593%... Kinross Gold (KGC) shot up 1,992%... and Newcrest Mining (NCM.AX) jumped 1,478%.
Gold stocks are like gold on steroids. Keep in mind, they're extremely volatile in both directions. Realize you're making a risky bet when you buy a gold stock.
That said, gold stocks look great…
Osisko Gold Royalties (OR) broke to new 52-week highs on Monday. The stock is up 60% in the last six months. And as you can see, the breakout happened on massive volume: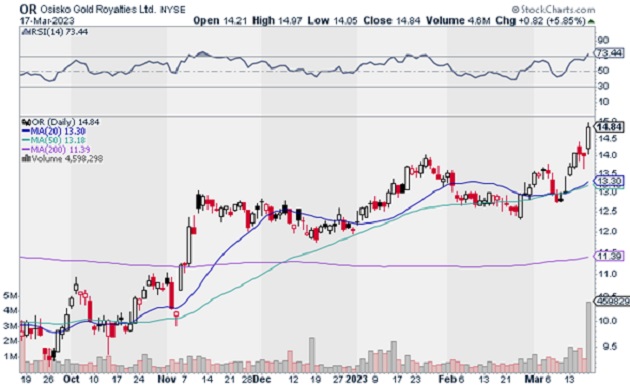 Source: StockCharts
Alamos Gold (AGI) is another surging gold miner.
It's up 80% in the last six months—on huge volume as well…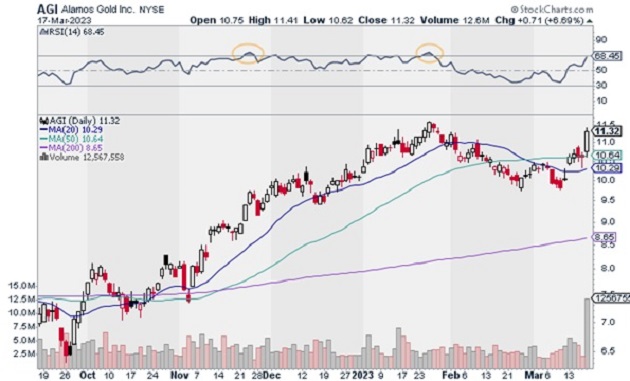 Source: StockCharts
Same story with Caledonia Mining Corporation (CMCL).
The stock doubled in the last six months. And the volume is spiking.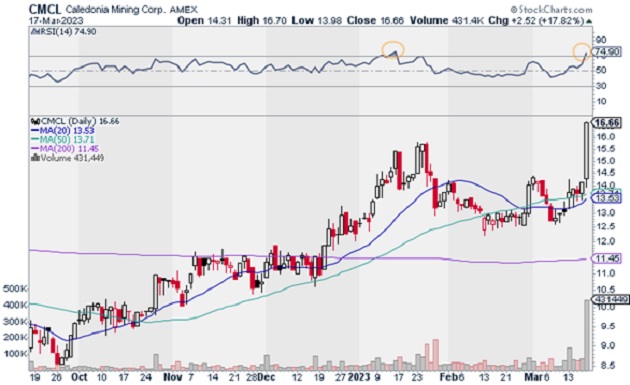 Source: StockCharts
But the safest way to profit—and protect your savings—is to own physical gold.
I think everyone should own at least a little physical gold, just in case.
Gold is the ultimate money. For thousands of years, it's stood strong and protected folks' savings as fiat currencies have come and gone.
I'm no gold bug. But, like it or not, the value of the US dollar depends on our politicians acting prudently.
Owning gold is a hedge against them printing infinite amounts of dollars to bail out banks, fund green energy, or participate in whatever the next big "cause" is.
If you agree, you'll appreciate the special deal our friends at Hard Assets Alliance arranged for RiskHedge readers.
They've made buying gold extremely simple… whether you're a beginner or someone who's been buying gold for years.
With Hard Assets Alliance, you can buy, sell, and store fully insured, physical gold right from your computer.
Hard Assets Alliance's network of wholesale dealers ensures you always get the best possible price.
As a RiskHedge reader, you can secure a full year of free gold storage when you open an account today.
Justin Spittler
Chief Trader, RiskHedge
In the mailbag…
Readers flooded our mailbag after Monday's RiskHedge Report: "Will ChatGPT kill college?" Chief Analyst Stephen McBride explained how AI is set to disrupt college forever.
We asked: Was your college degree worth the money? Here are some of the responses:
You are so, so correct. I have biochemistry degrees from Rice University and Johns Hopkins University. Two tier-1, prestige schools. I'm a healthcare professional, retired, and looking back over 50 years, the time, effort, and cost were simply not worth the payout. We need to revamp college education with this incredible technology for the betterment of our youth. —Garth
Another wrote:
Thanks for the piece on ChatGPT-4. I haven't used it, but already agree that a large chunk of US colleges will be gone in the next decade. I went to school in the late '80s, so the cost was much more manageable. I also feel the school did a good job of allowing for and promoting critical thinking. This doesn't happen anymore.
The contacts and network of friends have also been deeply impactful throughout my life. As my grandfather always said: "It's not just what you learn, but who you meet." —Bill
Here's John's take:
I went to the University of Virginia, and it was worth several times what it cost me. Perhaps my experience was somewhat like Harvard or Yale, as UVA is one of the top public schools, and most of my friends were off-the-charts smart.
My lifelong, high-level friend connections are the most valuable aspect. I also feel I got four years of "life training" running, leading, and participating in a huge variety of organizations.
You are right that many liberal arts schools will shutter. No doubt. But the college experience, while admittedly still "elitist," is very helpful to many. Not if too much debt is taken. Not if one does not apply one's self. But to many. —John
And lastly:
I have a bachelor's degree in biomedical engineering, a master's in electrical engineering (specializing in robotics), and a doctorate in electrical engineering (specializing in signal and image processing).
When I was a biomed student, my "easy" classes were in pre-med. Was all this education worth the money? Absolutely… at the time. Now, however, I believe most of these classes could be taught by AI. Though some of my professors had unique perspectives that would be difficult to simulate at this time: Can AI teach on-the-job experiences?
I can certainly see the advantage of AI-taught classes. What's more difficult to predict is how the lack of human interaction will affect [peoples'] ability to function in the real world. My guess is we're going to find out. —Jeff