How many "free rides" did you enjoy this year?
If you're a subscriber to Stephen McBride's Disruption Investor advisory, you had a chance to take one just last week on PayPal (PYPL).
The "money disruptor" has more than doubled since Stephen added it to his portfolio last year… and recently surged to an all-time high.
Now, if you're just joining us… you may be wondering: What the heck is a free ride?
As you'll see in today's essay, it's the only way to bank large profits…
Eliminate all risk…
And preserve your upside…
All in one move.
We're not aware of any other research shop that uses free rides as frequently as we do.
Which is a shame, because…
Taking "free rides" is one of the best ways to achieve sustained success in the markets.
I'll show you how to use free rides in a second.
But I must warn you. While a free ride is a simple transaction… it's not always easy to pull the trigger.
It takes a certain mindset: one that will sometimes force you to go against conventional wisdom.
Let me show you what I mean…
Say you put $1,000 into a promising stock.
Within a few months, it shoots up 100%... and your initial investment is now worth $2,000.
What do you do?
Maybe you're currently facing a tough decision like this, with markets rallying.
Most people see only 3 options at this point.
Do nothing… and hope the stock keeps rallying…
Double down and buy more shares…
Sell all your shares and collect your $1,000 profit.
In other words… they think it comes down to being super aggressive… or super conservative.
You don't need to "pick a side"…
A free ride lets you stay in the trade for more potential upside WITHOUT the risk of losing so much as a penny on your initial investment. It's like playing with "house money."
In short, all you have to do is sell enough of a winning trade to recoup your original stake… and let the rest "ride for free"…
Let's go back to Stephen's PayPal example. Say you bought $2,000 worth of PayPal (roughly 18 shares) at Stephen's entry price of $110. The stock currently trades at around $222/share.
That means your initial investment would be worth a smidge over $4,000. To take a free ride, you should sell $2,000 worth of PayPal (roughly 9 shares) today.
This is the only thing our analysts never disagree on…
Stephen McBride, Chris Wood, and Justin Spittler are all in 100% total agreement that taking free rides is one of the least known but most powerful tactics in investing.
In fact... they've got a friendly competition going for who can deliver their readers the most "free rides."
Justin currently has the crown for 2020, recommending the most free rides of any RiskHedge editor with 3 total.
Although Stephen and Chris may have something to say about that. They each have 2 themselves, and are sitting on a handful of big winners. Plus, as they reminded me: The year's not technically over…
Justin's IPO Insider subscribers have had 3 different opportunities to take free rides this year with VectoIQ Acquisition Corp. (VTIQ)… Jumia Technologies (JMIA)… and DocuSign (DOCU).
DocuSign was almost a picture-perfect trade.
Justin recommended taking a free ride on September 2—which turned out to be the exact day the stock put in an all-time high.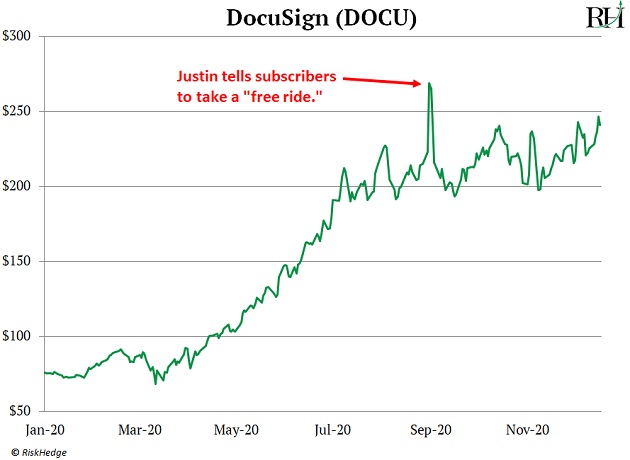 Had he not recommended the free ride, his subscribers would've enjoyed a solid 145% gain when they closed out the trade a few weeks later. With the free ride, they banked a 167% realized gain.
Again... the trade became risk-free the moment the free ride was taken.
Now, free rides don't always work out so perfectly.
In fact, you could argue that taking a free ride is sometimes the wrong move...
Take eXp World Holdings (EXPI), one of Chris's big winners this year…
The virtual real estate disruptor has been one of this year's top-performing stocks.
Chris originally pinpointed it in 2019... and closed it this year for a 375% profit for his Project 5X subscribers.
Now here's the thing…
Chris took a free ride on EXPI in August. As you can see, the stock continued to rip higher. And it's now up 653% for the year.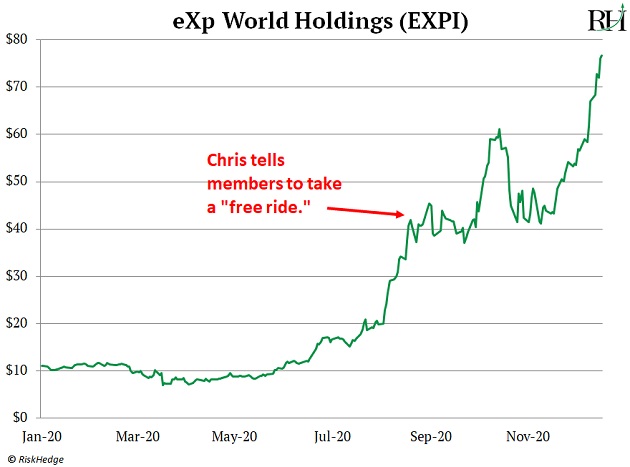 In other words... you would've made even more money in this situation without taking the free ride.
Sometimes, our readers get mad at us for taking free rides…
And I get where they're coming from.
As I mentioned earlier, it can be a tough ask.
It's fun to own a stock that rockets 100%+. It can be hard to trim a position that's been good to you.
And sometimes, you will forego bigger gains when you take a free ride.
But above all else, smart investing is about keeping your capital safe.
Taking a free ride locks in a 100% guarantee that your trade will be a winner.
Here's the most important thing: Our subscribers slept well at night this year knowing whatever happened, they had locked in a substantial profit every time they took a free ride.
And that Chris's, Justin's, and Stephen's trades could never go against them.
You can't beat that.
As we close out 2020 and look forward to 2021, the markets are red-hot.
Perhaps you're sitting on a few big winners right now.
Will you take your initial investment out and let the rest ride risk-free?
Or will you roll the dice?
You'll never go wrong with option #1.
Before I sign off, I want to wish you Happy Holidays. We look forward to a great year… and as always, we thank you for being part of our team.
Chris Reilly
Executive Editor, RiskHedge