When you think electric cars… what's the first thing that comes to mind?
Let me guess…
Tesla (TSLA)?
The company and its eccentric CEO Elon Musk are in the news practically every day.
And Tesla's stock is one of the most watched, talked-about stocks on earth.
In 2020, TSLA jumped 743%… making it the top-performing stock in the S&P 500.
There's good reason investors love Tesla. It's the poster child for one of today's most lucrative and surefire trends: the transition to electric vehicles.
According to research firm Canalyst, there were roughly 3 million electric vehicles (EVs) sold globally last year—a 39% jump from the year before.
And you can expect that number to climb much higher in the coming years.
Canalyst forecasts 30 million EVs will be sold in 2028—a 10X increase from today!
And Swiss investment bank UBS expects 4 out of every 10 new cars will be electric by 2030.
Just as internal combustion engine cars made early Ford and GM shareholders rich, the transition to electric cars will do the same for a new class of EV stocks.
But we don't recommend buying Tesla here, as you'll see…
Instead, we recommend you follow Chief Analyst Stephen McBride's guidance.
His Disruption Investor readers are already profiting off what he calls:
"The safest and most surefire way to profit off the EV revolution."
According to Stephen, this is a high-probability bet to triple your money within five years.
I'll share this stock with you today.
But first…
Take a look at this chart.
Stephen sent it around to our team the other day: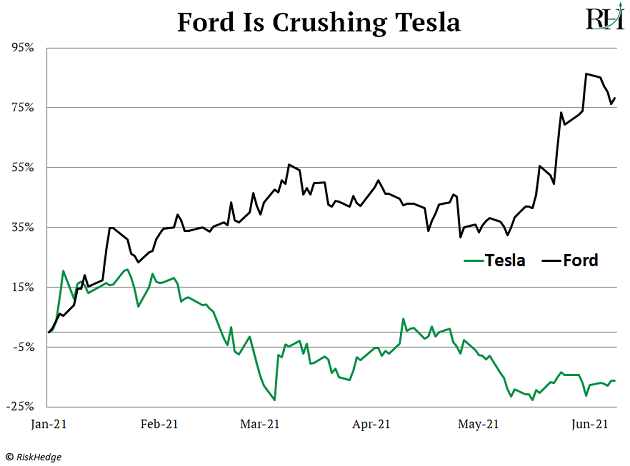 You're looking at the performance of Tesla (green line) vs. Ford (black line) since the beginning of the year.
As you can see, stodgy old Ford has been CRUSHING Tesla.
Ford has gained more than 75% in 2021. Tesla's taken a breather—down 15%.
Of course, one chart doesn't tell the full story… but I'm sharing this with you because this gap gives us a glimpse of one of the biggest problems facing Tesla today.
Ferocious competition from all sides.
At this point, it's obvious the world is moving toward electric vehicles. All the richest and most powerful carmakers know it. And they've all poured billions of dollars into making their own top-of-the-line EVs.
Ford recently unveiled its first-ever all-electric SUV.
The first battery-powered Cadillac is expected to hit the roads in 2022.
BMW, Volkswagen, Toyota, and others are also set to release battery-powered cars.
General Motors, according to CNBC, is preparing to "release two Chevrolet Bolt models this summer ahead of a flagship $113,000 GMC Hummer EV pickup later in the year."
So… which EV carmaker should you bet on?
Tesla?
Ford… Toyota… Volkswagen?
The answer is none of the above.
Stephen's #1 way to play the EV boom is NOT a carmaker.
Disruption Investor subscribers have been profiting off the company fueling practically every electric car driving on American roads today.
What's the biggest difference between regular gas guzzlers and electric cars?
It all comes down to what's under the hood.
When you pop the hood on an electric car, you won't find an engine. They run on batteries, like the one in your smartphone… but 10,000X more powerful.
In fact, Stephen says the battery is by far the most critical part of an EV. It determines how far you can drive before you have to "refuel" at a charging station.
In 2011, most EVs couldn't travel more than 70 miles before you had to plug them into a socket. And it used to take anywhere from 3–8 hours to fully charge.
But now, thanks to one specific metal, batteries have drastically improved…
Here's Stephen:
As you can imagine, batteries powerful enough to run a car for over 250 miles must store huge amounts of energy. But they also have to be relatively lightweight.
In battery tech, there's always a trade-off between size and power. It would be great if your cell phone held enough power to last a whole month. But the battery would be the size of your fridge.
This trade-off made lithium—the world's lightest metal—the perfect "fuel" for electric cars.
In short, lithium crams more power into smaller, lighter devices. This is why lithium batteries already power your cell phone and laptop. And according to Stephen, it's why every electric car maker on the planet has to buy boatloads of lithium to stay relevant.
Just how much?
According to BloombergNEF, by 2030, electric vehicles will need as much lithium as 250 billion iPhone batteries. That's a 14X spike compared to all the lithium the world uses today!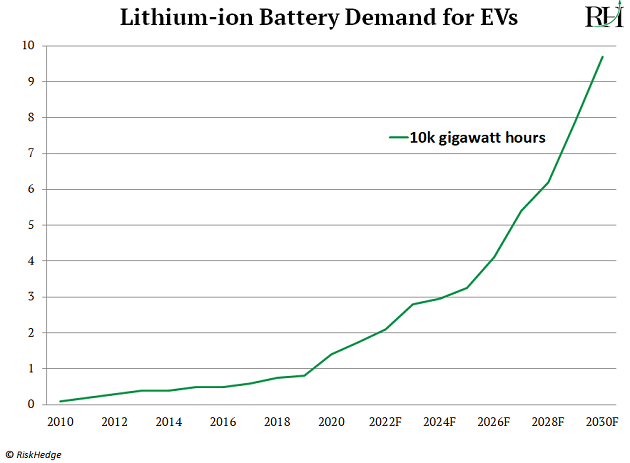 Source: BloombergNEF
Stephen says Albemarle (ALB) is the surest way to profit from the electric car boom.
Longtime readers might be familiar with the name…
ALB is the world's largest lithium producer. The company controls 25% of the lithium market and owns the purest lithium mines on the planet.
As Stephen explained in his latest Disruption Investor issue, "ALB is building two new plants which will double its output by the end of next year. It's also ramping up operations at its Nevada mine, the only source of US lithium in production today."
Disruption Investor subscribers are sitting on 130% gains on ALB.
So, the opportunity isn't quite as lucrative as it was when Stephen first recommended the stock.
But Stephen says a triple is still on the table at today's prices.
Chris Reilly
Executive Editor, RiskHedge
P.S. ALB is just 1 of 14 stock picks subscribers to Stephen's Disruption Investor advisory are profiting on. If you'd like to join them, and get key details on 3 specific plays set to double your money (or more), check out Stephen's research briefing here.