Domino's Pizza is one of today's most disruptive companies.
I know what you're probably thinking...
How can selling pizza be disruptive?
Most people don't realize that Domino's pioneered several huge technological trends in its industry.
It was at the forefront of online ordering…
It created mobile internet "hot spots" for delivering pizza outdoors…
And it came up with a new way for customers to order a pizza in less than 5 seconds using nothing but emojis—which earned it a "breakthrough idea of the year" award.
These innovations have created a phenomenal experience for Domino's customers. They've also pushed Domino's share price to unfathomable heights.
Domino's stock has surged nearly 7,000% since early 2009. It's outperformed Google (GOOG)—one of the world's most innovative companies—by more than fourfold.
But Domino's newest innovation ever could send its stock price even higher… and deliver even bigger gains to those who directly invest in the technology behind it.
In a minute, I'll tell you my #1 way to cash in on this huge opportunity. But let's first take a look at what Domino's is doing now.
Domino's Pizza recently partnered with Silicon Valley startup Nuro…
Nuro is an autonomous vehicle pioneer.
It's built a self-driving vehicle called the "R2" that delivers food without human assistance.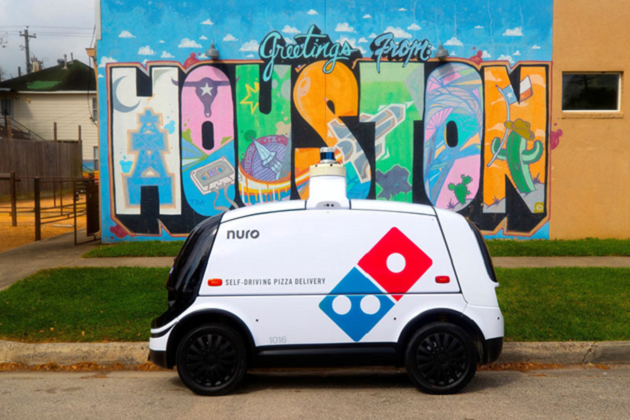 Source: TechCrunch
Here's how it works…
Customers visit Domino's online store and order a pizza. They then receive text alerts, which tell them R2's location and estimate delivery time.
When R2 arrives, the customer enters a unique code to open the door and grab their pizza.
Domino's is currently testing driverless delivery in Houston.
Assuming the initial launch is successful, Domino's will bring this autonomous delivery option to cities all across America… possibly very soon.
It's even started advertising on television for this driverless delivery option.
This points to a huge opportunity in the "computer vision" megatrend we've been following.
Regular RiskHedge readers know computer vision is the kind of disruption that only comes around once in a generation…
We've been pounding the table on this opportunity for the past year.
In short, cutting-edge computers can now "see" and process visual information better than a human can. This is a game-changing foundational technology in the same way the PC, smartphone, and internet were foundational technologies.
The Nuro R2 uses cameras, short- and long-range radar, and ultrasonic sensors to "see" where it's going.
This allows the vehicle to navigate the streets without putting people or its precious pizzas in danger.
Domino's isn't the only non-carmaker experimenting with Nuro's technology. Kroger, Chipotle, and Walmart are also testing it out.
And computer vision won't just change how we get food delivered. It will also take industrial machinery, drones, and robotaxis to the next level.
That spells massive opportunity for investors.
You see, the global drone market is projected to grow at nearly 20% per year. By 2027, it'll be worth $55 billion.
The robotaxi market is growing even more explosively. It's projected to grow at nearly 59% per year. By 2030, the market is expected to top $45 billion.
The agricultural robotics market is also exploding. In fact, it's expected to be worth $12 billion by 2026. That's 4X bigger than it is today!
Investors are just starting to wake up to the once-in-a-generation potential of computer vision…
High-tech image sensor developer Himax Technologies (HIMX) has jumped 119% over the past 6 months.
CyberOptics Corp. (CYBE), another manufacturer of high-precision 3D sensors, has rallied 52% since the start of the year.
My colleague Stephen McBride's #1 computer vision play, Tobii (TOBII.ST), has shot up an impressive 99% since he recommended it in March 2020.
These are nice gains. And I believe they're just a taste of what's to come.
But if you're going to invest in computer vision technology, you must remember this:
Focus on the computer vision companies disrupting big, established industries.
Tobii, for example, is disrupting the $7 trillion medical tech market…
As I mentioned, others will become clear-cut winners in the drone, robotaxi, and industrial machinery industries.
And of course, due to the sheer size of the self-driving car market, I believe it could produce the biggest winner of all.
I recently recommended a little-known computer vision company in my IPO Insider advisory. And my research shows its breakthrough sensors will be the "crown jewel" the automated vehicle industry's been waiting for.
A car's inability to "see" in messy conditions is currently the biggest issue holding back autonomous driving. And this company's technology works in almost any conditions, including at night, in rain, and in dusty environments.
Its tech can also track hundreds of objects simultaneously… And delivers images with 100X more detail than competing radar solutions.
This hidden gem has already partnered with artificial intelligence (AI) giant Nvidia (NVDA), one of the leading chipmakers in the world. It also counts one of China's biggest electric carmakers as a customer.
And rumors are swirling that Tesla is secretly using this company's tech. You can learn all about this company by reading this timely briefing our team put together.
Justin Spittler
Chief Trader, RiskHedge
P.S. This is a "pre-IPO" opportunity… meaning, it's a chance for you to get in on the ground floor—similar to a venture capital investor—before shares of this company actually hit the market.
These pre-IPO shares are as easy to buy as any other stock. But you can't wait around on this opportunity. This specific deal, which we explain here, is set to close any day now. By next week it could be too late. Go here to review the details now and decide if it's for you.