US electricity prices are breaking records…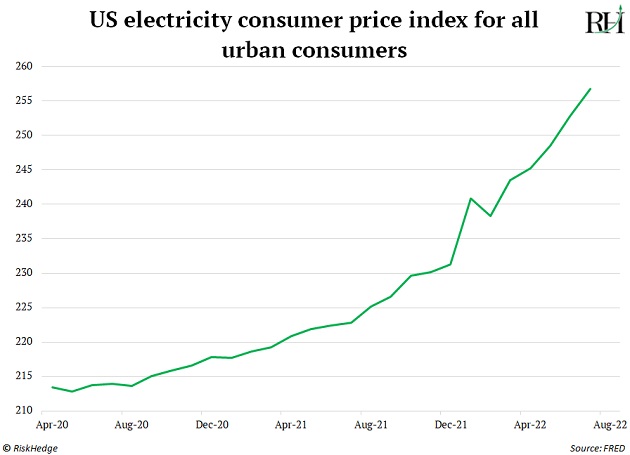 It's become so bad that one in six American homes—about 20 million—are behind on their power bills.
And if you think we've got it rough, consider Europe's struggle…
Germany's electricity prices have skyrocketed 1,903% since last August!
Like many countries, Germany mainly uses coal and natural gas to generate power.
Coal prices are up 100% this year… Natural gas has ballooned 120%.
And make no mistake: The sudden lack of affordable electricity is a global problem.
Blackouts are happening every day in China.
In Japan, the government is urging Tokyo's 37 million residents to switch off lights on Mondays.
However, it's not all bad news…
It's now obvious to everyone we need new, reliable, and affordable sources of electricity. That's our opportunity.
Today, I'll share my #1 way to profit.
As you'll see, it flies in the face of the US government's preferred solution.
Sorry Washington, you can't fix this…
President Biden signed the so-called "Inflation Reduction Act" on August 16.
Judging by the name… you'd think it would be focused on reducing the prices of necessities like food and electricity.
Not really. Turns out, the Inflation Reduction Act is all about climate change.
The bill includes an estimated $370 billion in "green" energy investments over the next decade.
It's the largest clean energy bill in US history.
And the market was quick to act on this news…
Look at this chart of Invesco Solar ETF (TAN), a renewable energy ETF. It soared 10% higher once the Inflation Reduction Act was announced on July 27…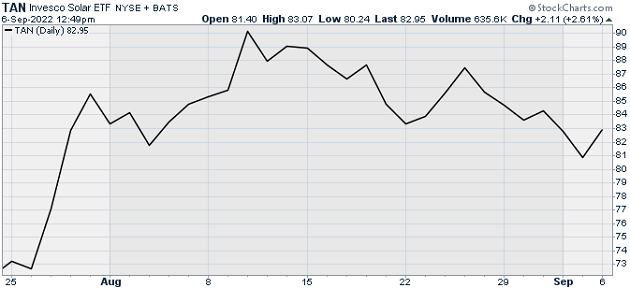 Source: StockCharts
A windfall of money is about to flow into the green energy space. And I'm sure renewables like wind and solar will help alleviate the electricity crunch… in time.
But the problem with solar and wind companies is they don't produce energy around the clock. They rely on mother nature—the sun needs to be shining or the wind needs to be blowing to generate power reliably.
Primary sources of electricity need to be reliable. Hospitals can't afford to have their power go out when it's cloudy. Battery technology will eventually solve this problem, but it's not there yet.
So, wind and solar are not the immediate solution to the energy crisis.
My #1 way to profit off this crisis centers around nuclear energy…
Now, I realize nuclear energy turns a lot of folks off…
They view it as dirty and dangerous…
But in reality, nuclear is clean and safe.
The "smoke" that appears to waft out of nuclear plants isn't smoke at all. It's safe, harmless water vapor.
Many folks automatically think of the Chernobyl disaster or Fukushima when they hear "nuclear." But tragedies like those are extremely rare. Nuclear power plants have been around for over 70 years and there were only 2 major disasters.
But they keep people from embracing nuclear for what it is: one of the cleanest energy sources on the planet.
According to the International Panel on Climate Change, nuclear power produces less air pollution than solar, wind, or hydro.
At the same time, nuclear power is a potent energy source. The 94 nuclear reactors in the US generate twice as much clean energy as every solar panel, wind turbine, and other clean energy source combined!
And best of all…
Nuclear power is a stable source of energy.
It doesn't fluctuate like wind or solar.
So, it's the perfect solution to fight the global energy crisis.
And many governments know that…
Last week, India announced it would triple its nuclear capacity over the next decade.
China is building about 8X as much capacity as India. China is the world's leader in nuclear reactors under construction.
And Japan, the world's third-largest economy, plans to restart idle reactors.
This is good news for uranium companies…
Uranium fuels nuclear power plants.
Two weeks ago, uranium stocks woke up in a big way on heavy volume…
Cameco Corp. (CCJ) jumped 16% in one day…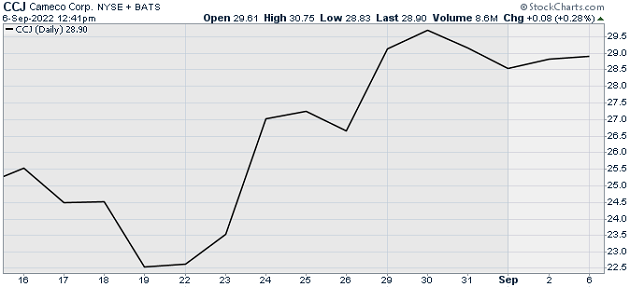 Source: StockCharts
NexGen Energy (NXE) leaped 15%...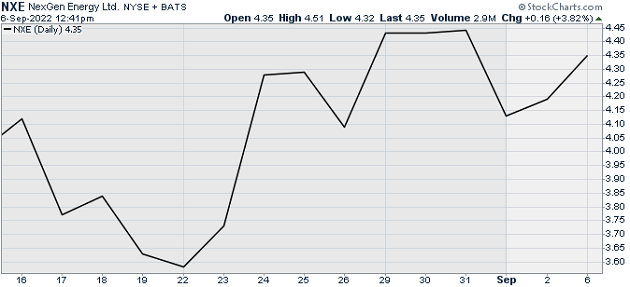 Source: StockCharts
And Denison Mines (DNN) shot up 18%...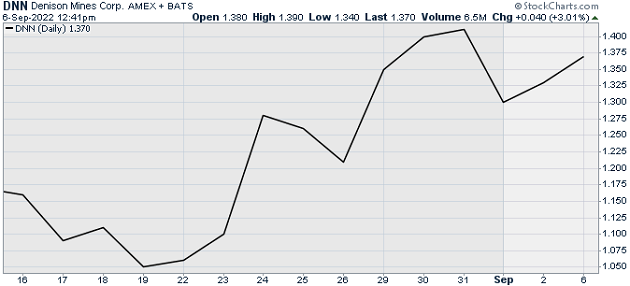 Source: StockCharts
I believe this is just the beginning for uranium stocks.
The chart below compares the performance of the Global X Uranium ETF (URA)—which tracks a basket of uranium stocks—versus the SPDR S&P 500 ETF (SPY).
When this line is rising, uranium stocks are outperforming the broad market. And that's exactly what's happened over the past 21 months: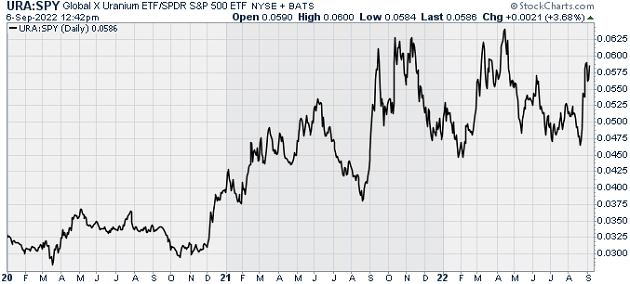 Source: StockCharts
You can see that uranium stocks bottomed out versus the S&P 500 in early 2020. Since then, this chart has put in a series of higher highs and higher lows.
That means investors are pouring money into these stocks. They're betting that uranium is the long-term solution to the global energy crisis. I agree.
More important, it shows uranium stocks are gaining momentum. It's a young trend in the making that can last years.
You can easily take advantage of rising uranium prices by buying the global URA fund.
But American uranium producers will likely produce even bigger gains.
The US power industry gets about half of its uranium from Russia and its allies, Kazakhstan and Uzbekistan.
This model looks unsustainable. We can't rely on geopolitical enemies to supply our key resources.
For this reason, I expect American uranium production to surge… and the stock prices of American uranium producers to follow.
Justin Spittler
Chief Trader, RiskHedge