Today, I'm going to reveal what I call, "The Next Pot Stocks."
This is a new class of stocks that provide the rare opportunity to get in on the ground floor of an investment craze…
Just like pot stocks a few years ago.
You probably remember that craze... when many companies in the marijuana business jumped 1,000%, 2,000%, even 3,000% in under three years.
The Next Pot Stocks could provide investors with similar gains… and they could do it even faster.
That's because The Next Pot Stocks are solving a multitrillion-dollar problem.
According to Our World in Data, 970 million people worldwide suffer from a mental health or substance abuse disorder.
That's 12.4% of all folks on earth.
The Lancet Global Health is one of the most respected health journals in the world. It estimates that mental health problems cost $2 to $5 trillion per year.
And Psychiatric Times says mental health issues will likely cost $16 trillion each year by 2030. That's more than three-fourths the size of the entire US economy.
Something must change.
That's where The Next Pot Stocks come in…
Scientific evidence shows they can treat many devastating and costly mental health conditions like depression, anxiety, and opioid addiction. And they can do it better, faster, and at a fraction of the cost of existing treatments.
I'll reveal what these stocks are in a minute.
But let's first look at why the original pot stocks shot off like a rocket…
For decades, pot wasn't just frowned upon socially: It was illegal…
Even though scientists knew marijuana had legitimate medical uses—like treating pain and seizures.
Today, pot is fully legal in 15 states and Washington D.C. Another 22 states have legalized it for medical use. That's 37 states plus D.C. where folks can legally use marijuana.
Simply put, pot stocks surged as pot was legalized.
In less than seven months, The North American Marijuana Index jumped 241% as legalization in the massive California market became imminent.
But the individual names soared even higher...
Aurora Cannabis (ACB) shot up nearly 4,000% in just two and a half years.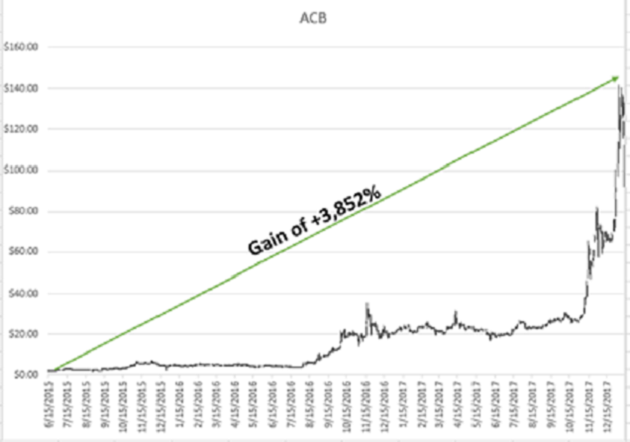 Source: Yahoo Finance
Canopy Growth Corp. (CGC) jumped nearly as much in three years.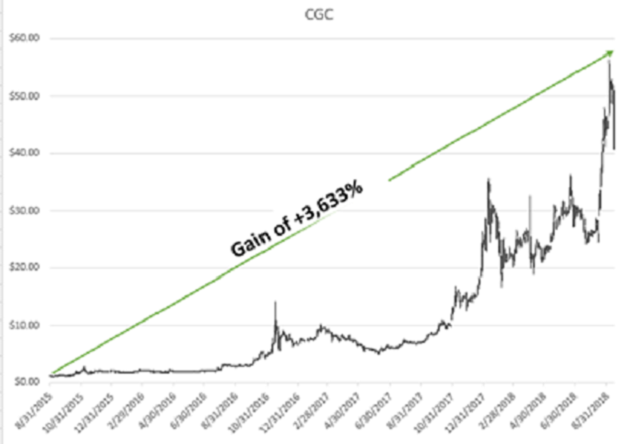 Source: Yahoo Finance
And GrowGeneration Corp. (GRWG) flew more than 1,500% in just two years.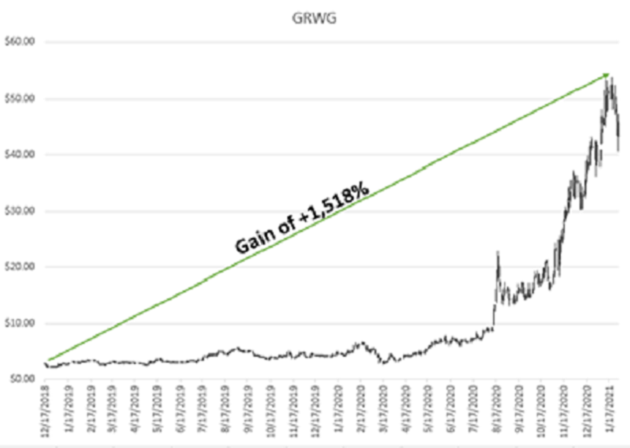 Source: Yahoo Finance
I see the same thing happening with The Next Pot Stocks…
The substances they're dealing with have been frowned upon socially, and downright illegal, for decades.
But that's now changing.
The social stigma is rapidly disappearing as more and more stories come out about these substances saving lives.
Former NBA star Lamar Odom, for example, has well-documented substance abuse problems. He says these substances saved him from his drug addiction.
If you haven't figured it out by now, I'm talking about psychedelics stocks…
Psychedelics are compounds like LSD, ecstasy (MDMA), and magic mushrooms (psilocybin).
For decades, I've been reading about how psychedelics can treat problems like depression, anxiety, PTSD, bipolar disorder, and drug addiction. And they can treat these issues more effectively, more safely, and with fewer side effects than the medicines currently on the market.
Today, clinical trials are confirming this is true through real scientific evidence.
World-renowned Johns Hopkins University launched The Center for Psychedelic and Consciousness Research in September 2019 to study these compounds.
One of their recent trials showed that psilocybin effectively treated depression and anxiety in patients with life-threatening cancer.
Other clinical trials run by a nonprofit have shown that MDMA is a safe and effective way to treat PTSD in veterans.
Most importantly, the US government is finally moving toward legalizing many psychedelics.
For example, the Food and Drug Administration awarded the "breakthrough therapy designation" to a psilocybin drug being developed by Compass Pathways (CMPS). The drug shows great promise in treating major depressive disorder.
The "breakthrough therapy designation" is a rare and coveted prize for drug makers. It speeds up the development of a drug when evidence shows it could be a big improvement over available therapies.
In short, evidence is piling up that psychedelics can help millions of people. It's only a matter of time until we get a big wave of legalization—like we did with marijuana.
That's why psychedelics stocks are starting to appear on investors' radars…
For US investors, a psychedelics ETF has already started trading under the ticker PSY.
A few of the psychedelics stocks that trade on major US exchanges are Compass Pathways (CMPS), Mind Medicine (MNMD), Seelos Therapeutics (SEEL), and Atai Life Sciences (ATAI).
It's "early days" in psychedelics... and the odds are stacked in favor of patient investors who are ready to pounce when the perfect opportunity presents itself...
As I mentioned, the situation reminds me of pot stocks three to four years ago.
Legitimate scientific research is piling up that psychedelics are useful medically...
And that they need not be harmful when used correctly, under medical supervision.
The stigma around psychedelics is receding.
And governments are slowly but surely starting to legalize certain ones.
That's why psychedelics stocks are one of the top ideas on my radar.
And I've found the perfect tiny stock to play it.
It's trading at only $2 today…
But that may not be the case for much longer, especially once word gets out on what this company's doing…
In short, this company has created a revolutionary form of psilocybin that absorbs directly into a patient's blood stream for fast relief… Doesn't cause any uncomfortable side effects… And can be administered in short, safe doses.
When the world sees what their psilocybin treatment can do… the stock price should soar.
My research estimates that the stock is going to 8.7X its current price after its clinical trials finish. And now is the time to strike.
If you're interested, I have good news.
Less than one hour ago, I shared all the key details on this pick with my Project 5X subscribers. Name… ticker… how to play it… and my in-depth investment thesis.
If you want get in on this exciting play—my #1 way to profit off the psychedelics boom—go here now.
Regards,

Chris Wood
Editor, Project 5X