Do you want to feel smart?
Or do you want to make money?
In investing, you often can't have both. You have to choose one.
You see, far too many investors try to outsmart the market. They buy stocks and other assets that are out of favor in hopes of catching the bottom.
Credit Suisse confirms this mysterious force has turned 5.2 million people into millionaires. It's called the "Power Law"... And in a brand-new presentation, RiskHedge chief analyst Stephen McBride shows you how to use it to boost your stock market gains...
This approach rarely works out. And even when it does, it's not easily repeatable. It's the "hard" way to make money in markets. As I've shown you many times, stocks in downtrends tend to keep falling.
It's much easier, and more consistently profitable, to buy stocks that are rising.
It really is that that simple…
According to studies, 37% of a stock's price movement is due to the performance of its industry group. Another 12% is due to strength in its overall sector.
In other words, about half of a stock's performance has nothing to do with the company itself.
Most stocks are like rafts floating down a strong river. The current will sweep the raft in direction the river is going. Those who paddle against the current will only exhaust and frustrate themselves.
You can make great money by simply investing in stocks in the strongest groups.
This approach also saves you from taking unnecessary losses… and from wasting time waiting for beaten down stocks to turn around.
Today, I'll show you four of today's strongest industries.
They should be at the top of your list if you're looking to put new money to work.
Let's kick things off with one of my favorites…
Commodities have been on fire lately…
The price of oil has surged 22% over the past six months. Palladium, a metal used in electronic components, is up 21% over the same period.
"Soft" commodities have done even better. The price of soybeans has spiked 47% since October, while corn has soared 45%.
Shares of oil and gas companies, miners, and producers of agricultural inputs like fertilizer have also been standout performers.
Energy Select Sector SPDR Fund (XLE), which invests in a basket of oil and gas stocks, has climbed 41% since October. VanEck Agribusiness ETF (MOO), which invests in agricultural stocks, has gained 17%.
Investing in either of these ETFs would have helped you massively outperform the S&P 500, which is up 3% over the same time frame.
But I think the surge in energy stocks is far from over. To understand why, look at this chart. It shows the performance of XLE dating back to 2002. As you can see, it just broke out to its highest price since 2014.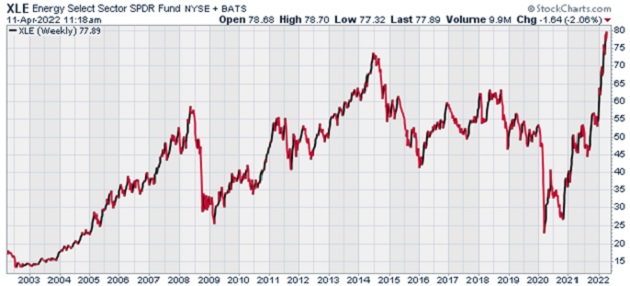 Source: StockCharts
Breakouts like this are incredibly bullish.
XLE has broken through the "price ceiling" it has hit once before. It now has clear sky to run a lot higher.
I expect XLE and energy stocks in general to continue to outperform the broad market.
Utilities are also trending higher…
Utility companies provide basic everyday services like electricity and water. They're considered some of the most boring investments on earth. But they're on the move higher…
Utilities Select Sector SPDR Fund (XLU), which holds a basket of utility stocks, has climbed 7.5% since the start of the year, and is now trading at a new all-time high. The S&P 500, on the other hand, is down almost 6% on the year.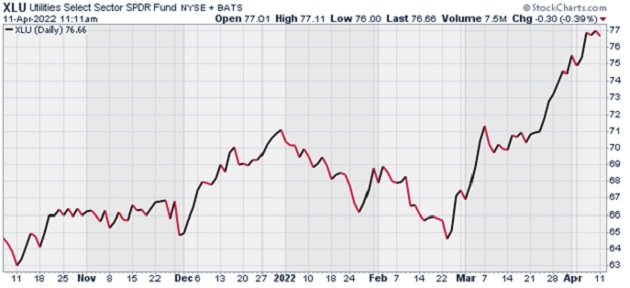 Source: StockCharts
Consumer staples stocks have also emerged as new leaders. As you can see below, the Consumer Staples Select Sector SPDR Fund (XLP), which invests in companies like Walmart (WMT) and PepsiCo (PEP), has also broken out to new all-time highs.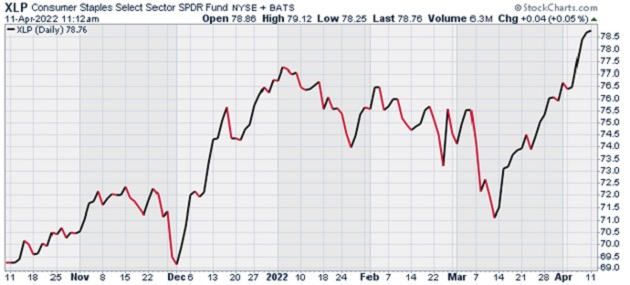 Source: StockCharts
It's up 13% since October.
One of XLP's holdings, grocery chain Kroger (KR), is doing even better. It's rallied more than 50% since November.
Utility and consumer staples stocks are "defensive" investments. Folks buy them when they see trouble on the horizon.
These stocks tend to be resilient because people always need electricity, food, and water… no matter what's happening with the economy.
Here's another industry showing strength…
The Russia-Ukraine war is shining a light on defense stocks…
Because of the conflict, I'm closely watching defense stocks—companies that supply weapons to the US military and our allies.
Two big names have already seen higher prices in 2022.
Lockheed Martin (LMT) is up 21% since Russia invaded Ukraine.
Northrop Grumman Corporation (NOC) has gained 20% during the same time frame.
And the iShares US Aerospace & Defense ETF (ITA), which holds a basket of defense stocks, is up 10%...
Source: StockCharts
To sum it up: Don't make trading complicated.
Right now, the value is in commodities, utilities, consumer staples, and defense stocks. So, consider investing in XLE, XLU, XLP, and ITA today or—better yet—look for leaders in these respective industries.
Justin Spittler
Chief Trader, RiskHedge
P.S. Changing gears, I'd like to invite you to what I believe will be the top investment conference in 2022.
I'm talking about the Strategic Investment Conference (SIC)—a closed-door gathering of many of the world's greatest investors. This year, the lineup includes Joe Lonsdale, managing partner at 8VC… Howard Marks, co-chairman of Oaktree Capital Management… Cathy Wood, CEO of ARK Investment Management… and many others—including my RiskHedge colleagues Stephen McBride and Chris Wood.
The conference will be from May 2–13 and will be held virtually again this year. That means you can get specific, actionable investment recommendations from the comfort of your own home.
By signing up today, you save 44%. Go here to learn more about this year's conference—and purchase your ticket today.