A special kind of stock can accelerate your retirement by five years.
If you can identify just one of these stocks per year, and buy it early on...
You'll enjoy the kind of big, lasting profits that let people retire early.
These special stocks aren't defined by a specific sector or industry. And there's no magic formula for identifying them.
But I've spent nearly a decade as a professional stock analyst studying how to find these stocks before the crowd.
And today I'm going to share my top 2 with you.
I call them "trailblazer" stocks…
Simply put: These stocks are trailblazing the industries of tomorrow…
Industries that the average investor hasn't even heard about yet.
I'm NOT talking about industries like online shopping, cloud computing, and cybersecurity.
It's true that these industries are booming... and they may continue to hand out big gains in the years ahead.
But they're not new. People have been shopping online for over a decade. Companies first turned to cloud computing 15 years ago.
The industries of tomorrow are different.
The trailblazer companies in these fields aren't household names... yet.
By getting in today, as I'll show you, we can front run the masses.
Twist Bioscience (TWST) is a perfect example…
If you watched my and Stephen McBride's hypergrowth presentation in October, you're already familiar with Twist.
Twist is the hands-down leader in synthetic biology.
In a nutshell, synthetic biology involves reconfiguring the DNA of an organism to create something entirely new. It allows scientists to design living things with more desirable attributes and characteristics.
In short, it allows you to "program" biology just like you would a computer!
Still, most investors haven't even heard of synthetic biology. And many folks who have heard of it assume it's science fiction...
But you simply cannot afford to ignore this space. Synthetic biology is already starting to mint millionaires.
Synthetic biology is exploding before our eyes…
According to SynBioBeta, the industry has raised over $12 billion over the past decade, including $3.8 billion last year. That's nearly 10X as much as was raised in 2009.
The number of new synthetic biology companies has also skyrocketed over the past two decades. In fact, there are now over 600 companies in the space. That's up from fewer than 100 in 2000.
But only a small handful are available to buy on the stock market.
And Twist is my favorite by far.
Of course, Twist isn't just a revolutionary company…
It's also a trailblazer stock. As you can see, Twist has absolutely been red-hot this year.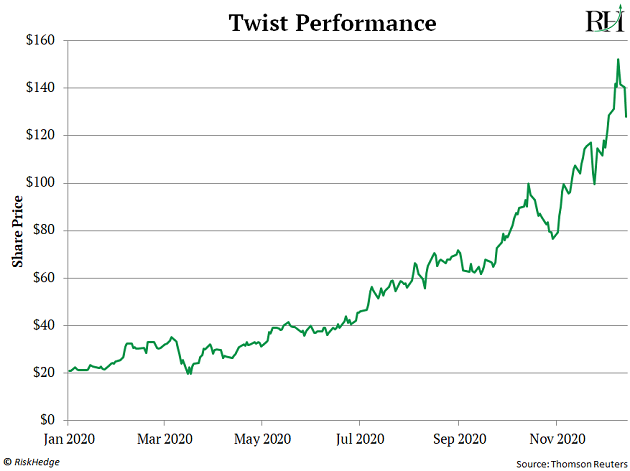 It's now surged 57% since we added it to the Disruption Trader portfolio in October. And I see it headed much higher for a couple reasons.
One, Twist is a true hypergrowth company. Its sales are growing at more than 100% per year, despite the pandemic.
And Twist is still a small, hidden gem. Its market value isn't even $7 billion yet. It's smaller than clothing brand Ralph Lauren (RL).
Within five years, it could easily grow into a $100 billion company. That might seem like wishful thinking... since it would require 14X growth in its stock price.
But that's what happens when retail investors catch on to the "next big thing." They stampede into a stock and push it to unprecedented heights.
Of course, synthetic biology isn't the only industry of tomorrow minting millionaires.
RiskHedge readers are also cashing in on edge computing…
If you've followed my work for any length of time, you're familiar with edge computing by now. In short, edge computing is all about processing data on the spot at the "edge" of a network. It eliminates the need to connect to a faraway data center.
For that reason, it's faster than cloud computing can ever be. Studies show it can increase processing speeds by 30X!
And that's why edge computing makes the "impossible" possible. Technologies like self-driving cars, IoT, AR, and the commercialization of 5G will never get off the ground without edge computing.
Last November, I recommended edge computing pioneer Cloudflare (NET) in my premium advisory, IPO Insider.
At the time, no one was talking about edge computing. Most investors haven't heard of Cloudflare… which went public just a few months earlier.
Getting into a trailblazer stock early on comes with a big bonus: You'll often be "front running" smart, big-money investors—like hedge funds and investment firms.
That's exactly what we did with Cloudflare. Below I marked where we bought in... and where other famous "big-money" investors bought in. Famed investment management firm Baillie Gifford bought in box 3... and Cathie Wood's ARK Invest bought in box 4.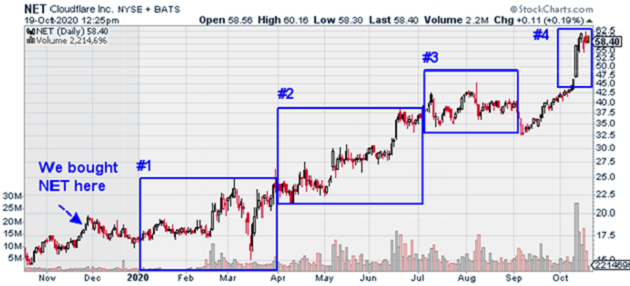 Source: StockCharts
Keep in mind... we got into Cloudflare shortly before the global pandemic and the March stock market crash. In a normal stock, that would've most likely led to big losses.
But as a trailblazer stock, Cloudflare powered right through and was hitting new highs by April. My subscribers are currently up 333%.
If I could only own two stocks for the next five years, Twist and Cloudflare would be my top choices…
Although they're up big... they're still flying under the radar.
They can easily become household names in the coming years.
And hand out big profits along the way.
Thanks for reading,
Justin Spittler
Chief Trader, RiskHedge