"No phones or cameras beyond this point."
That was their rule, no exceptions. So I left my iPhone with the staff.
I walked down a narrow path… and met with the company's directors, who escorted me into a humongous white tent.
Thousands of dark green plants stretched further than I could see. I was standing in a cannabis greenhouse... but this was no amateur operation. It was a world-class facility. Elsewhere on the campus, scientists were conducting genetic research and turning cannabis into "oil."
Luckily, the company had photographers on site…
Here I am inside a greenhouse.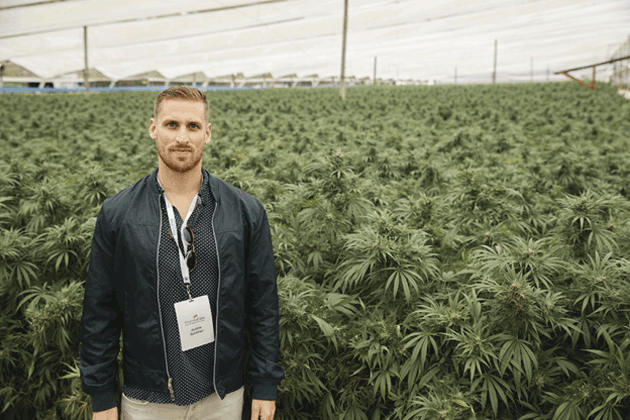 And here's me looking at some of the genetics work they're doing on site.
It was unlike anything I'd seen before. And this wasn't my first trip to the front lines of the legal cannabis industry.
I've toured indoor grow operations in Denver… met with growers in Vancouver… and even visited a couple of cannabis chocolate factories.
This facility wasn't in the United States…
It wasn't in Canada, either.
It was in the mountains of Colombia, just outside the city of Medellin.
Its owned and operated by PharmaCielo (PCLOF), a Canadian cannabis company.
I visited PharmaCielo's operations in January 2019… just days after the company IPO'd.
If you're wondering, why Colombia? The answer is simple. It's one of the best places on the planet to grow cannabis.
The climate is consistent year-round, thanks to its location near the equator. This region of the country also gets plenty of rainfall and sunlight, ideal for growing cannabis.
PharmaCielo can grow cannabis for as little as $0.05 per gram. Most Canadian cultivators spend around $1.00 per gram to produce a similar amount of cannabis.
Those are impressive numbers, but I chose not to invest in the company…
Turns out that was the right move. Most cannabis stocks have gotten obliterated over the past year.
Canopy Growth (WEED) plunged 75% from October 2018 to November 2019. Aurora Cannabis (ACB) crashed 86%. And Cronos (CRON) dived 78%.
Keep in mind, these aren't some obscure penny stocks. They're the biggest and best cannabis companies on earth... the "blue chips" of the cannabis world.
It wasn't all that hard to see this bloodbath coming. Cannabis stocks, as you may know, were the talk of the investment world in early 2019. Every time you turned on CNBC, they were going on and on about cannabis. The whole sector was soaring. Even bottom-of-the-barrel cannabis stocks delivered incredible gains.
Everyone was making money and everyone was excited... which is usually the telltale sign of a top.
Cannabis stocks went from being the hottest stocks on the planet to the laughingstock of the investing world. They were one of the few stock sectors that didn't go up last year.
Last week, I did something I hadn't done in over a year…
I started buying cannabis stocks.
One of them has surged 18% since last Monday. Another has spiked 10% today!
Those are exceptional gains. But I don't plan on owning these stocks for much longer.
Only one of the cannabis stocks I bought is a long-term hold... and the only cannabis company I'm recommending to friends and family. I even convinced my grandma to buy a few shares.
Normally, I'd never recommend cannabis stock because cannabis stocks are highly volatile. Their shares trade violently… often surging 15% one day and 10% the next.
But this isn't your typical cannabis stock...
Innovative Industrial Properties (IIPR) doesn't grow cannabis. It leases out warehouse space to cannabis growers. It owns warehouses in 14 states, including California and New York.
Its unique business model separates it from practically every other cannabis stock.
Cannabis is called "weed" for a reason. Growing it isn't rocket science. Thousands of companies in the US and Canada have figured out how to grow high-quality cannabis.
At this point, it's a commodity. And selling commodities is a crummy business with slim margins. Anyone in the mining industry will confirm this.
While this is a problem for growers... it's an opportunity for this company.
Innovative Industrial Properties is the cannabis industry's #1 landlord…
It collects rent checks from cannabis growers every month.
Last year, it made $14 million on about $30 million in sales.
Most cannabis companies are nowhere near turning a profit. Even blue-chip cannabis stocks are bleeding cash.
Canopy Growth (WEED)—the world's largest cannabis company—lost $1.9 billion over the past year… including $1 billion during the second quarter of 2019! And it's not alone:

None of these companies are expected to turn a profit in 2020. It could be years before any of them start making money.
The wholesale price of cannabis has already plunged from over $2,100 per pound in 2015 to about $1,400 per pound.
As more states legalize cannabis, the supply will increase. This will put even more pressure on the price of cannabis. That's obviously not good for companies that grow cannabis.
In short, most cannabis stocks aren't built for the long haul…
They're trading vehicles.
Innovative Industrial Properties is a much safer way to play legal cannabis.
It's profitable… generates a ton of cash flow… and pays a 5% dividend. That's double what the S&P 500 pays.
Now is a great time to invest in Innovative Industrial Properties. You can see why below. Its stock has "carved out a bottom" in the last three months.
A stock carves a bottom when it stops falling, trades in a tight range, and then starts climbing. It's an important clue a stock is ready to begin a rally.
IIPR has climbed 10% since last Monday. It now looks ready to begin its next leg up.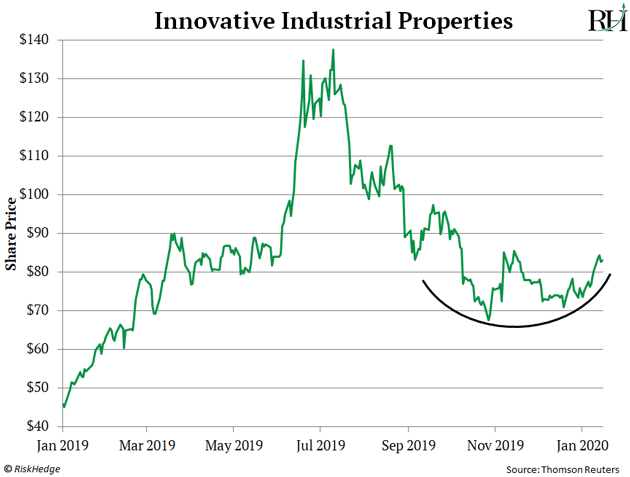 IIPR nearly doubled in 2019. If it gets going here, it could double again in the next 12 months.
Just understand that Innovative Industrial Properties is a $1 billion company. So, don't bet the farm on it. A small investment could still deliver huge returns over the next year.
Justin Spittler
Omaha, Nebraska