Chris Wood here. Did you see my 5X Phase Summit yesterday?
As my longtime readers will tell you, I rarely do "events."
In fact, I've only agreed to appear on camera for an event like this twice in my 15 years as a microcap analyst. I only get on camera when I have something important to say. And this is, by far, my most important Summit yet.
Simply put, the market is gifting us a lucrative but hidden opportunity. One tiny, ignored corner of the markets is stretched like a rubber band to a rare extreme.
And just like the last two times this exact setup was present, it will lead to gains of 500%‒1,000% or more in certain individual stocks... likely in short order.
I highly encourage you to check out the replay here.
Now, let's dive into today's RiskHedge Report…
Have you heard of a tech "incubator?"
Imagine investing in Microsoft before it was a fully formed company. Back when Bill Gates was tinkering with electronics in his garage...
Sounds impossible. But that's exactly what venture capitalists (VCs) do.
And VCs often use incubators to access investment opportunities in their very earliest stages.
I'm talking companies so small, gains of 100‒1, 1,000‒1, or even 10,000‒1 are on the table.
You see, tech hotbeds like Silicon Valley, CA, and Austin, TX, are full of talented, young entrepreneurs with billion-dollar ideas...
But they often lack the money and know-how to execute these ideas.
"Incubators" are the answer. They provide seed money, office space, mentorship, and sometimes even a place to live, usually in exchange for an ownership stake in the young company.
By supporting companies in their very earliest stages, VCs can bank astronomical returns—sometimes as high as 100,000%.
Many great companies like Airbnb and DropBox got their starts in incubators.
I'm telling you this because, as far as I know, I'm the only analyst who takes an incubator approach to recommending microcap stocks.
This approach has led to many of my readers' biggest wins. Like 422% on Magnite (MGNI)… 251% on Personalis (PSNL)... and 201% on Atomera (ATOM).
I call my incubator stocks "breakthrough disruptors." Every month in my Project 5X advisory, I introduce a few extremely early-stage companies that are developing breakthrough technologies.
Then I keep tabs on these young companies for months... or years.
In that time, I'll look to establish a relationship with the CEO. I'll contact the company's suppliers to verify important details.
And I'll simply watch and wait for the company to prove itself.
The truth is, 90% of the early-stage stocks that enter my incubator never go anywhere.
But the few that "graduate" to become official recommendations have been some of our best picks.
I "incubated" Magnite for six months before recommending it. Personalis for two months before recommending it. And Atomera a full year before finally putting it in our Project 5X portfolio.
All of these recommendations at least tripled. Magnite more than quintupled.
Today, I'll share two of my newer incubator stocks with you.
***Please note: I'm NOT suggesting you buy these stocks today. They're too early in the game. But they both have exciting stories you should know about…
Vivos Therapeutics (VVOS)
One billion people worldwide suffer from obstructive sleep apnea (OSA). It causes people to repeatedly stop and start breathing while sleeping.
And about 80% of folks with it are undiagnosed and untreated.
This is a huge problem because OSA contributes to (or is the root cause of) dozens of chronic health conditions including heart disease, obesity, and dementia. And it's made worse by two facts: Doctors don't know who has OSA, and treatment options are unappealing and costly.
Vivos Therapeutics (VVOS) wants to change all that.
The company figured out that OSA is typically caused by nasal and dental abnormalities. These are typically the result of an underdeveloped mouth and jaw.
So Vivos developed technology to easily diagnose and treat OSA.
The diagnostic device looks like a big electronic ring, and the patient wears it while sleeping. It provides doctors with the same information that an in-lab overnight sleep test at a sleep center does.
It's a very convenient and cost-effective way to diagnose OSA. So that means more and more patients can be identified and treated.
On the treatment side, Vivos has developed non-invasive, cost-effective oral appliance technology for OSA. It looks like an amped-up version of the retainers kids wore after having braces.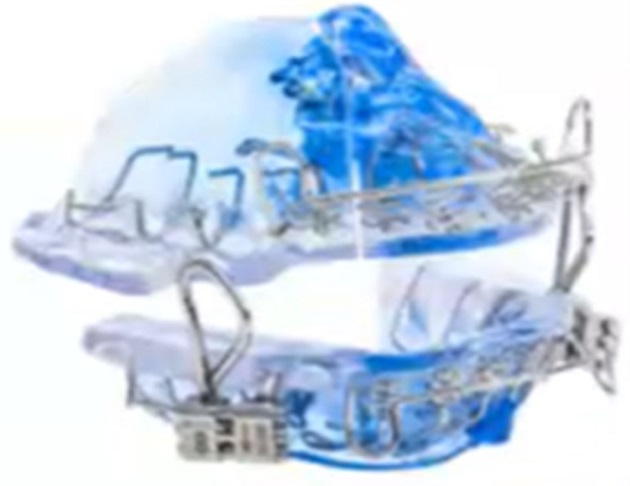 Source: Vivos Therapeutics
The patient wears the appliance at night and over time, it repositions the jaw to open up the airway and effectively cure mild to moderate OSA.
Patients receive treatment for 12 to 24 months. And when they're done, many are healed.
Vivos's tech is a game changer…
And the market for this tech is huge.
I've only just started researching the company, so I'm not ready to recommend it yet. But I had a long call with the CEO a week ago and things are looking good so far. Put this one on your watchlist.
Spectra7 Microsystems (SPVNF)
Data centers form the backbone of the digital world.
Without data centers, the internet simply would not be possible. Data centers house the servers that keep network systems up and running.
But the amount of data that must pass through and be stored by these centers is growing exponentially.
This growth has given rise to "hyperscale data centers." Put simply, these are very large data centers.
While there's no formal definition, a hyperscale data center exceeds 5,000 servers and 10,000 square feet. The largest hyperscale data center in the world occupies several million square feet.
All the big tech companies, including Google, Amazon, Meta, IBM, and Microsoft, take advantage of hyperscale data centers.
This trend is not slowing down. Companies commission about 50 new hyperscale data centers every year.
But they're expensive to build and operate. And they need to get faster every year to keep up with demand.
That's where Spectra7 Microsystems (SPVNF) comes in…
Traditionally, data centers use copper cables to connect their servers.
But these cables can't handle the higher data rates required by modern data centers.
One solution is to upgrade to fiber optic cables. But these cables cost a lot more. And they produce a lot more heat, which means they require much more energy to run.
A better solution is Spectra7's patented Active Copper Cables.
These are copper cables with chips that let them handle the higher data rates without adding significant costs. Spectra7's Active Copper Cables are also 10X thinner than traditional copper cables.


Source: Spectra7
A case study showed that for a typical hyperscale data center upgrade, Spectra7 saves up to $38 million in annual expenses compared to optical cables.
Spectra7 is a tiny company with a market cap of $52 million. And it's poised to disrupt the massive data center market with its breakthrough Active Copper Cable technology.
But ongoing supply chain issues will keep a lid on the company's growth for now.
Also, the real issue with Spectra7 right now is the stock's liquidity. Only about $50,000 worth of Spectra7 stock trades on an average day. That's not enough liquidity for the Project 5X portfolio.
But I'm keeping a close eye on this one. It could be huge.
Regards,
Chris Wood
Editor, Project 5X
P.S. There's another key reason the stocks above aren't buys today. Besides being too small and illiquid... they haven't entered what I call the "5X Phase." The 5X Phase is a market force that has persisted across my entire career and delivered the very best gains of any investing approach I've ever seen. Discover how it works—and how you can get my top 5X Phase plays—by going here.