This doesn't happen often… so please pay attention.
The last time all three of our senior analysts had this much conviction in the same idea…
Stephen McBride, Chris Wood, and Justin Spittler were "all-in" on video-streaming as a transformational megatrend.
Stephen recommended The Trade Desk (TTD)—which runs a "stock exchange" for digital ads. It's up 845% since he first mentioned it.
Justin first pounded the table on Roku (ROKU). Readers saw a chance at 200%+ gains.
And earlier this year, Chris Wood's Project 5X subscribers booked a 422% profit in streaming tech play Magnite (MGNI). Chris recommended it in January 2020… back when it was an unknown microcap trading under a different name.
I'm telling you this because for the first time since February 2020, Stephen, Justin, and Chris are all-in on a different tech trend: one that's even bigger than streaming.
And today, we'll look at each of their recommended stocks to play it.
First, you might be wondering why it's so unusual for all our analysts to be in total agreement on one trend.
In short, our analysts specialize in different areas of investing. Rarely do Chris Wood's microcap ideas directly line up with Justin Spittler's IPO plays.
But today is one of the rare times where they all like the same trend AND they've all recommended different stocks to profit from it.
I'll share their picks with you today.
Now normally, we don't mention premium stock picks in this free RiskHedge Report.
But because this is my last RiskHedge Report of the year, I wanted to do something special…
First, let's look at why the metaverse needs to be on every investor's radar…
The biggest story in tech
If you've been following RiskHedge, you know RiskHedge Chief Analyst Stephen McBride calls the metaverse "the next version of the internet."
Specifically, it's a 3D, immersive world where you can work, learn, create art, shop, watch concerts, hang out with friends, and do dozens of other real-life activities.
The metaverse is not just a buzzword these days… it's the biggest story in tech.
Facebook, the fifth largest company in America, is betting its entire future on the metaverse. It changed its name to Meta in October. And it plans to spend $10 billion and hire 10,000 people to build out the infrastructure of the metaverse.
Everywhere you look, huge companies are preparing to pour big bucks into the metaverse…
In November, Nike filed seven trademark applications as it prepares to enter the metaverse. The company will make and sell virtual branded sneakers and apparel.
Disney says it may create its own metaverse.
Gucci and Ralph Lauren are already advertising in this exciting new world!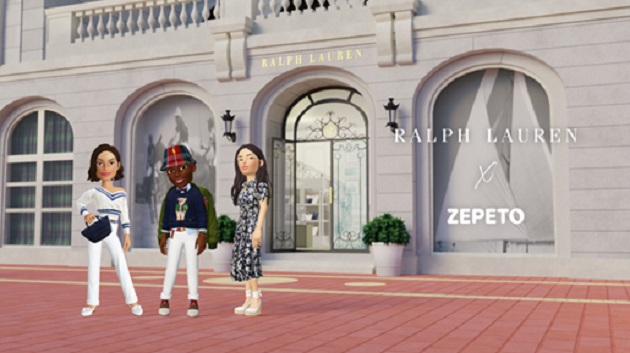 Source: Ralph Lauren
These companies are all getting involved because, quite simply, the metaverse is BIG business.
Cathie Wood, a prominent tech fund manager, believes the metaverse could be worth trillions. And she's not the only one.
Matthew Ball of venture capital firm Epyllion projects the metaverse could be worth up to $30 trillion (!) within the next decade.
For comparison, the entire US stock market is currently worth $26 trillion.
Even if the metaverse is only worth 1/10th of that, it deserves your serious attention.
But here's the thing…
While the rest of the world is just now waking up to the metaverse's huge potential, RiskHedge readers knew all about it back in February 2021.

Stephen recommended a key metaverse stock in his February issue of his premium letter Disruption Investor…
Metaverse stock #1: Unity (U)
In short: Unity owns the world's most successful game engine.
Stephen explains:
Nearly every company has a webpage today. And I believe soon, they will all have a real-time presence in the metaverse. This means these firms will have to build and maintain digital versions of themselves.
For example, Amazon will design and fill the "Amazon Mall." Disney has to create its virtual theme parks. Netflix will likely have a bunch of digital movie theaters.
As the world's most successful game engine, Unity is the first choice for companies launching into the metaverse.
And this company hasn't just built a game engine. It invented the world's most sophisticated simulation tool. For example, Hong Kong International Airport built a fully functioning live, virtual replica of the airport using this disruptor.
The stock has been volatile lately along with many other tech stocks and growth stocks.
Disruption Investor members are currently sitting on a small gain. If you don't own any Unity stock, consider taking a small stake.
Metaverse stock #2: Roblox (RBLX)
Chief Trader Justin Spittler recommends Roblox in his IPO Insider advisory.
Roblox operates on the world's most popular gaming platforms. Users can play games, work together, and have fun within the Roblox environment. They can also create and publish video games that others can play for free.
More than 31 million people use Roblox each day. Most of them are kids, and they're absolutely hooked…
According to analytics firm Comscore, Roblox is the #1 entertainment platform for kids under 13. They clock in over 50 million monthly hours on the game. That's 15X more than they spend on Facebook and Netflix!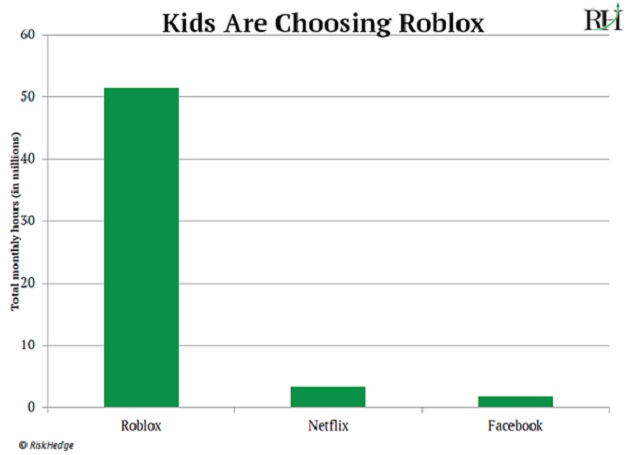 Source: Comscore
Here's Justin:
The engaging experience Roblox offers is second to none. Every year, there are Easter egg hunts in its metaverse. It even has its own award ceremony called the "Bloxy Awards," which also serves as a fundraiser. 600,000 people watched last year's ceremony!
Roblox also holds concerts. In 2020, it held its first concert during which rapper Lil Nas X debuted a new song "Holiday" to Roblox users.
Justin believes Roblox will continue to be one of the world's leading metaverse companies. IPO Insider subscribers are up 24% on this stock since Justin recommended it in May. It's a buy today.
Metaverse stock #3: eMagin (EMAN)
Microcap guru Chris Wood recently told me the metaverse is going to be "insanely huge."
You might recall the name eMagin from my recent interview with Chris…
Its patented technology is used in virtual reality headsets and augmented smart glasses. Both are essential to accessing the metaverse.
eMagin's microdisplay tech has 4X higher resolution than a smartphone screen and nearly 8X higher resolution than a laptop screen. This is important because high-quality hardware is needed to render lifelike worlds… It will help make the metaverse appear almost indistinguishable from the real world.
Here's Chris:
Things are moving along nicely for eMagin. I don't expect revenue acceleration to really take off for another six quarters or so. But I do expect significant hype before then, which could push the stock higher. It's poised to become the dominant microdisplay technology maker.
eMagin soared 124% less than two months after Chris recommended it to his Project 5X subscribers in Dec 2020. The he recommended taking a "free ride"—selling enough shares to recoup your initial investment while letting the rest ride risk-free.
eMagin is a good buy at current prices. But only take a very small stake. This is an extremely volatile stock worth less than $100 million.
Chris Reilly
Executive Editor, RiskHedge