Don't get "too cute" with your trading.
It took me years to learn this valuable lesson.
Early in my trading journey, I would gravitate toward exotic, little-known stocks in the hope of finding the next Nvidia (NVDA) or Tesla (TSLA).
But that's often not the best approach.
More often than not, the best trades are in stocks everyone knows.
That brings us to our new Trade of the Week, Visa (V).
Visa is a company that needs no introduction.
The $500 billion payment-processing giant is a household name worldwide. It's also one of the best companies to ever exist.
Visa enjoys sky-high 50% net profit margins, and it continues to grow quickly despite being one of the world's largest companies.
During high-interest-rate environments (like we're in now), many traders and investors opt for companies with stellar fundamentals over more speculative names.
Of course, we're not picking up V today just because it's a proven winner. It also has an A+ setup.
You can see what I mean below. V is emerging from a huge base it spent months building out. It's now within just a few percentage points of its all-time highs: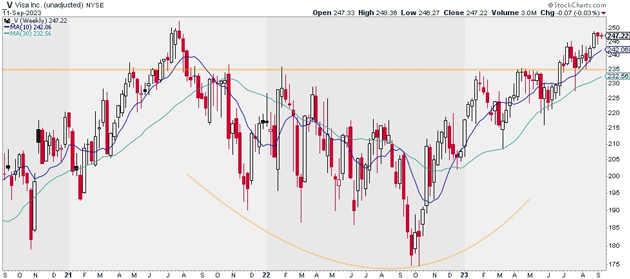 Source: StockCharts
Buy a half position in V today. I believe the stock can hit $300 within the next 12 to 18 months.
Exit your position if V closes below $235. That gives us a risk-reward ratio of 4:1 on this trade.
Action to take: Buy V at current market prices.
Risk management: Exit your position if V closes below $235.
Justin Spittler
Chief Trader, RiskHedge