**

Is Warren Buffett reading RiskHedge?


**

Ditch these "dead money" stocks now


**

America's first Super App?
It's official: Warren Buffett is following our lead.
His investment firm, Berkshire Hathaway (BRK.A), just shared its latest "13F" report…
If you don't know, 13Fs reveal what the world's top investors are doing with their money.
And right now, it shows Buffett—who many consider the best investor of all time—is ditching a specific type of stock.
I'm talking about bank stocks.
According to the report, Berkshire sold all its shares in JPMorgan Chase, M&T Bank, and PNC Financial Services last quarter.
It also trimmed its positions in Wells Fargo and US Bancorp.
This is a major reversal from Buffett, who's been a longtime fan of big bank stocks.
Just a year ago, Buffett said bank stocks were "very attractive compared to most other securities I see."
But now, he's cutting them loose.
In May 2019, RiskHedge Chief Analyst Stephen McBride published one of his most controversial RiskHedge Reports… titled "The End of the Bank."
In that essay, he said traditional banks were as good as dead.
He said "new money" disruptors were coming to eat their lunch…
Here's Stephen:
Buffett may want to unload the rest of his bank stocks…
New money disruptors have seized banks' most profitable businesses one by one, leaving them with the scraps. They've turned banks into boring old utilities, artifacts of the 20th century.
Quicken Loans (RKT) is now America's largest mortgage lender and the fastest-growing firm in the industry.
PayPal's app lets you get a government stimulus check... receive Social Security... or pay taxes these days. No need for a bank account.
Online investment management company Vanguard uses "robo" advisors to slash fees by roughly 85% compared to Wall Street banks.
My friends, this is the end of the traditional bank.
Bank stocks have been "dead money" for half a decade, as you can see: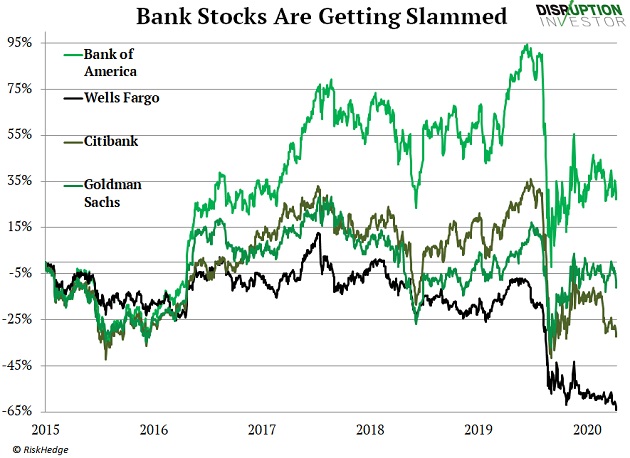 Meanwhile, one of Stephen's favorite new money disruptors—PayPal (PYPL)—has left America's most powerful banks in the dust…
PayPal's market value has now quadrupled since March 2020.
Get this: It's now more valuable than every US bank except JPMorgan!
Shares have jumped 143% since Stephen recommended the stock in his Disruption Investor advisory in 2019.
There's a lot to like about PayPal.
In November, the money disruptor announced its users could buy and sell bitcoin from their PayPal accounts.
That's right: You can now open the app, click the crypto tab… and buy a fraction of a bitcoin for as little as $1!
This is big news, as Stephen explained here.
And now, PayPal has its sights set on something even bigger…
PayPal CEO Dan Schulman recently announced that the company hopes to become the world's next banking "Super App"…
Its aim is to become a digital "one-stop shop" to meet America's needs in mobile payments, shopping, investing, budgeting, crypto, and more.
Stephen's Disruption Investor subscribers are familiar with Super Apps. Stephen recently dedicated an entire issue to this big idea. As he said:
Today, Super Apps only exist in China, invented by firms like Ant Financial.
Paying bills… ordering groceries… booking a vacation… shopping for clothes… and buying stocks. These are five distinct tasks. And you must go to four or five separate websites to do them.
Ant Financial has squeezed all these tasks… and hundreds more… into one app. Modern Chinese life has essentially been reorganized around its Alipay app.
Today, 80 million+ Chinese businesses accept payment through Alipay each month. Over $17 trillion flowed through the app last year.
In fact, Alipay has totally disrupted credit cards in China. Visit Beijing or Shanghai and you'll find most folks paying for stuff with their phones through Super Apps like Alipay. Try to pay by card and you'll be left waiting while they try to dig out a dusty card reader.
Whether its hailing a cab… borrowing money… paying your electricity bill… or booking train tickets… you can do it all in Alipay.
So… Will PayPal launch the first Super App in the US?
Stephen says not so fast…
As he told his Disruption Investor subscribers, that crown will go to another disruptor… one everyone should consider adding to their portfolio today.
This company started as a payment solution for mom and pop stores. Today, it's helping ordinary Americans spend… save… and invest their money.
More than 32 million people now use this company's app at least once a month.
Stephen says it's fast evolving into a one-stop shop for your whole financial life. You can cash your paycheck… get a tax refund… or borrow money with a few taps on your smartphone.
You can buy coffee and tip through the app. You can buy and sell stocks… and even bitcoin.
This company is well on its way to developing America's first Super App. And my research suggests it will become America's largest financial institution over the coming years. This is a "must-own" stock for investors looking to profit from one of this decade's most important disruptions.
Disruption Investor subscribers can read all about this opportunity in Stephen's issue here.
If you're not a subscriber, you can get on board with a risk-free trial here.
As Stephen says, traditional banks will continue losing to the new money innovators. And this guarantees hundreds of billions of dollars in stock market wealth will keep shifting away from "old finance."
Now is the time to own the disruptors, and dump the disrupted.
Chris Reilly
Executive Editor, RiskHedge