Now's not the time to get cute with your trading.
As I'm sure you've noticed, stocks have been under a lot of pressure lately.
Both the S&P 500 and the Nasdaq are down more than 10% from their summer highs.
Now, corrections are perfectly normal. But the recent sell-off has broken a lot of key charts.
That doesn't mean there aren't still buying opportunities…
In fact, one area of the market that continues to hold extremely well is uranium.
If you've been reading Trade of the Week, you know I'm a BIG-time uranium bull.
I recommended Cameco (CCJ)—the world's largest publicly traded uranium stock—in my premium service, RiskHedge Live, back in July.
The next month, I made the Global X Uranium ETF (URA) one of my Trade of the Week picks.
I followed that up by recommending a nuclear power "picks and shovels" stock in September.
So, why do I still like uranium so much? It's simple.
Uranium is displaying a ton of relative strength right now.
As you can see below, URA recently pulled back into its rising 50-day moving average where buyers stepped in.
In other words, URA is holding a key support level: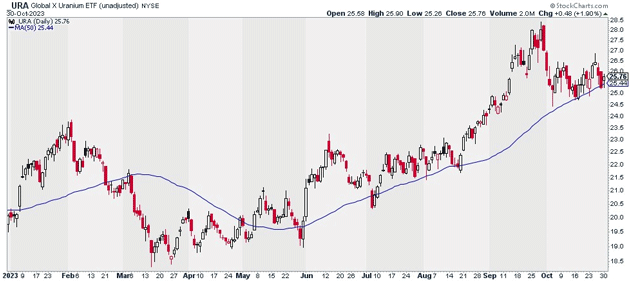 Source: StockCharts
That alone is promising.
But I'm even more encouraged when we zoom out on uranium stocks.
The chart below says it all. Here we're looking at the performance of URA relative to the S&P 500 ETF (SPY).
When this line is rising, it means uranium stocks are outperforming "the market."
We can clearly see uranium stocks have outperformed the S&P 500 since 2020. Not only that, but this key ratio just broke out to its highest level in seven years: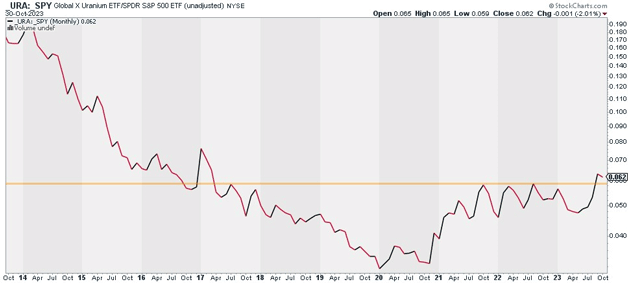 Source: StockCharts
This tells me uranium stocks should outperform the world's most important index in the years ahead.
So, consider picking up shares of URA if you haven't already.
If you're looking for even more juice on this trade, consider picking up shares of leading uranium stock Cameco.
Fellow uranium miners NexGen Energy (NXE), Uranium Energy Corp. (UEC), and Ur-Energy (URG) also look promising.
Justin Spittler
Chief Trader, RiskHedge