Remember when everyone loved growth stocks?
At the onset of the pandemic, exciting, young stocks like Teladoc (TDOC) and Zoom Video Communications (ZM) multiplied in value many times over.
Then they crashed back to Earth… with many still down 80% or more from their highs.
But now, growth stocks are making a serious comeback—including the one I'm recommending in today's Trade of the Week.
This chart below compares the performance of the the S&P 500 Growth ETF (SPYG) with the S&P 500 Value ETF (SPYV). SPYG invests in growth stocks in the S&P 500, while SPYV invests in value stocks.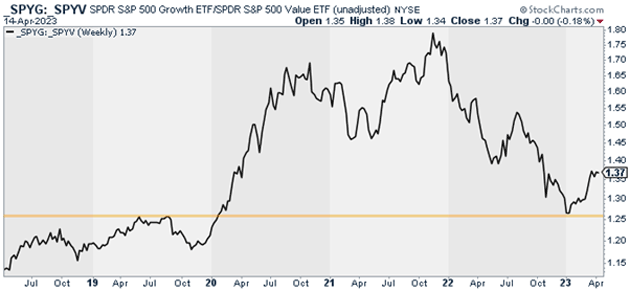 Source: StockCharts
When this ratio is rising, it means growth stocks are outperforming value stocks. When it's falling, growth stocks are underperforming value stocks—like they did for most of last year.
However, as you can see, this ratio bounced off a key support level at the beginning of the year. And growth stocks have been outperforming since.
Based on everything else I'm seeing, this trend could just be getting started. So it's time to invest in growth stocks...
And that brings us to this week's trade: DraftKings (DKNG).
DraftKings operates one of today's biggest online gambling platforms. It was one of the largest winners of the bull market that kicked off following the COVID crash… soaring more than 600% from its lows.
Then it plummetted 87%: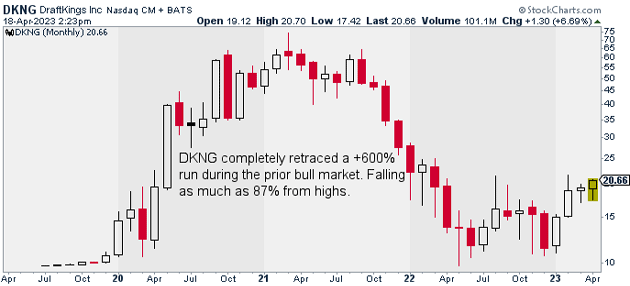 Source: StockCharts
But I love the chart today.... The stock bottomed in May, well ahead of the indices. Since then, it's been building out a huge bottoming pattern.
It's put in a series of higher highs and higher lows on the weekly.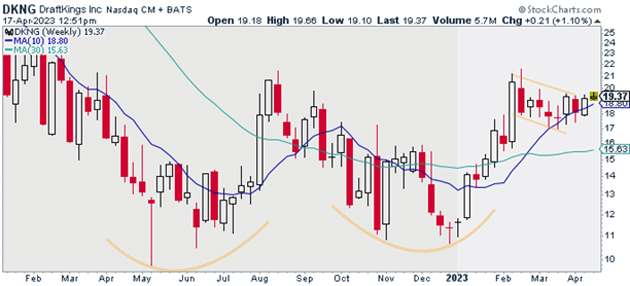 Source: StockCharts
It also reclaimed its 30-week moving average in January, which is now starting to turn higher. And its rising 10-week moving average is beginning to act as support.
All this suggests DKNG may be exiting its Stage 1 base and entering a Stage 2 uptrend.
This transition phase is an ideal time to buy stocks. That's why I'm recommending DKNG this week.
I suggest buying DKNG at current market prices, and I'm targeting $25/share in the next few months. That'd be about a 25% move from today's prices.
Exit your position if DKNG closes below its March lows… or around $17. That gives us a risk-reward ratio of 2:1 on this trade.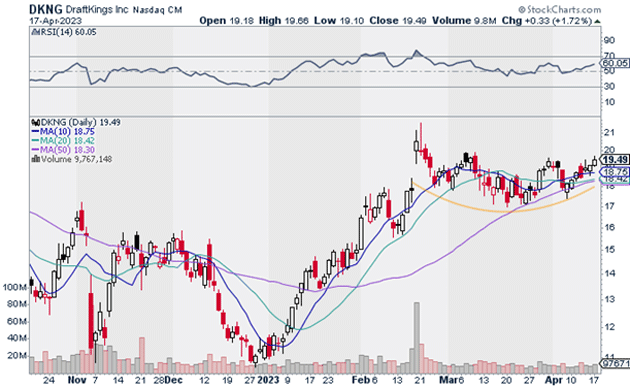 Source: StockCharts
Action to take: Buy DKNG at current market prices.
Risk management: Exit your position if DKNG closes below $17.25.
Justin Spittler
Chief Trader, RiskHedge