A new gold rush has begun.
And every day, people are making a fortune off it.
But this boom isn't unfolding in a major US city or the suburbs.
It's happening in the metaverse.
I'll explain exactly what the metaverse is in a minute. And the top two profit opportunities it's opening up today.
But first:
Take a look at this house...
It's called The Mars House.
Now, this residence obviously isn't on the planet Mars.
The Mars House is a piece of digital property. It was designed by the artist Krista Kim.
It recently sold for $512,000!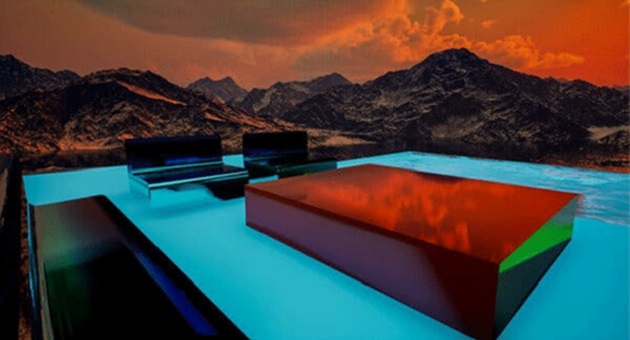 Source: NY Times
It gets even crazier.
The Mars House wasn't built to be enjoyed for its unique aesthetic. Instead, it was designed to be visited and enjoyed by those in the metaverse.
It will even host the first-ever wedding in the metaverse on Mars.
And it's not the only piece of digital real estate that's sold for big bucks lately.
As my colleague Stephen McBride pointed out a couple weeks ago, Republic Realm holds the record for the most expensive virtual land purchase. It paid $4.3 million for a plot of land inside The Sandbox, a video game where people can build out the metaverse.
Thousands of properties have been sold in SuperWorld—an augmented reality virtual world—this year. These include virtual versions of famous landmarks like the Giza pyramids and Piccadilly Circus in London. According to SuperWorld's CEO, the average sales price was around $2,000.
This is likely just the beginning.
Unlike the market for actual physical property, there's no limit to how big the digital real estate market can get.
Its growth potential is unlimited.
And we aren't just witnessing a buying wave of digital real estate. The virtual art market is also on fire.
Did you see that a digital piece of art sold for $69 million last year?
Mike Winkelmann, also known as Beeple, had been posting digital art online for his fans every day since 2007. This year, he combined 5,000 of his images into one larger piece. His Everydays: The First 5000 Days sold for $69 million.
This is a piece of art that doesn't exist outside the digital world!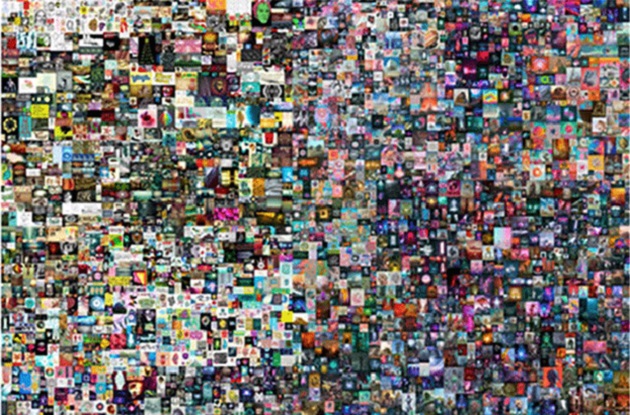 Source: TechCrunch
Now, you may have no interest in purchasing virtual land or digital art. I know I'd personally rather own the real thing.
But that's no reason to ignore this opportunity.
Fortunes will be made off this megatrend.
The metaverse is at the center of this digital gold rush.
The metaverse is a 3D, immersive internet where you, through an avatar, can socialize with other people… work… play… create… and basically "exist."
It's unlike anything else on the internet today.
Now, I personally have little interest in using the metaverse. I'd rather spend my free time hiking or going out to dinner with friends.
But that doesn't mean I won't invest in the metaverse.
See, some of the biggest early-stage opportunities seem silly at first. Take the internet. No one predicted anything like Facebook, Google, Snapchat, or Amazon.
Fast-forward to today… our lives revolve around the internet. It's the reason life moved on over this past year while much of the physical world was effectively shut down.
Many of the world's most important companies recognize the massive potential of the metaverse.
Microsoft (MSFT), for example, purchased Minecraft developer Mojang for $2.5 billion in 2014. Minecraft is an early pioneer of the metaverse experience.
Other tech giants are betting on technologies like virtual reality (VR) and augmented reality (AR), which will truly bring the metaverse to the masses.
Facebook changed its company name to Meta in November. And it plans to spend $10 billion and hire 10,000 people to build out the infrastructure of the metaverse.
Apple (AAPL)—the world's largest company—is working on a VR & AR-based, mixed-reality headset, which it plans to release by 2025.
These innovations will make the metaverse more accessible and enjoyable for millions of people, possibly billions.
Of course, the metaverse isn't getting ready to take off just in the United States. It's rapidly becoming a global phenomenon.
In May, South Korea launched an industry alliance to bolster the development of metaverse technology and ecosystems.
The alliance is made up of 17 companies, including wireless carrier giant SK Telecom Co. and auto giant Hyundai.
It's still very much the early days for this megatrend.
I see two huge moneymaking opportunities the metaverse is opening up…
I believe the metaverse will become the next frontier for advertising. And history has shown advertising is the best business on the planet. Take Facebook…
Facebook grew into the fifth-largest company in America because it's an advertising powerhouse. 97% of Facebook's revenue comes from advertising sales.
Advertising has been a lucrative business for Facebook. It's made CEO Mark Zuckerberg the fifth-richest guy on Earth.
It's made shareholders rich, too.
Facebook has handed investors 10X their money since 2012… by selling ads on the internet.
At this point, the "regular" internet is saturated with advertising.
Luxury brand Gucci is already marketing inside the metaverse, while Louis Vuitton recently released a collection for the League of Legends universe.
The metaverse is jam-packed with innovative marketing potential.
There are marketing opportunities in virtual stores, fashion shows, product launches, content production, live flagship events, enhanced social media platforms, Zoom calls, and NFTs.
The possibilities in this hybrid digital/physical world are endless.
There's a ton of money up for grabs as advertising migrates from the regular internet to the metaverse.
The second massive opportunity in the metaverse is the disruption of real estate as I mentioned above.
And there's one company, in particular, I recommend to play this trend.
The company is turning the entire $326 trillion global real estate market on its head by revolutionizing the way people think about property.
Specifically, it's leading the digitization of real estate layouts and turning them into this…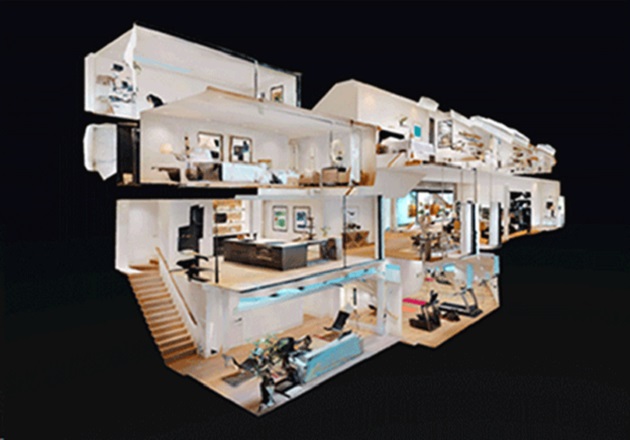 In short: This company lets you experience homes without ever setting foot inside.
Think of this company like Google Maps. Instead of capturing the outside world, this company wants to scan the inside of every building with its special nine-lens 3D camera.
The company has already scanned over five million homes, offices, schools, factories, hotels, museums, yachts, and even airplanes. And it doesn't just snap pictures of these spaces. Its expert software transforms them into digital twins. In other words, exact virtual replicas of the real-world space that can be edited and updated on a computer.
My research shows it will be one of the top stocks to own as the metaverse becomes a bigger part of our everyday lives.
I just released a brand-new briefing that lays out this opportunity—including how you can access this stock today. It's my second-ever "Must Buy" stock recommendation. And you can get all the key details here.
Justin Spittler
Chief Trader, RiskHedge