On March 1, America's biggest chipmaker was attacked.
Nvidia (NVDA) announced hackers had penetrated its defenses and stolen highly sensitive data, including employee credentials.
The hackers were holding this data for ransom. They wanted Nvidia to remove a cap on how fast its computer chips could mine crypto.
Are cryptos easier to buy than stocks?
Nvidia didn't comply, and "Lapsus$," the hacker group that took responsibility for this attack, leaked sensitive data online.
This is a huge deal.
Nvidia is the world's biggest semiconductor company by market value…
It's worth over $600 billion.
It's also one of the world's most technologically advanced businesses. If it's not safe from a cyberattack, no one is.
Unfortunately, we're probably going to see a lot more attacks like this in the coming months due to the Russia-Ukraine war.
Russian hackers have already attacked Ukraine's banks and other services.
Now, President Biden is expecting Russian hackers to come after the US too.
A couple weeks ago, Biden urged American businesses to bolster their cyber defenses immediately. He said "the magnitude of Russia's cyber capacity is fairly consequential and it's coming."
At RiskHedge, we also take cybersecurity seriously. Cyberattacks are a threat to your privacy and wealth. If hackers attack a bank with your savings or checking account, your money could be at risk.
But it's not all bad news.
Today, I'll explain why cyberattacks like this present a huge opportunity for investors. And I'll share an easy way to profit.
But first, let me set the stage for you…
No company or person is safe from cyberattacks…
The attack on Nvidia wasn't the first high-profile attack by Lapsus$.
In December, the group hacked Brazil's Ministry of Health. It claims to have acquired a massive amount of data related to COVID-19 records.
Lapsus$ also hit the South Korean electronics giant Samsung in the days following its attack on Nvidia. It stole 190 gigabytes' worth of data, including secret source codes and other confidential information.
But stealing data isn't the only thing hackers are looking to do.
Hackers are attacking important infrastructure…
According to Platts, there were 35 major cyberattacks against energy and commodities infrastructure in the past five years. This is a major issue for the companies being attacked, but also for everyday people.
For example, last year, the Colonial Pipeline was hit by a ransomware attack. That pipeline supplies 45% of fuel to the East Coast. After the attack, petroleum prices in the US rose by about 1%.
Energy assets and infrastructure have been the biggest targets for hackers in the past five years. According to Standard & Poor's, these assets have accounted for one-third of all cyber incidents over the past five years.
The chart below from cybersecurity company Check Point Software Technologies (CHKP) says it all.
You can see that the number of cyberattacks jumped 50% last year. Cyberattacks reached an average of 925 attacks a week, per organization!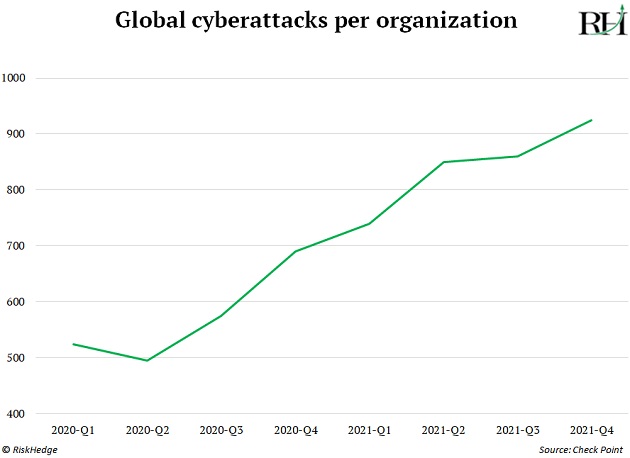 I could go on and on with statistics. But you get the point.
Cybercrime is at an all-time high, and hackers are targeting companies and industries that affect us all.
Cybercrime is also playing a big part in the Russia-Ukraine war…
Russia ranks fourth in terms of how many hackers it has.
There are at least 20 Russian cybercriminal groups with hacking abilities better than most countries'. Russia leads the world in cybercrime, and many of these hacking groups have the support of the Russian government. Putin can call on them at any time.
You've probably noticed cyberattacks are now the first steps countries take before going to war.
In fact, Russia went on a cyberattack rampage before it invaded Ukraine. On January 14, a Russian cyberattack took down 70 Ukrainian government websites. A month later, other government and banking services were taken down.
Now that there's a full-fledged war raging between Russia and Ukraine, we should expect more cyberattacks to take place.
Wall Street agrees.
Upon Russia's invasion on February 24, cyber stocks Palo Alto Networks (PANW), CrowdStrike (CRWD), and Fortinet (FTNT) each went up an average of 25% over the following five trading days.
First Trust Nasdaq Cybersecurity ETF (CIBR), the largest cybersecurity fund by assets under management, jumped 17% within the same period. It also recorded its highest volume in seven years on February 24.
Since then, it's kept rallying. As you can see below, CIBR has rallied more than 22% since bottoming in late February.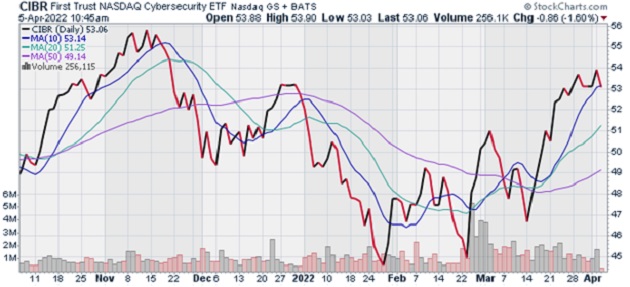 Source: StockCharts
CIBR is now trading above all its key moving averages (the thin blue, green, and purple lines). In other words, it's in an uptrend. That's not something we can say about most tech stocks right now.
So, consider picking up shares of CIBR today if you're looking for a way to profit off cyberwar.
Justin Spittler
Chief Trader, RiskHedge