Editor's note: Welcome back to Crisis Week. Every day this week, we're featuring a new essay from tech veteran Chris Wood... To help you capitalize on the major "imbalance" happening in the markets today.
If you're feeling "paralyzed" right now—don't know what to do, don't know whether or not you should buy stocks—this essay is for you. 99% of investors simply don't know where to turn.
But Chris says to start here...
***

I talk to a lot of investors who feel paralyzed right now.
I get it. There's plenty to be worried about. We're in a recession, inflation is raging, and the market is down big.
At the same time…
Crisis times like these are without exception the absolute best opportunities to buy high-quality stocks.
The dot-com bubble burst in 2000. Then, from its 2002 bottom, the Nasdaq soared 158%.
The global financial crisis hit in 2008. From its 2009 bottom, the Nasdaq soared 1,181%.
Late last year...The bull market that followed the COVID crash came to a screeching halt.
Since its peak in November, the Nasdaq has dropped around 23%.
What do you think is likely to happen soon?
But let's not oversimplify things…
Like today, investors felt paralyzed in 2002 and 2009. It wasn't easy to buy stocks.
But if you were brave and armed with the correct analysis, making money was like shooting fish in a barrel.
[Buffett's $51 Billion Buying Spree] After years of sitting on the sidelines, Warren Buffett is buying up billions in stocks. That's all thanks to a rare market "imbalance" returning for the first time since 2009.
Today's setup is similar to 2002/2009, with one important difference:
In 2002/2009, the entire stock market crashed. Today, the biggest losses have been concentrated in tech stocks.
As I mentioned, the tech-heavy Nasdaq has fallen more than 20%: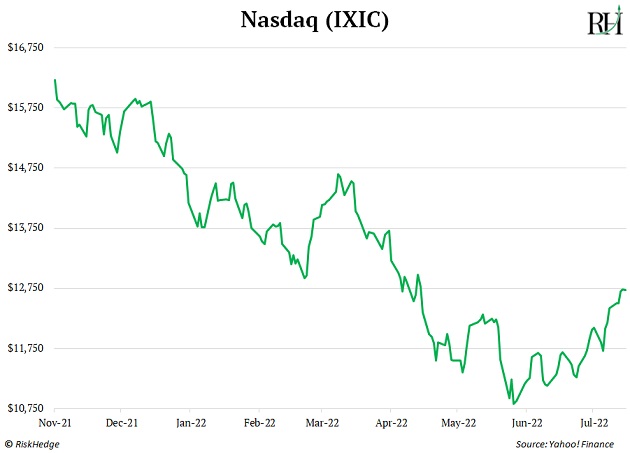 Big Tech stocks like Facebook (META) and Netflix (NFLX) have dropped around 55% this year: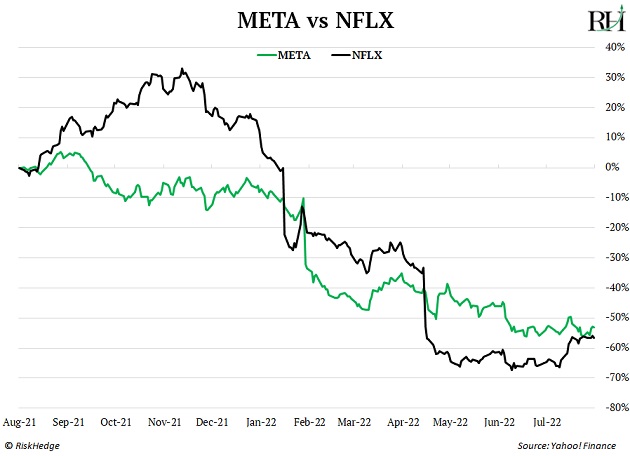 And many of the popular tech darlings from 2020-2021, like Zoom (ZM) and Peloton (PTON), have lost 70% or more: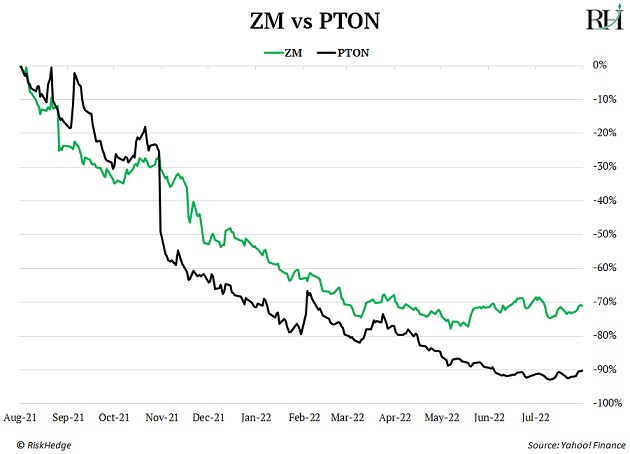 If you're wondering what to do with your money right now, here's a good place to start:
Look at what the greatest and most patient investor of all time is doing…
Of course, I'm talking about Warren Buffett.
Buffett has generated an annualized return of 20% for his shareholders since 1965.
That's a long and legendary history of consistent wins… and more than double the S&P 500's annualized return over the same period.
Today, while many investors are paralyzed...
Buffett sees big opportunity.
His investment firm, Berkshire Hathaway, plowed a net $41 billion into stocks in the firs­t quarter of this year.
It was Buffett's biggest buying spree since the 2008 financial crisis.
Then, on Saturday, we learned Berkshire plowed another $3.8 billion (net) in stocks in Q2.
Buffett's buying sprees are a great signal because they're so infrequent. The guy doesn't pull out his checkbook for anything less than screaming, no-brainer opportunities.
That's why he didn't go "all in" while the markets roared higher in 2020–2021. Stocks were simply too expensive.
Instead, he built up a mountain of dry powder... waiting for the perfect opportunity.
Now, he's buying profitable, time-tested businesses for pennies on the dollar. Just like he did back in 2008.
Now is NOT the time to be paralyzed.
The world's greatest investor is buying...
That is a clear sign—one you should not take lightly.
These great crisis prices are staring us in the face... and we don't know if and when we'll see them again.
The question is:
Which stocks do you buy today?
More important, what's the safest and highest-upside way to capitalize off this opportunity?
Do you buy boring "value stocks" like Buffett?
Or speculative mid-cap tech stocks?
None of the above.
And while most readers know me as "the microcap guy"—and I do see big upside ahead in that space—that's not the specific opportunity I'm talking about today.
My friends, this is the time to buy big, world-class, dominant tech stocks.
But not just any big tech stocks. For example, I do not recommend buying Amazon or Facebook today.
You have to know how to tell if a dominant tech stock is truly cheap...
And if it can continue to grow and tower over the competition.
More on the first part tomorrow.
In the meantime, if you'd like to learn more about today's big opportunity, and how to set yourself up for outsized returns, go here.
Chris Wood
Editor, Project 5X