[Editor's Note: Justin does something very unusual in this issue. He mentions his #1 trade recommendation—which he believes is set to soar in days or weeks. Be sure to read today's essay in its entirety.]
You either love him or hate him...
But no one can deny Elon Musk is a genius.
He built Tesla (TSLA)—easily the world's most innovative car company—from scratch.
When he's not running Tesla, he works a "side job" as a rocket scientist for his private space company, SpaceX.
So, you'd think only fools would bet against Musk.
But that's what my subscribers have been doing lately.
No, we haven't been "shorting" Tesla. Instead, we invested big in hydrogen energy.
Musk HATES the idea of using hydrogen energy to power vehicles…
Hydrogen is the most abundant element in the universe.
It's been used as an energy source for decades. In fact, NASA has been using it since the '50s as rocket fuel for its space missions.
But Musk hates hydrogen fuel cells. He's called them "fool cells"... and says using them to power vehicles is "mind-bogglingly stupid." His basic objection is that using hydrogen to store energy can never be as efficient as storing electricity in a battery.
Musk is not alone in his hatred for hydrogen. Years ago, hydrogen-powered vehicles were supposed to be the next big thing.
For a time, hydrogen was running neck and neck with electric cars as the top bet to replace gasoline-powered cars. As recently as 2017, a poll of car company executives said hydrogen-powered vehicles would win out over electric vehicles.
But thanks largely to the success of Tesla, electric vehicles took off... and hydrogen never amounted to much. Hydrogen lost the popularity contest, and once-hot hydrogen stocks turned ice cold.
Here's Plug Power (PLUG), a leading hydrogen fuel cell company. Plug plummeted 98% from March 2009 to February 2013... while the S&P 500 rallied more than 120% over the same stretch.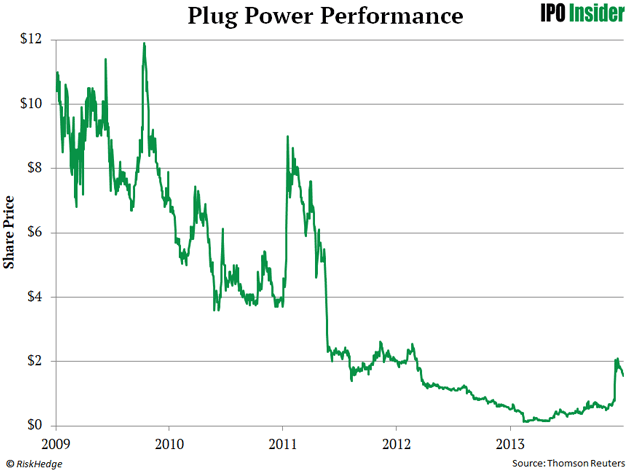 Investors hated Ballard Power (BLDP), too. In fact, it hasn't set a new high since 1999.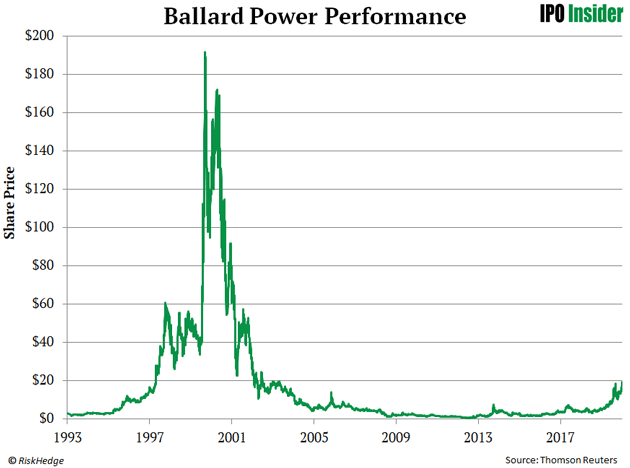 Then, there's Bloom Energy (BE). It's plunged 39% since it IPO'd in 2018.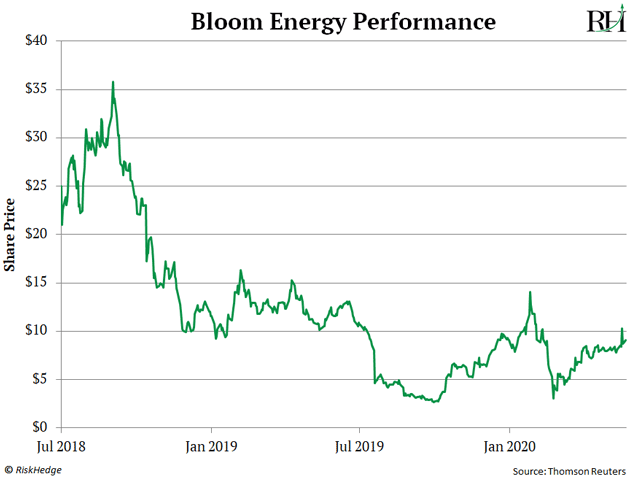 No one wanted anything to do with hydrogen stocks. They were arguably the most hated stocks on the planet.
And then, seemingly out of nowhere, hydrogen stocks took off...
Plug Power has rocketed more than 4,300% since early 2013.
Ballard Power has spiked over 3,000% over the same period.
Bloom Energy has rallied 239% since bottoming out.
In other words, hydrogen stocks went from being the "ugly ducklings" of green energy to some of its hottest stocks.
But Nikola Motors (NKLA) has left every other hydrogen stock in the dust this year.
If the name sounds familiar, it's because Nikola is named after the same guy Tesla is: scientist Nikola Tesla.
Nikola's vision is to disrupt the $1.2 trillion semi-truck market. Although it has secured 14,000 pre-orders, you could argue it was the most hated hydrogen stock out there. The company hasn't sold a single real truck yet.
Some folks even accused Nikola of peddling "vaporware." In tech circles, this is a mocking term for a product that's announced, marketed, and hyped-up... but never actually created.
As far as I know, I'm the first analyst to recommend Nikola...
After researching Nikola and talking to folks in the industry, I knew the doubters were wrong.
I sent an alert to my premium subscribers to buy Nikola just hours after it "went public" on March 3. If you didn't hear a thing about Nikola's IPO, you're not alone. Nikola went public via a quiet, obscure transaction called a "reverse-merger" that 99.99% of investors were unaware of.
Fast forward to today, and Nikola has been one of the top-performing stocks in the world. My premium subscribers got in at $11.50. Two weeks ago, we sold on the day it surged an almost unbelievable 103% and closed at $73.27.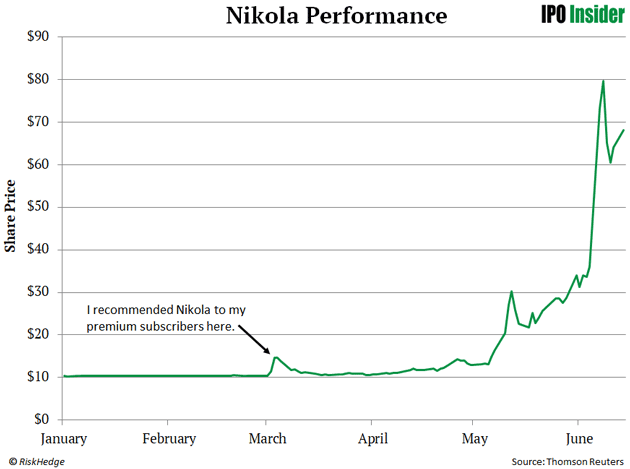 That's a 537% gain in 3 months—although we booked a 398% profit because we took partial profits in May.
Why did hydrogen stocks, and Nikola in particular, flip from "hated" to "skyrocketing" in a flash?
You could point to a lot of reasons. One is that expectations fell into line with reality. Folks realized that America will never run on hydrogen cars. But as a specialized solution, hydrogen vehicles could still be big.
For example, big companies with huge fleets of trucks like UPS and FedEx are already starting to use them.
Many environmentalists have gotten on board with hydrogen, too. Hydrogen fuel cells are very clean. They don't produce exhaust or any other form of pollution. Their only byproduct is water and heat.
Frankly though, none of this mattered all that much in my analysis.
Hydrogen came up on my radar for one reason: It was irrationally hated by investors.
Which meant huge gains were a virtual certainty when sentiment flipped.
Buying "hated stocks" isn't for everyone...
You'll feel like you're going against the grain... like you're at odds with the crowd.
But trading isn't about falling into line/letting other folks think for you. It's about making money. And as far as I know, there's no surer way to book big, often quick profits than buying a hated stock right before it "flips" to skyrocketing, like we did with Nikola.
You can get in on my next "hated stock" trade that's about to flip, for free, right here.
And in that link I've posted a new special briefing. In it I reveal a despised little internet company that nobody believes in...
I believe it's the next "hated stock" to soar 50% or more in a matter of days or weeks... and potentially a whole lot more after that.
Chances are you know this company. Maybe you've even ordered products from it. But you'll probably be a little shocked that I'm recommending it...
When you claim your "#1 hated stock" briefing, you'll also be given a complimentary seat to the online event I'm putting on next Monday at 7 pm.
It's called "Collect 70–135% This Summer from Hated Stocks."
In short, with COVID-19 making markets go haywire, we have a golden opportunity to make big money from many perfect "hated stock" setups this summer.
During the event, I'll take you through my 3-step signal that pinpoints exactly when to get into a hated stock before it flips. And I'll present all the info you need to use my hated stock strategy yourself—so you can use it to trade your way to extra cash this summer.
Go here to claim your special report and sign up. Hope to see you there!
Justin Spittler
Editor – IPO Insider
Omaha, Nebraska
PS: RiskHedge readers can access my #1 "hated stock" recommendation by going here.