Last week, I spied on a billionaire.
I did it to get a profitable "edge"... and it worked.
I personally used this edge to collect an 18% profit off a little-known stock in just five days.
Let me be clear, I didn't do anything unethical to collect this billionaire's information.
I didn't tap his phone calls or hack into his computer.
Instead, I dug into this billionaire's latest "13-F"
Big investors, like hedge funds, are legally required to file a 13-F document, every three months.
The 13-F reveals what they're invested in. It discloses what stocks they bought and sold during the quarter. It tells you how many shares of stocks they bought or sold, too.
We're in "13-F season" right now. More than 100 institutions have filed their 13-Fs in just the last few days.
That's a lot of data to sift through, even for a professional investor like me.
So, I don't read every 13-F. I instead focus on the very best investors… guys like Stanley Druckenmiller.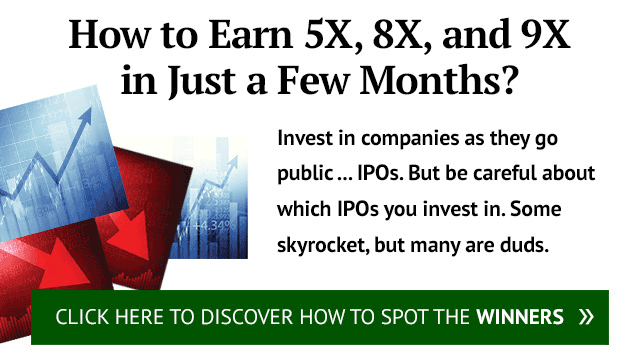 Druckenmiller may well be the greatest trader alive today…
His hedge fund earned average annual returns of 30% from 1986 to 2010.
That's nearly triple the S&P 500's return during that stretch... and enough to turn just $10,000 into nearly $7 million!
Even more incredible, he never lost money in a calendar year. He even turned a profit in 2001 and 2008, when many investors lost everything.
In 2010, Druckenmiller closed his hedge fund. But he didn't retire. He now runs a $2.6 billion "family fund."
So, he's still worth "spying on." And I discovered something many folks might find shocking while digging through his latest 13-F...
Druckenmiller's betting BIG on initial public offerings (IPOs).
An IPO, as regular readers know, is when a company offers shares to the public for the first time.
Last quarter, Druckenmiller took a $62 million stake in Anaplan (PLAN).
Regular readers will recognize the name Anaplan. It's a software company that went public in October 2018. Like many recent IPOs, it had an incredible debut.
It surged 87% on its first day of trading. From there, it soared another 181% in just nine months!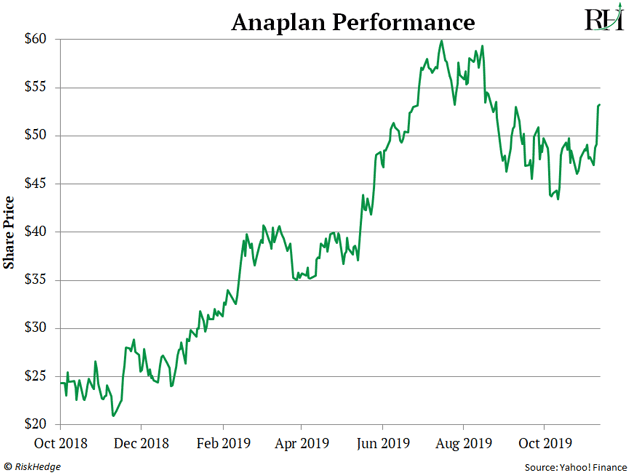 Druckenmiller also bought stock in Zoom Video (ZM) last quarter. Zoom is a video conferencing platform that competes with Skype.
Like Anaplan, Zoom had a great IPO. It soared 78% during its first two months.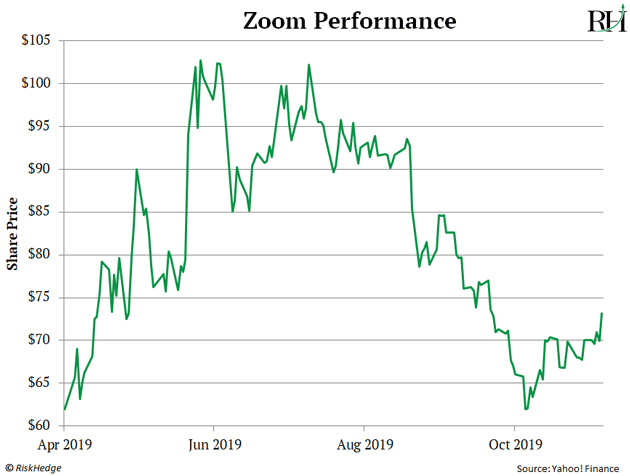 Druckenmiller also boosted his position in Smartsheet (SMAR) by more than tenfold!
Smartsheet is a software as a service (SaaS) company. Its platform helps employees at companies like Cisco (CSCO) and Nike (NKE) collaborate. It's surged 209% since it went public in April 2018.
Why is this legendary trader buying these high-flying stocks?
It's impossible to know exactly why Druckenmiller bought specific stocks. He doesn't have to disclose "why."
But you should know this about Druckenmiller: he sees the big picture better than practically anyone.
His secret is to "never, ever invest in the present."
In his words, Druckenmiller learned early in his career "to visualize the situation 18 months from now... and that's where the price will be, not where it is today."
Most investors do the opposite. They obsess over today's news.
If you ever need a reminder of this, just turn on the television. All you'll hear is bad news. If they're not blabbing on and on about the trade war, they're showing images of protests in Hong Kong or warning of a possible impeachment.
I'm not saying to ignore what's going on in the world. What I am saying is, when it comes to investing, the overwhelming majority of news is irrelevant "noise."
The news exists to entertain you... to scare you... to rile up your emotions so you'll keep staring at the TV and contribute to viewership numbers.
Watching the news most definitely does not make you money. So, I tune most of it out.
Druckenmiller clearly isn't losing sleep over scary headlines, either…
Otherwise he wouldn't be loading up on IPOs.
Why IPOs? Simple. Druckenmiller is betting on growth. And IPOs are some of the fastest-growing stocks on the planet.
Look at Anaplan, one of his recent buys. It's growing its sales at 47% per year. Zoom Video, another recent pickup, is growing at 96% per year. Smartsheet is growing at 53%.
All told, Druckenmiller spread more than $300 million across growth stocks last quarter!
He bought nearly $24 million worth of Okta (OKTA) and $66 million worth of Shopify (SHOP).
Druckenmiller also increased his positions in ServiceNow (NOW) by 153% and Atlassian (TEAM) by 157%. He also upped his stake in Twilio (TWLO) by 674%... and Alteryx (AYX) by nearly twentyfold!
If you're a regular reader, these names probably ring a bell…
All these stocks IPO'd within the last few years.
So, what should you do with this information? You could follow Druckenmiller into the names I mentioned.
But every stock I've mentioned has already skyrocketed since its IPO: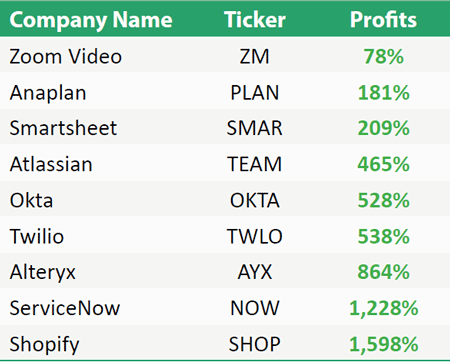 I wouldn't be surprised if some of these stocks double again in the next 12 months.
But the fact is... the biggest gains in these particular stocks have already been claimed.
Remember Druckenmiller's secret:
"Never, ever invest in the present."
If you're after truly big gains, I suggest going after the next crop of high-flying IPOs.
The ones set to hand out 400%... 800%... and possibly even 1,000% profits.
These are the stocks I hunt for in my unique new advisory, IPO Insider.
For a few more hours, you can still join our small circle of 300 Charter Members to IPO Insider.
When you do, you'll get immediate access to:
My top IPO pick right now (it's publicly traded, so you can buy it today)
My #1 "failed IPO" with a shot to hand us 1,000% or better profits (also publicly traded)
Hands down my #1 IPO pick for 2020 (it should go public very soon)
Plus many thousands of dollars' worth of complimentary IPO research.
This opportunity shuts down for good tonight, though.
So please go here and decide now.
Justin Spittler
Editor – IPO Insider
Seattle, Washington
PS: Great news! Because you're a RiskHedge reader, you're eligible for a 40% discounted Charter Membership to IPO Insider. And, if you respond by midnight, you get to try IPO Insider risk-free for 30 days without committing a penny. Head to this page now to activate your special deal.
Fair warning: Charter Membership enrollment closes for good at midnight tonight, so your $2,000+ savings and opportunity at a risk-free trial will be forfeited if you don't go here to claim it tonight.