When stagnant is good… the tech wreck is over... use this opportunity to buy 2 of my all-time favorite stocks… Plus, the most popular and pathetic phrase of 2022…
1) You'll never guess what the top-performing big tech stock of 2022 was…
You're probably tired of hearing how 2022 gut-punched investors. Consider that Tesla (TSLA) was the #1 performer in the S&P 500 in 2020, soaring 739%. It rose another 47% in 2021.
It gave all those gains back last year. Tesla ended 2022 as S&P 500's fifth-worst stock, crashing 65%...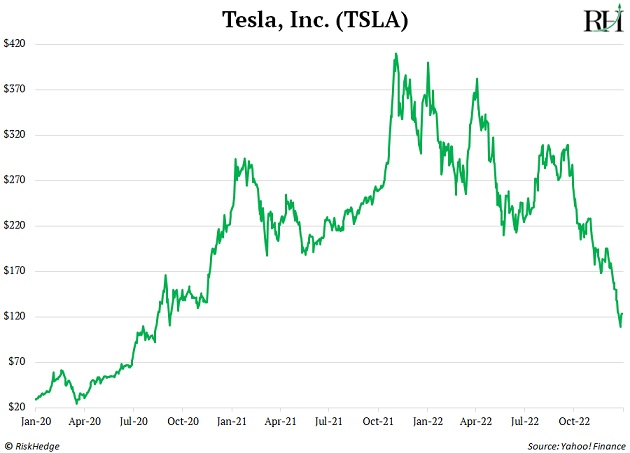 Of course, Tesla wasn't the only huge tech stock to get wrecked...
The three largest companies in the world, Apple (AAPL), Microsoft (MSFT), and Amazon (AMZN), lost a combined $2.4 trillion in market cap last year.
But the most surprising performance was IBM (IBM)…
The 111-year-old company was the best-performing big tech stock of 2022, rising 5%.
IBM is the least disruptive big tech firm on the planet. Its revenues shrank in eight of the last 10 years. It's a stagnant company at best.
Nobody wants to invest in a stagnant company… right?
Warren Buffett just took a $4.1 billion stake in one chip stock. Major institutions like BlackRock and Vanguard are also moving into this beaten down industry. Should you follow the "smart money?"
As I've been saying, 2022 was the most unusual year I've experienced in my 15+ year investing career. It was the most-punishing market for growth stocks since at least 2000.
My strong belief is 2022 was an outlier that won't be repeated due in large part to the Federal Reserve hiking interest rates at the fastest pace in history.
Markets will get back to doing what they've always done: rewarding innovative, growing, disruptive, and profitable companies. Folks who invest in the right companies now will enjoy a profitable year.
2) Apple (AAPL) is sinking to new 52-week lows…
The stock's fallen 27% over the past year and is now trading at around $132/sh. For investors willing to hold for three or more years, this is an opportunity to buy one of the most-dominant businesses in the world for a low price you're unlikely to see again.
Apple dominates the US smartphone market. Nearly 6 in 10 phones in America are iPhones. And Apple's customers LOVE its products so much they happily pay very high prices for them.
Most firms have to choose between selling a lot of units and selling at high prices. Apple enjoys both. Its net profit margin averaged 23% over the past five years—nearly double its closest competitor, Samsung.
And Apple is still innovating. As I showed you last month, the company is close to releasing a mixed reality (VR + AR) headset and a pair of sleek AR glasses. AR glasses will eventually replace our smartphones. And I expect Apple to dominate the colossal new consumer AR glasses market.
Now is a great time to buy Apple.
3) Google (GOOGL) is struggling too…
The stock is down 43% from its highs.
You already know Google is one of the most powerful companies of our time. But do you know how dominant each of its individual businesses are? When you buy GOOGL, you get a stake in:
Google Search, the most-dominant search engine. It has a 92.5% market share.
YouTube, the most-popular video-sharing platform. It has a 75% market share.
Android, the most-used operating system for smartphones. It has a 70% global market share.
Each of those is worth hundreds of billions of dollars. And those are just Google's "old" businesses…
The company also has a rapidly growing cloud computing business. Revenues soared by 37.5% last year. That's much faster growth than Microsoft's Azure or Amazon's AWS.
And as I showed you last month, Google is an artificial intelligence company at its core. AI is the next big opportunity in tech. The market is expected to 20X in size over the next 10 years.
Finally, Google has a "Moonshots" division. It features early-stage projects with the potential to change the world, like quantum computing, autonomous vehicles, and robotics.
When you buy Google stock today, you get all this for a PE (Price-to-Earnings) multiple of just 17.5. That's the cheapest it's been since I first brought Google to my readers' attention in 2012.
Google is the best value-for-your-money stock right now.
I'll leave you with something that isn't stock related...
4) My colleague Chris Reilly asked what I thought about the "quiet quitting" trend...
Quiet quitting was the most popular phrase of 2022, according to Financial Times.
It means putting in minimum effort at work. Instead of quitting your job outright... you "quit" by skating by. Tech Target describes it as "a rebellion against the hustle culture of going above and beyond what a job requires."
I'll probably sound like an old guy, but… really? Folks are bragging about being lazy? I hate this. We all have bad days. But to underperform on purpose is sad. It's bad for your soul.
To young adults reading this: try your best! Good things will happen. I never got in a game when I played college football for the Texas Longhorns. In fact, my job was to take the hard hits in practice so our star player—Heisman Trophy winner Ricky Williams—didn't have to.
I can't prove this experience contributed to my success in life… but I know it did.
No one ever regretted trying their hardest.
Chris Wood
Chief Investment Officer, RiskHedge