Stocks are showing signs of life again.
Last week, the S&P 500 notched its first positive weekly return in a month.
The Nasdaq 100 performed even better, gaining 1.8% on the week. That was good for its second consecutive positive weekly return.
This is encouraging. And I'm confident stocks are headed even higher from here.
But that doesn't mean you should blindly buy any beaten-down stock.
After all, the recent pullback broke many charts.
And it will take time for those names to repair the damage that's been done.
In short, this is no time to go "dumpster diving." Instead, I encourage you to focus on stocks displaying relative strength.
Look for names that withstood the recent selling. Those have the best shot at becoming leaders if the market can find its footing again, like I expect.
That brings us to our new Trade of the Week: Cadence Design Systems (CDNS).
Cadence is one of today's leading software companies. It specializes in chip design, making it a direct beneficiary of the artificial intelligence movement.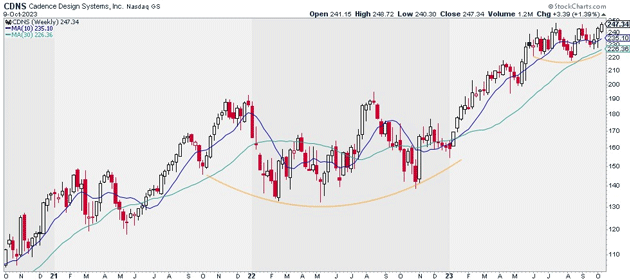 Source: StockCharts
More important, CDNS is one of the strongest stocks in the entire market. It's rallied 87% since May 2022. And it's been largely unaffected by the recent drawdown.
In fact, it closed yesterday at its highest price ever!
There aren't many stocks displaying this kind of strength right now, especially tech stocks.
I'm confident CDNS will be a top performer when the market heads higher again. That's why I suggest buying a starter position in CDNS today. I believe the stock can hit $320 within the next 12–18 months.
Exit your position if CDNS closes below $220. That gives us a risk-reward ratio of 3:1 on this trade.
Action to take: Buy CDNS at current market prices.
Risk management: Exit your position if CDNS closes below $220.
Justin Spittler
Chief Trader, RiskHedge