Chris Reilly's note: Bitcoin has been in free fall...
After storming out of the gate in early 2021, the world's largest cryptocurrency then crashed 53%. Although it's recovered a bit in recent days, it's still 37% below its all-time high of about $63,000.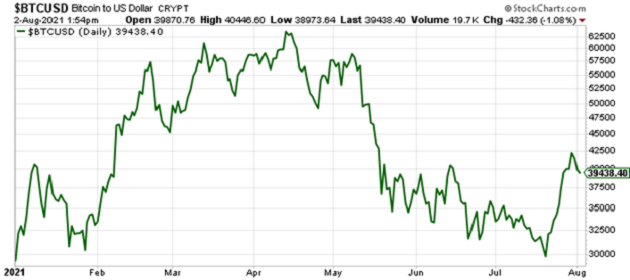 Source: StockCharts
So—are these "low" prices a buying opportunity?
The sell-off certainly is enticing—and if you do want to take a stab here, we recommend only betting a small amount of money.
As you can see from the roller-coaster chart above, Bitcoin's extremely volatile.
However, our RiskHedge Chief Investment Officer Chris Wood isn't interested in Bitcoin today.
He says there's another asset class that offers more explosive upside.
In fact, this asset class gives him and his subscribers an advantage that Bitcoin never will.
With that, let me hand over the reins to Chris…
***
Forget Bitcoin—buy these stocks instead
By Chris Wood, Editor, Project 5X
I haven't touched Bitcoin… and I don't plan to.
Nothing against it. But even with the recent sell-off, Bitcoin has soared a whopping 5,520% over the past 5 years.
Could it still hand out big gains in the years ahead? Sure... but it will do so without me involved, for two important reasons:
Reason #1: Bitcoin is already huge.
Its market cap is over $600 billion.
That's in the same league as electric car darling Tesla (TSLA) and superinvestor Warren Buffett's Berkshire Hathaway (BRK.A).
Of course, it's not a perfect "apples-to-apples" comparison. Bitcoin is a currency, and those are stocks.
But the point is, Bitcoin is already very large, and it's run up far too high for my liking. The biggest upside is most likely gone.
Instead, I focus on microcaps. Tiny stocks that are going to grow BIG.
I only want to buy tiny businesses taking on very large markets. Little-known stocks on the cusp of transforming big industries, like AI… healthcare… and computing.
This is how a company can set itself up to grow 10X–100X, which leads to a soaring stock price.
That's the opposite of investing in Amazon, Google, and Microsoft right now.
Don't get me wrong: They're all great businesses. But they're gigantic already. It's mathematically impossible for any of them to grow, say, 10X from here. The best you can really hope for is a double.
And that brings me to the other reason I'm not interested in Bitcoin…
#2: I work hard to build relationships with the real, live human beings who run the companies I recommend. I can't do that with Bitcoin.
These days, anyone with an internet connection can find out all the publicly available information about any company in 5 minutes. There's no edge to be gained sitting at your desk...
So I get out there and see how these microcaps are changing the world—firsthand. I meet the CEOs, in person.
I guess I'm old-school, but I believe there's no substitute for shaking a CEO's hand and looking them in the eye...
For example, in October I flew out to the headquarters of 5G filter stock Resonant (RESN) to meet with the CEO and see their game-changing technology up close.
Here are two pictures I took. Excuse the mask…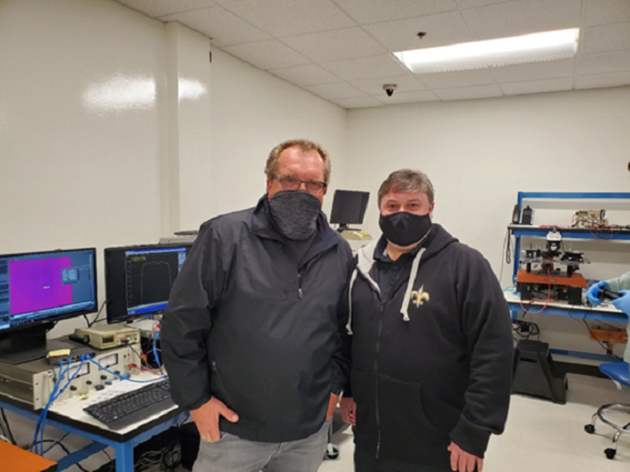 Me (right) with Resonant's CEO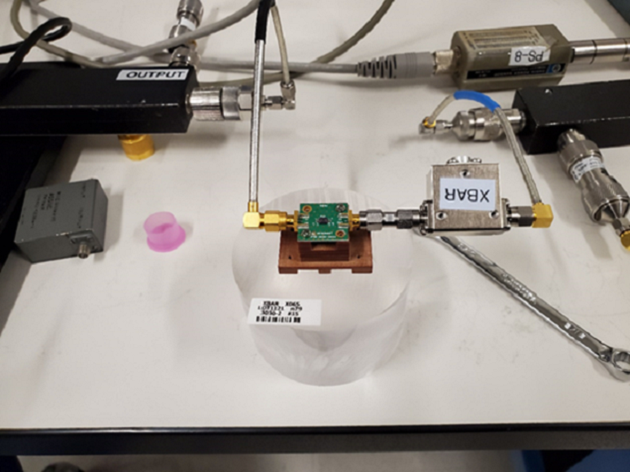 A prototype of the company's game-changing 5G filter technology
The trip was well worth it. I was able to confirm their technology and I recommended the company to my premium subscribers right away. We took a "free ride" on the stock in January and are sitting on a nice 81% gain.
[A "free ride" is a simple strategy I often use to lock in profits when one of my recommendations shoots up 100%+. The idea is you sell enough shares to take your initial investment off the table, and then let the rest "ride" risk free. It's the best way to eliminate any risk… while still going after big gains.]
With Atomera (ATOM), I had to do a video call. Not my preferred method, but it turned out okay.
For readers who don't know... ATOM developed a breakthrough microchip material that's superior to silicon.
Before I officially recommended it to my Project 5X subscribers, I needed to make sure the team behind the company was the real deal.
The stock rallied 288% over the next 8 months before I recommend taking some profits. And I still keep in close contact with management to share any important updates on the company with my subscribers.
Obviously, this isn't something I could do with Bitcoin.
We don't even know for sure who invented Bitcoin!
Most people say it's a guy named Satoshi Nakamoto, although he has yet to reveal his identity. That might not even be his real name. Some say he's not even alive.
In any case... I can't meet the guy and chat over a beer with him, like I would the CEO of a microcap.
Above all else, I credit these personal relationships as the reason our stocks have done well, compared to the roller-coaster of the broad markets.
It's not easy to build and maintain relationships with CEOs. But it gives my readers and I an edge you can't get anywhere else.
Microcaps have been a mixed bag this year… The most popular microcap index has gone nowhere for the last 5 months.
Despite that, we were able to take profits of 422%, 399%, and 177% earlier this year. I don't believe that would've been possible had I been sitting behind a desk, like most other investors.
Regards,

Chris Wood
Editor, Project 5X
Editor's Note: If you really want to book the biggest gains over the next year, Chris says forget Bitcoin and do this instead…
When you go here, you'll hear all about Chris's #1 microcap to buy right now, before the bell rings tomorrow morning. Go here to check it out now.