Have you seen the bitcoin (BTC) chart lately?
The world's largest crypto is on a tear.
Since bottoming in mid-July, bitcoin rocketed around 100%: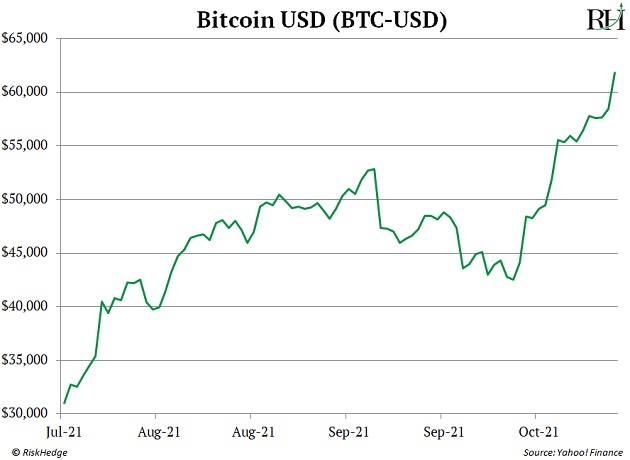 It passed $61,000/coin on Friday, nearing its all-time high of $64,863.
And its market cap has ballooned to over $1 trillion.
To put that in perspective, if bitcoin were a publicly traded company, it would be the fifth-largest in market value… trailing only Apple (AAPL), Microsoft (MSFT), Google (GOOG), and Amazon (AMZN).
Although bitcoin is huge… don't make the mistake of thinking the whole crypto space is huge.
More so than any other asset class, cryptos are "top heavy." Bitcoin alone accounts for almost half the crypto market. Together, bitcoin and Ethereum (ETH) make up 65% of the crypto space.
As you can see below, the entire crypto space is still small. In fact, the market value of every crypto in existence is roughly equal to the market value of one company: Apple.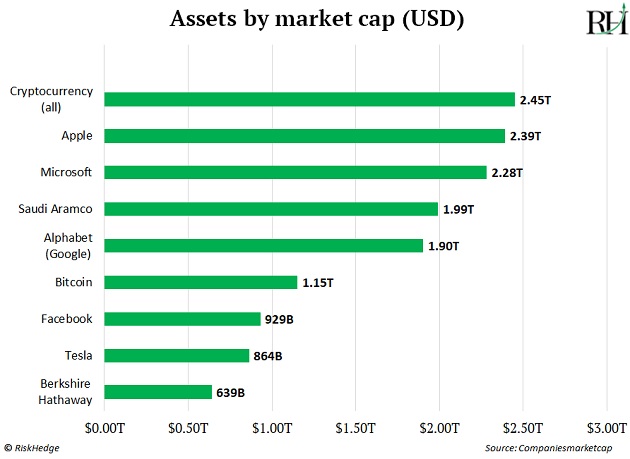 Meanwhile, more than 6,000 smaller, lesser-known cryptos make up the rest of the market.
And that's where the biggest gains are happening lately.
Fantom (FTM), for instance, is up 11,493% this year. Telecoin (TEL) is up 12,500%. And Axie Infinity (AXS) is up 21,616%.
Today, we'll look at the lay of the land in crypto. We'll start with the big ones… then work our way down to some lesser-known names.
In the US stock market, there are dozens of large, established "blue-chip stocks" to choose from…
These are giant companies with decades of success under their belts. I'm talking tech giants like Apple and Microsoft. Icons like McDonald's (MCD), Coca-Cola (KO), and Walmart (WMT).
Providers of basic goods like Johnson & Johnson (JNJ) and Procter & Gamble (PG). Dominant brands like Nike (NKE)… AT&T (T)… Starbucks (SBUX).
Crypto is completely different. The vast majority of cryptos are essentially startups. The only two that could be compared to blue-chip stocks are bitcoin and Ethereum.
RiskHedge chief analyst and crypto expert Stephen McBride covered the investment merits of the two largest cryptos on Thursday.
As a refresher, bitcoin can be summed up in two words: digital cash.
Ethereum, on the other hand, is like the world's greatest tech stock. Here's Stephen:
"Ethereum is a platform where world-changing disruptive businesses are being created. It pioneered the idea of programmable money. Now developers can 'code' money like they would a computer program. In fact, $24 billion worth of transactions settle on Ethereum each day."
Now let's look at the next largest coins…
With a market cap of $78 billion, Binance Coin (BNB) is the third-largest crypto.
Binance is a Chinese cryptocurrency exchange.
According to Stephen, it essentially copied and pasted Ethereum's code and applied it to executing cheap, fast crypto transactions.
In the past year, Binance's coin skyrocketed from $31 to $675 as its business experienced incredible growth. For a while, Binance was the best place to buy obscure, lesser-known cryptos.
However, its growth has stalled, and it's now trading around $470. As a Chinese company, Binance faces intense US regulatory pressure. And it's effectively banned in many US states.
So Stephen recommends avoiding Binance.
Cardano (ADA) was on fire earlier this year, skyrocketing from 20 cents to almost $3...
That surge boosted Cardano to be the fourth-largest crypto.
But Stephen didn't sugarcoat his answer when I asked him about Cardano.
He calls it a "$73 billion bag of air."
Cardano has a great marketing team. And its cofounder was also a cofounder of Ethereum.
But Cardano does nothing of substance. No one's using or paying for Cardano's blockchain.
Supposedly, exciting things are being developed on its blockchain. But we've yet to see any evidence of that.
If it wasn't clear already, we recommend avoiding Cardano.
The fifth-biggest crypto, Tether (USDT), is what's called a "stablecoin…"
That means its price doesn't move around. It's designed to always be worth exactly $1 USD.
What's the point of that? Here's Stephen:
"Tether is mainly used by people who have made big gains in crypto and want to cash out… but don't want to put their profits in things like the US dollar. So they move it into a stablecoin like Tether.
Tether is the largest and most widely used stablecoin in the world. In the past 24 hours, $72 billion worth of Tether has been bought and sold."
Crypto midcaps include names like Dogecoin (DOGE), Uniswap (UNI), and Chainlink (LINK), and UniSwap (UNI)…
You may have heard of Dogecoin. It's the popular "meme" coin that was started as a joke. It's rallied 3,900% this year thanks to mentions by celebrities like Mark Cuban and Elon Musk.
Buying Dogecoin is an unnecessary gamble, according to Stephen. Unlike many truly promising cryptos, there's no business behind it.
"Why buy a joke coin when there are so many real, incredible crypto businesses out there?" He added.
Uniswap, the 11th-largest crypto, is a $12 billion "stock market" for cryptos. It lets you buy cryptos you can't buy anywhere else. And it takes Ethereum as currency.
Chainlink, the 16th-largest crypto, is one to watch. According to Stephen, Chainlink solves an important problem. It links the blockchain to real-world data outside the blockchain—such as house prices, weather updates, gambling odds, and stock prices.
Then there are the small caps, microcaps, nanocaps… and hundreds of cryptos tinier than the smallest nanocap stock.
According to Stephen, this is where some of the biggest gains will be made over the next 12 months.
The problem is 95% of these tiny cryptos will prove to be garbage.
The key is to identify the ones that are solving real problems.
More to come from Stephen about this soon.
What else do you want to know about crypto? Keep the feedback coming to chrisreilly@riskhedge.com.
Chris Reilly
Executive Editor, RiskHedge