Biotech stocks are on sale.
The SPDR S&P Biotech ETF (XBI), one of the most popular biotech funds, has fallen more than 50% since February of last year: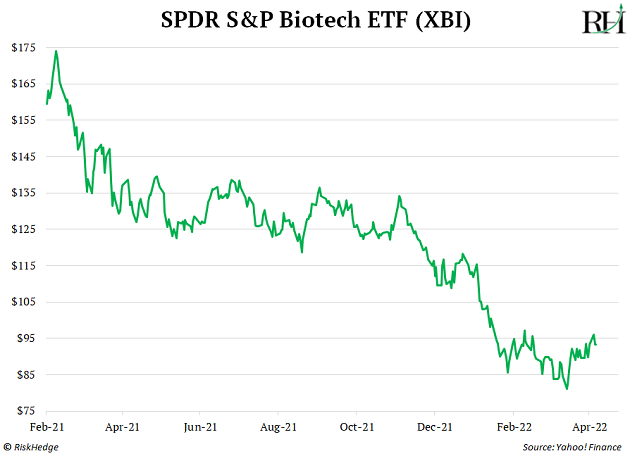 According to our expert Chris Wood, this is presenting a fantastic buying opportunity.
I called Chris for the full story…
***
Chris Reilly: Chris, our readers know you as the microcap guy. Specifically, you focus on tiny, early-stage disruptors taking on massive markets. And while your research covers a wide range of tech trends, folks may not know you're a seasoned vet in biotech stocks…
Chris Wood: Yes, biotechs were the first stocks I focused on when I started investing professionally 15 years ago.
As you know, in addition to my role at RiskHedge, I co-edit an investment service at Mauldin Economics called Biotech Millionaire, which exclusively covers small biotech stocks.
I also recommend a couple biotech stocks in the Project 5X portfolio, my microcap advisory here at RiskHedge. In fact, I'm recommending a new, tiny biotech stock this week, so Project 5X members should stay tuned.
SIC 2022: The Countdown Begins...
We're officially one week out from the start of SIC 2022.
Six action-packed conference days where over 50 top money managers, economists, and geopolitical experts provide their timely analysis and insights into current events and markets.
Watch Dr. Henry Kissinger, Ron and Michael Baron, Tom Hoenig, Joe Lonsdale, Cathie Wood, Danielle DiMartino Booth, Charles and Louis Gave, David Rosenberg, George Friedman, Stephen McBride, Felix Zulauf, former NATO Deputy Commander Richard Shirreff, and many more in over 40 live presentations, panel discussions, and fireside chats.
The conference kicks off on Monday, May 2. There's still time to secure your
Virtual Pass.
Reilly: What got you interested in biotech stocks?
Wood: The excitement.
Biotech combines cutting-edge science and technology with the world of finance to create the medicines of tomorrow.
It feels good to invest in companies trying to save lives. And these stocks can provide mammoth returns in short order.
So, they're a great opportunity for investors with the right risk tolerance.
Reilly: You're saying biotechs are risky.
Wood: Yes. Their stock prices move around 5 to 10 times more than a "normal" stock. Take Greenwich LifeSciences…
It jumped from $5.20 on December 8, 2020, to a high of $158.07 the next day. This was after it reported zero recurring cases of breast cancer five years after treatment with its drug in clinical trials.
That's a jump of over 2,900% in one day. The stock closed that day significantly lower, at $57.10. But the closing price on December 9 was still 1,000% above the previous day's close.
Now, a 1,000% gain in a day is rare—but a 50% gain or even a 100%+ gain is not. You see it all the time when a biotech announces great clinical trial results.
But the big moves go both ways.
I've seen plenty of biotechs fall 80%+ in a day on bad clinical trial results. So you have to know what you're doing to put the odds of success in your favor. If you do, biotech stocks can be a great opportunity.
And right now is the best time I've seen in years to buy a lot of these small biotechs.
Reilly: Why's that?
Wood: They're dirt cheap.
Biotechs have sold off for more than a year now.
Look at the SPDR S&P Biotech ETF (XBI). It's down 30% this year alone. The S&P 500 is down 9% over the same time frame.
Record numbers of biotechs are trading at or below cash. That means the companies are worth less than the cash they have in the bank. Investors are assuming the companies' drugs in development are worthless.
This happens sometimes with small biotechs that are burning through cash too quickly. But that's not what's going on here.
The whole space is oversold and cheap, and I believe we're close to the bottom. It's presenting an opportunity for investors who get in now.
Reilly: I understand these stocks have been beaten down to a pulp… and we may not see these attractive entry prices again for some time…
But what else do you like about biotech stocks today besides the fact they're dirt cheap?
Wood: Historically, when biotech stocks have a prolonged pullback like this, big biopharma companies tend to step in and start buying them up. The big companies usually buy the smaller companies for a big premium over their current stock price—which can lift the tide in the whole space.
According to analysis from SVP Leerink, big biopharma has more than $1.7 trillion in cash for acquisitions over the next couple years.
And it's spread pretty evenly across all the big names.
Johnson & Johnson, Pfizer, AbbVie, Glaxo, Novartis, Merck, are flush with cash. And many of these companies have openly stated they're on the hunt for acquisitions.
Once a few of these big names start announcing acquisitions, it'll have a snowball effect… and more and more deals will get done.
In short: I think we'll see a lot of acquisitions in the second half of this year.
Reilly: How can readers take advantage of this opportunity in biotech stocks?
Wood: The easiest way is to buy XBI. This ETF will benefit from a rebound in biotech in the back half of the year and beyond.
I'll also be highlighting a few exciting individual biotech stocks at the upcoming Strategic Investment Conference. It's virtual this year—so you can sign up to watch from home if you're interested.
[Editor's note: The Strategic Investment Conference is a closed-door gathering of many of the world's greatest investors. This year, there will be 52 expert speakers, 40 live presentations and fireside chats, and six days full of timely insights and analysis, which you can watch from the comfort of your own home with a Virtual Pass.
Check out the full lineup of speakers—and claim your Virtual Pass for 44% off if you're interested—right here.]
Monday Mailbag
Readers loved Stephen's recent essay: Put down the phone! Here's what some are saying:
Smartphones are ruining society as we know it—now, something will come in its place: but it will be light years away from the youth we had/kids are having. In light of the Meta world—who knows if this is what humans want/need/deserve—but make no mistake, smartphones are destroying the society that I grew up in.
As you said, the ubiquity of information is the issue, the endless distraction with something "new." 'Go throw a ball with your dog' is getting lost along the way… and what a shame that is. Good piece. —Chris
I have a simple solution for the phone problem. If I go into a meeting I instruct everyone to turn off their phones, not just silent mode, OFF. If they don't, I leave. People think I'm nuts, out of tune with the current times, etc., but I don't care. Amazing how effective that can be in conducting a constructive meeting, and usually in less time than had been allotted. Same thing when going out to dinner. —Dennis
It might be possible to run governmental campaigns to the like of anti-smoking campaigns, which actually has seemed to work quite well, at least in Norway, but it might be that the era where people listen to their government has come to an end, so today maybe the influence of role models are the way to go. A third option could be regulation of the addictiveness of information technology. Unlike manufacturing of drugs and alcohol, information technology requires lots of skilled professionals that will likely want to adhere to regulation to maintain their reputation.
One thing that is for sure is that the people/societies who figure out how to control this addiction will be great beneficiaries in an economic sense and in quality of life, like you pointed out yourself. —Kjetil
I plead guilty. We all fall into the traps you mentioned. I'm going to experiment this evening as we're joining 2 other couples for dinner tonight. I'm going to propose no cell phones at the table. We'll see what happens?! —Frank
Would you like to see more essays like this one from time to time—or should we stick to strictly investing ideas? Let me know at chrisreilly@riskhedge.com.
Chris Reilly
Executive Editor, RiskHedge