"We had to pull out of our lease."
My friend works for an artificial intelligence (AI) company in New York City. Like many New Yorkers, he fled the city to escape coronavirus.
His Manhattan office is now abandoned. His company stopped paying its lease.
No one seems to know when, or if, things will return to normal in New York.
But that doesn't mean my friend's out of work.
His entire company has switched to working "remote." Now every morning, he flips on his computer and works from his beach house in New Jersey.
He's one of millions of Americans now "working from home."
This shift points to a giant money-making opportunity…
But I'm not referring to Zoom Video (ZM) or any other "work from home" stock you've probably read about.
This opportunity is much bigger. In fact, early investors who recognize this shift stand to collect +1,000% in coming years.
It sounds too good to be true. But it's happened before.
In a minute, I'll tell you about the novel technology powering this shift.
But first… do you know why millions of Americans were able to switch to working from home while barely skipping a beat?
Twenty years ago, this would have been impossible. Companies didn't have the tools to allow thousands of employees to work from home.
We're only able to do this today because of "the cloud."
The cloud is one of the most important technological breakthroughs of the last 15 years…
It allows everyday people and businesses to access the mega computing power of centralized servers through the internet—anytime and anywhere.
It's how millions of Americans are able to work from home during these crazy times.
Without the cloud, millions more people would be out of work right now. America would be in a full-blown depression.
Of course, the cloud hasn't just enabled remote work.
It's also how we're able to order groceries from our smartphones directly to our doorstep from Amazon (AMZN) and Walmart (WMT).
It's also how we watch Netflix (NFLX) and listen to Spotify (SPOT) no matter where we are in the world.
And it's made it possible to speak with our doctor from home using Teladoc (TDOC) or Livongo (LVGO)—two telemedicine stocks I recommended before they surged more than 130%.
The foundation of the cloud was laid nearly two decades ago…
Investors who recognized its mammoth potential early on made life-changing returns.
Just look at Amazon.
Most folks think of Amazon as an online shopping stock. But "Amazon Web Services (or AWS)"—its cloud business—is Amazon's most profitable segment. Since Amazon rolled out AWS to the public in 2006, AMZN stock has surged 68X!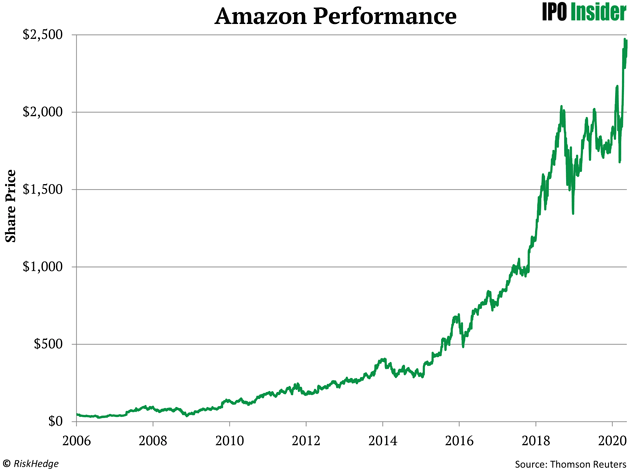 Salesforce (CRM)—another cloud computing pioneer—has soared more than 4,400% since its 2004 IPO.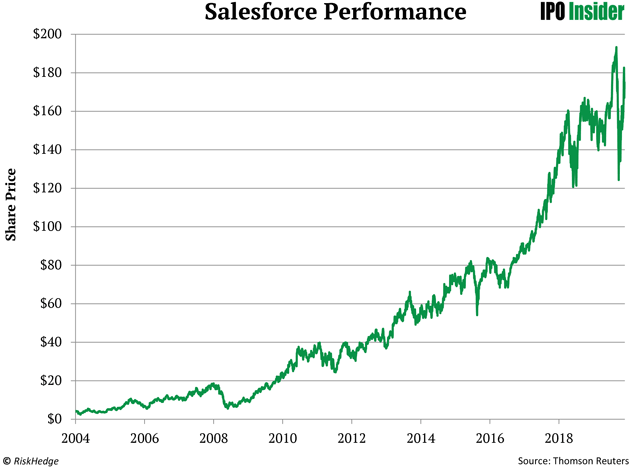 Shopify (SHOP), another Hall of Fame cloud computing stock, has exploded nearly 2,900% higher since its 2015 IPO!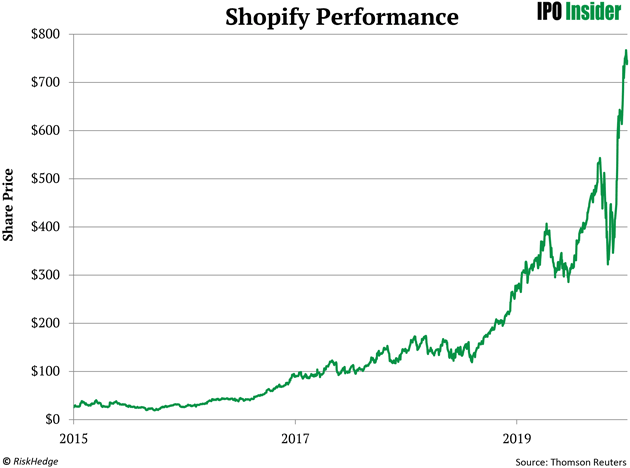 Shopify allows mom-and-pop stores to have an online storefront. Its platform has saved countless small businesses during this difficult time.
RingCentral (RNG), which provides collaboration software over the cloud, has raced more than 2,700% higher since 2014.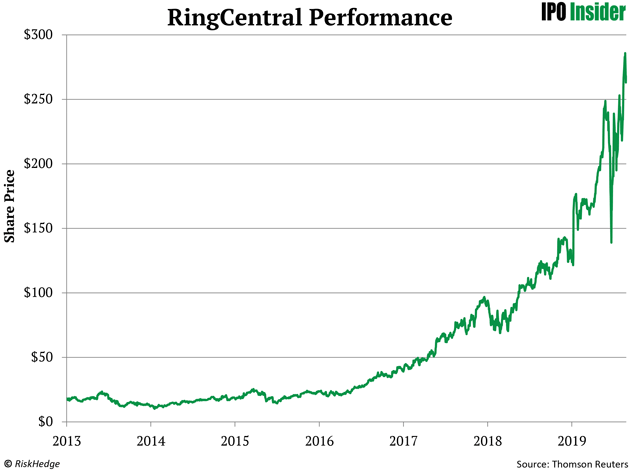 Alteryx (AYX), which lets businesses analyze their own data on the cloud, has surged nearly 10-fold since its March 2017 IPO.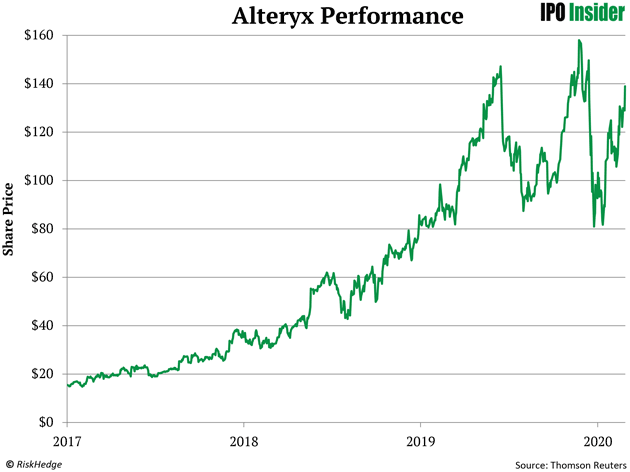 And Paycom Software (PAYC)—a cloud-based human resources company, has surged 2,100% since it went public in 2014.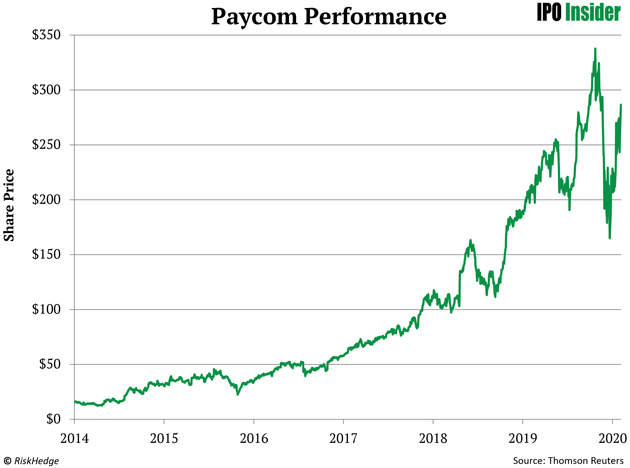 These are mammoth gains. And cloud computing stocks will likely reward investors for years to come.
But let's face it…
The easy money in cloud computing has already been made…
Amazon, Salesforce, and Microsoft (MSFT) already dominate the cloud computing market.
So, if it's 10X or 20X gains you're after, I suggest focusing on the next evolution in computing.
I'm talking about "edge computing."
Edge computing isn't yet a hot buzzword like AI, 5G, augmented reality (AR), and the Internet of Things (IoT). Many investors haven't heard of it.
That will absolutely change. Every technology that I just mentioned hinges on edge computing. It's the golden thread that connects today's most exciting megatrends.
I'm sure you've heard of the "Internet of Things" (IoT)…
The general idea behind IoT is that everything from air conditioners to coffee makers will be online.
But the IoT will be much bigger than just Fitbits, Alexas, and smart thermostats.
Entire cities will eventually be "smart." Our cars will "talk" to other vehicles on the road, traffic signals, and even devices in our homes.
Not long ago, smart cities seemed like something out of science fiction. But this is happening much sooner than most people imagine. According to Statista, more than 75 billion IoT devices will be online by 2025. That would represent a three-fold spike from today!
This will send data usage through the roof. According to Intel's CEO, the amount of data generated by humans and machines is set to grow 10X over the next five years!
And that's likely just the beginning. The venture capital firm Andreessen Horowitz thinks there could eventually be trillions of connected devices.
Each of those will generate data. Some devices like smart cars generate unfathomable amounts of data. They'll basically be data centers on wheels!
Here's how edge computing figures into this…
Most of the data will never make it back to the cloud…
It can't for these devices to function properly.
Instead, massive amounts of data must be processed, analyzed, and stored at "the edge"… or within the devices themselves.
According to the research firm Gartner, 75% of data will be generated and processed at the edge by 2025. In 2018, that number was just 10%!
So, we're talking about truly explosive growth.
If you're wondering why all this data will never make it back to the cloud, it's simple.
Edge computing has three key advantages over cloud computing…
It saves companies money by using less bandwidth.
It's more reliable. Edge computing can stay online even when there's a bad internet connection or no connection at all. This is a huge advantage for workers operating in "the field" where internet connections can be poor or unreliable.
It allows for faster decision-making by reducing "latency"—the time it takes for data to travel.
The last advantage—reduced latency—is the most important.
Sending data to a faraway data center can take up to 150 milliseconds. That's fast enough for many of today's applications. But it's not fast enough for the technologies of tomorrow.
Take self-driving cars. They must make lightning-fast decisions. If a child runs across the street, the vehicle can't risk even the slightest delay caused by sending information to the cloud for it to be processed.
Same goes for a doctor using AR to perform remote surgery. The slightest delay in response time can literally kill a patient.
I know this is all a bit technical. So, if you only get one thing from this essay, it should be this…
Edge computing makes the "impossible" possible…
Technologies like self-driving cars, IoT, AR, and the commercialization of 5G will never get off the ground without it.
But you shouldn't wait until these technologies go mainstream to invest in edge computing.
Big money is already pouring into edge computing. According to the global research firm Analysys Mason, 30% of its IT budget over the next three years will be spent on edge cloud computing!
Grand View Research projects the edge computing market is poised to grow 54% per year. By 2025, it will be worth nearly $29 billion.
The research firm Forrester is also incredibly optimistic about edge computing prospects. Last year, it predicted that 2020 will be the "breakout year for edge computing."
Other experts believe edge computing will end cloud computing as we know it. Peter Levine—partner at Andreessen Horowitz—thinks edge computing will "obviate cloud computing." The research firm Gartner Group shares a similar view. In 2017, it predicted that "the edge will eat the cloud."
Edge computing is one of the best investing opportunities I've seen in my entire career…
The opportunity is so big that I recently "doubled down" on edge computing.
I added a second edge computing stock in my advisory, IPO Insider.
One of these companies has quietly built out one of the world's largest edge computing networks. The other has partnered with Microsoft to help it build out its edge computing capabilities.
Unfortunately, I can't say much more about these companies here. That would be unfair to my IPO Insider subscribers. But I will say this…
Both of these stocks have ten-bagger potential. In other words, they could soar 1,000%.
That might sound like an exaggeration. But I've analyzed the returns of thousands of IPOs. And these stocks have everything you could want in an IPO. They're "screaming buys."
This is NOT an opportunity you can drag your feet on. The world is waking up to the huge profit potential in edge computing.
In fact, one of my edge stocks has raced 57% higher since I recommended it late last year. The other has spiked 67% since I added it to the portfolio just three weeks ago.
If you're interested in investing in these edge computing stocks before the train leaves the station, go here. With this link you can try out my IPO Insider advisory risk-free for 40% off the regular price.
The instant you respond, I'll email you instructions to access my entire "buy list"—including the two edge computing stocks I believe are well on their way to 1,000% gains.
Justin Spittler
Editor – IPO Insider
Omaha, Nebraska
PS: Friendly reminder... the window to claim a 40%-off subscription closes tomorrow at midnight. Go here to claim yours.