**

How Elon Musk sent a random penny stock up 11,708%


**

Stephen's take on what it really means


**

Why it's time to invest in the "final frontier"
It was an 11,708% moonshot—in the wrong company.
A couple weeks ago, Tesla CEO Elon Musk tweeted two simple words:
"Use Signal."

And that's when the madness began…
Elon was suggesting folks use Signal—an encrypted messaging app—as an alternative to Facebook's popular "What's App" messenger.
Almost instantly, a swarm of opportunistic investors piled into Signal Advance (SIGL), a penny tech stock.
At one point, the obscure little stock rocketed to as high as $70.85—good for an 11,708% gain in mere days!
Problem was... these were two completely unrelated companies that happened to have similar sounding names.
In fact, the "Signal" that Musk tweeted about isn't even publicly traded.
Now, if you've been reading the mainstream press, you've probably heard a lot of theories for why this happened…
If you haven't, I'll sum up the main one:
They say this speculative behavior is a classic signal of the "top" in stocks…
…and that markets could come crashing down any day now.
I called up our Chief Analyst Stephen McBride for his take:
This was no doubt a crazy story. If you remember, a similar thing happened last March during the lockdowns. Shares of Zoom Technologies, another penny stock, soared as investors confused it with Zoom Video. It got so out of control the SEC had to step in and halt trading in "fake Zoom" for two weeks.
But keep in mind: These weren't all dummies buying the wrong Zoom or the wrong Signal. Some of these guys saw the stock breaking to new highs, and jumped on to ride the wave. The funny thing is, even after news came out that this was the "wrong Signal"... people kept piling in! It shot up another 36% on Thursday.
But no one seems to be talking about the real story here. It confirms what I've been saying for months: We're seeing millions of new investors entering the market. Millennials.
Stephen says many people knock Millennials for entering the market… But that's a big mistake.
Believe it or not, Millennials aren't kids anymore. The average Millennial is 31 years old. And while they're a favorite punching bag of older generations, the fact is they entered the workforce in 2008, at pretty much the worst possible time in the last 50 years. So, it took them awhile to get to a place financially where they could buy houses and invest in stocks. But now... it's happening.
This is a truly fantastic thing for everyone, and something I believe will power this bull market for longer than most people can imagine.
As you may have heard, free trading apps like Robinhood have slashed the cost of investing to pretty much zero. Investors can download Robinhood or Square's Cash App to buy and sell stocks with a few swipes of their smartphones… for free.
Pair that with the fact millions of young Americans were stuck at home during lockdowns—with more time on their hands than ever before. They were ready to embrace the markets. And it's no surprise we've seen an explosion in trading activity.
Take a look at this chart Stephen emailed me: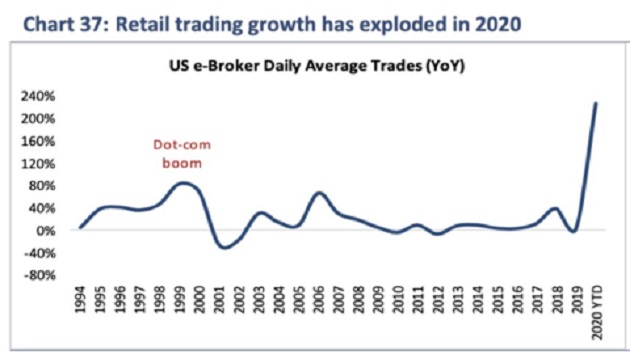 Source: Twitter
Here's how he broke it down:
Here's what sticks out to me. The markets were DOWNRIGHT BORING for the last ten years or so. The same 10–15 stocks dominated the headlines every day (yawn). Now, there's a new story and exciting stock to play nearly every week.
And here's another thing…
I think the Robinhood army of new traders is fairly well understood now. But what folks get wrong is that this isn't a bubble, and it isn't going to come crashing down in 2021 or 2022. This is an entire new generation, the largest in US history, finally entering the markets.
This is an extremely bullish thing for America, and select stocks.
So… where should you be invested?
If you're a longtime reader, you know Stephen focuses on world-class, disruptive businesses that will dominate for a long, long time. He's found this strategy is the absolute best way to grow your wealth safely—no matter what's going on in the markets.
He just wrote about two disruptors right here in the RiskHedge Report, including:
Food delivery innovator DoorDash (DASH)… and leading chipmaker NVIDIA (NVDA).
But I recently caught up with Stephen about what he calls the boldest—and most daring—disruption he's ever written about: private space travel.
Last week, the space exploration industry went ballistic after star fund manager Cathie Wood announced her firm—ARK Investment Management—filed to launch a Space ETF.
This is huge. Ark Invest's ETFs are not just wildly popular... they've been top performers this year. All five ETFs returned more than 100% in 2020.
Here's Stephen:
Space has always been a "business" dominated by governments.
The Space Race between America and the Soviet Union kicked off back in the 1950s. And since then, the US government has pumped $600+ billion into NASA. That dwarfs the $20 billion that private companies have invested in space.
But over the past decade, there's been a quiet revolution in the space industry. The advent of reusable rockets and innovative launch methods have slashed the cost of going to space. The cost to launch a satellite into orbit has dropped more in the past 10 years than in the entire history of space!
According to Stephen, rapidly declining costs are transforming space travel into a thriving business. In fact, private space investment has jumped 400% since 2013. Elon Musk's intergalactic company SpaceX has launched 20+ resupply rockets to the International Space Station over the past few years.
Last year, SpaceX sent its first two astronauts into space on its Crew Dragon capsule. It was the first privately built rocket and capsule ever to put humans into space.
Amazon founder Jeff Bezos is also pushing private space exploration forward. His company, Blue Origin, recently won a NASA contract to put Americans back on the moon. According to Stephen:
In short, the era of private space exploration is here. Over the coming years, tourists will fly into outer space… companies will figure out how to mine asteroids… and that's just the beginning. This is one you can't afford to miss.
ARK's new ETF, ARK Space Exploration ETF (ARKX), isn't available to buy yet… but it's one you should keep an eye on.
However, for the biggest—potentially life-changing gains—in this exciting industry, Stephen says there's only 1 stock you need to buy. And now.
In fact, he recently sent an email out to our premium subscribers saying it was his "#1 stock for 2021."
As it continues to push the boundaries of space travel, Stephen says it could soar 10X... or even an unthinkable 100X, in time.
Disruption Investor subscribers are already up 109% on this stock. (If you're a Disruption Investor subscriber and haven't pounced on this opportunity yet, you can access Stephen's original writeup here.)

If you're not a subscriber, now may be the time to change that for 2021. Learn how you can access this pick, and all of Stephen's world-class disruption research—here.
Chris Reilly
Executive Editor, RiskHedge