Sorry to bring up bad memories, but...
One year ago this week, the stock market crashed.
Please take a good look... and take note of how this sea of red makes you feel: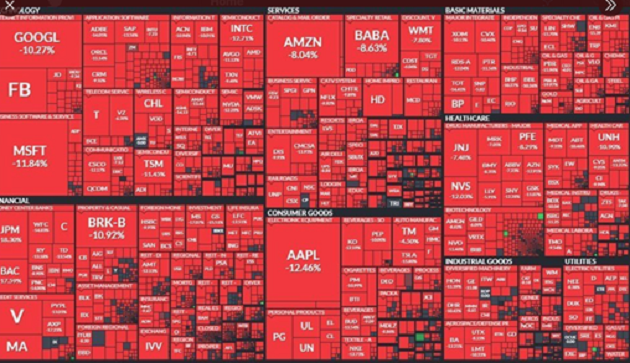 Everything (and I mean everything) was getting smashed.
Even big, "safe" stocks like Microsoft plunged 12%.
The world was in panic mode. Trump had just declared COVID a "national emergency." Then came the lockdowns.
Most people had one thing on their mind: sell, sell, sell.
Of course, that was the absolute WORST thing you could have done.
Since the pandemic shutdown started one year ago, the S&P 500 has hit 32 new highs.
If you had bought the market at the bottom on March 23, you'd now be up 78%.
But here's the thing…
Even knowing what we know now, it's extremely difficult to do the right thing when you're staring directly at a sea of red.
Be honest with yourself: Did your heart skip a beat when you saw the carnage above?
I'll admit... mine did. Even though, with hindsight, I know it was a great buying opportunity.
That's a little taste of the hardest part of investing: when fear creeps in and emotion takes over.
In times like those, knowing the right thing to do is easy.
Following through in the heat of the moment is very, very hard.
That's the moment when one bad decision can undo years of good decisions... and haunt an investor for years.
On the one-year anniversary of the "COVID crash," this was the topic of conversation around the RiskHedge virtual office last week...
"How can we best prepare our readers to do the right thing the next time extreme volatility hits the stock market?"
Our publisher Dan answered: "We can write 100,000 words about this. But it'll never really prepare folks for what it feels like when markets crash. There's no substitute for experience."
He continued: "With all the young, inexperienced investors getting into the market these days, there should be a 'flight simulator' for stock market crashes...
It would wire you in, pump you with the stress hormone cortisol. And genuinely recreate the feelings of dread, anxiety, and panic we all feel when the market is erasing our hard-earned money."
Unfortunately, no such thing exists yet.
But there is a next best thing...
And that's having a trusted guide by your side letting you know exactly what moves to make—and when to make them.
During those toughest days of the "corona crash," RiskHedge Chief Analyst Stephen McBride calmly led his readers through the storm.
Here's what he wrote on March 12... 11 days before the market bottomed:
Markets are downright scary right now. But this won't last forever. I believe we will have an opportunity to buy great disruptive businesses at a discount. And soon.
The discount came…
And less than 3 weeks later, Stephen laid out his blueprint for the months ahead… what he called his "bear market action plan."
While much of the world is panicking… I see opportunity.
I'll be frank... I don't know if we've seen the bottom in stocks yet.
But here's the important thing: I believe markets are closer to bottoming than most people think.
My research suggests we're closer to the bottom than the top. And if stocks haven't hit the bottom yet, they're at least in the vicinity. And now's the time to prepare for what's next.
Specifically, Stephen urged his readers to begin accumulating shares in world-class disruptive businesses like Mastercard (MA) and Visa (V).
Readers who held their emotions in check and followed Stephen's guidance were handsomely rewarded.
Within 6 months, eight stocks in his portfolio were up over an average of 65%, far outpacing the S&P.
Certain individual picks soared much higher. Including: PayPal (PYPL), up 125% in 5 months... and Albemarle (ALB), up 82% during the same time frame.
I'm telling you this because markets are at another "inflection point" today…
As you probably know, things seem "out of whack" in markets right now...
Growth stocks, which led the way in 2020, have been struggling lately.
Names like Peloton (PTON) and Zoom (ZM) have dropped around 30% since February. High-flier Workhorse Group (WKHS) has plummeted 61%.
In fact, in a recent alert to subscribers, Stephen wrote: "Our internal research shows many growth stocks fell more in the past few weeks than during 2020's COVID crash."
Meanwhile... many "left for dead" stocks like GameStop (GME) and AMC Entertainment (AMC) are leading the market!
If you're confused… anxious… or a bit worried… you're not alone…
According to Stephen, this inflection point is nothing like the last one.
After last year's corona crash, you could simply "buy the market" and ride the recovery.
This time around, your actions must be much more focused and specific in order to come out ahead financially.
In fact, there's one specific move Stephen recommends making today.
And on March 29, he's getting on camera to show you exactly what to do with your money. The event is called America's Final Tech Panic. Already, more than 6,000 investors have signed up.
If you're wondering whether you should be aggressive with your money right now… Or pulling money off the table and preparing for the panic…
Attendance is free, and spaces are filling fast.
If you haven't registered yet, please go here to lock in your spot for America's Final Tech Panic.
Chris Reilly
Executive Editor, RiskHedge