Did you know the worst US stock market crashes of all time happened in October?
There was the Bank Panic of 1907…
The Wall Street Crash of 1929…
And Black Monday in 1987, when the Dow plummeted 22.6% in one day.
And those are just the "biggies"…
There's also the mini crash of October 1989, the October 1997 sell-off, and the October 2008 stock market crash—when the Dow fell 18% in a week.
Because of this, October is feared on Wall Steet as "crash month."
Today, let's look at the facts to see…
How scared should you be of October?
Is this a real worry? Or just a silly superstition like Friday the 13th?
To answer that, let's examine the average return of stocks each month, going all the way back to 1950.
As you can see, stocks have risen an average of 0.70% in October going back 70 years.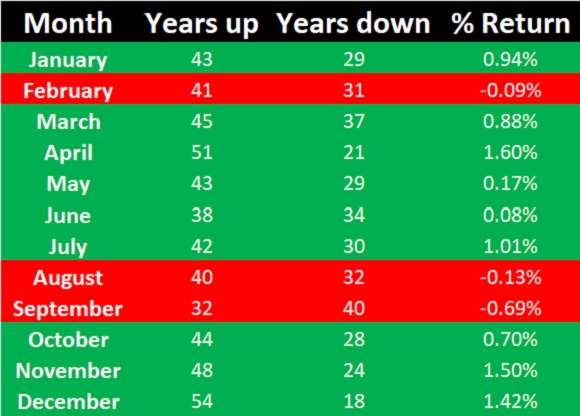 Source: MoneyChimp
That doesn't exactly scream "crash."
And if you read Saturday's Roundup, you know this October could be even better...
As I showed you, stocks have risen 2% in October in midterm election years.
But more important, look at the last three months…
October tends to kick off the best three-month period of the year.
Seventy-two years of data say now is the best time to buy stocks in anticipation of a strong finish to the year.
Of course, this conclusion comes with a big caveat. Seasonal trends can only tell us what happens "on average." It's useful info, but don't mistake it for a crystal ball.
Last October, the market soared 7%. The October before that, the market fell 6%. The October before that, stocks rose 3%. Anything can happen in any individual year.
This October... stocks are about flat so far. That's after storming out of the gate this month before giving back a lot of gains Friday.
The important thing is this:
Now that it's October, you're all but guaranteed to see scary headlines trying to grab your attention…
"The October Crash is looming…"
"Get out of stocks now, crash month is here…"
Ignore them.
Don't let these misleading stories influence your investing decisions.
Instead, focus on the big, SUREFIRE disruptive trends that really matter. The kind of no-brainer opportunities you can invest in today and forget about for five years.
Like cybersecurity.
Cybersecurity companies protect companies, governments, and other organizations from hacks and other forms of cybercrime.
The service they provide is critical to our modern digital world…
Cyberattacks are rampant right now. Top cybersecurity firm Check Point Software Technologies reported a record number of cyberattacks in 2022.
Cybersecurity used to be a "nice to have."
Now you can't run a business without it.
Chief Analyst Stephen McBride explains:
Every Fortune 500 company employs a chief security officer. No cost is too high when it comes to protecting your computer systems.
Bank of America spends over a billion dollars on cybersecurity annually. Microsoft will up its cybersecurity spending by 4X to $20 billion over the next five years. Google will invest $10+ billion to protect its networks.
It's clear cybersecurity spending is only going one way—up.
That means cyber firms are set to rake in record amounts of money.
At the same time, cybersecurity stocks have taken a hit along with the broad markets this year.
That's your opportunity to invest in a surefire megatrend at bargain prices.
Stephen says an easy, one-click way is to invest in an ETF like the Nasdaq Cybersecurity ETF (CIBR). CIBR invests in a basket of the largest cybersecurity stocks. So, you get good exposure from the entire sector without having to dig into the specifics of each company.
And don't sleep on what Stephen calls "America's biggest comeback story"…
In August, Joe Biden signed one of the most important executive orders in years.
It's called the CHIPS Act…
And it unleashes over $50 billion into one of America's most important industries: computer chips.
RiskHedge readers know chips are, hands down, the most important goods the world has ever known. They are the "fuel" powering every modern technology.
But did you know almost no chips are "Made in America" these days? Stephen:
Back in the 1990s, roughly one-third of chips were made on US soil. That's dwindled to around 10% today. And most of them are cheap chips that go into microwaves, fridges, and electric scooters.
All the high-end stuff—like the chips powering our computers, smartphones, data centers—is made thousands of miles away in Asia.
That's what the CHIPS Act is all about. It'll deploy $52 billion to bring chip manufacturing back to the US.
This is a big deal.
And most of the money is reserved for building new factories.
Stephen again:
If you want to make the latest high-end chips, you need the latest high-end machines. Just one of these machines can cost over $100 million—and each chip plant will have dozens of them.
Turns out, there's only ONE company on the planet that makes the machines capable of producing the world's fastest chips... ASML (ASML).
There is no alternative. ASML has a monopoly on them. It sells its machines to chipmakers like Intel and Taiwan Semi, who use them to make the latest high-tech chips.
ASML's machines cost $160 million each—and leading-edge factories might have a dozen or more.
ASML has a total lock on the world's most important chip machines. And America's chipmaking comeback can't happen without it.
It's a perfect setup… and one I'm taking advantage of by buying ASML stock.
You can let October scare you out of the markets...
Or you can use this as a chance to capitalize on two of today's surefire investment opportunities.
Chris Reilly
Executive Editor, RiskHedge
Monday mailbag
My wife and I recently saved $1,344 by making two phone calls. One to lower our cable bill, the other to lower our car insurance bill.
It was simple, but it required us getting out of our comfort zones. If you missed my essay, check it out here.
A couple readers wrote in with their own experiences…
Steve: This resonated with me because I've done both of those things in the last couple of years. It can be uncomfortable but it can also be fun. My ace in the sleeve, which the other side does not see right away, is that I am retired and I can afford the time while the sales person waffles, bluffs and delays.
I also saved money on cell phone service. In Canada where we live it is more expensive than many other countries, so when we travel we buy a SIM card with enough pre-paid service to get us through our vacation. A month of service costs about three days' worth of roaming with our regular provider.
Thanks for the article. Unlike most people, I like negotiating, it's fun, especially when you get what you want!
Stan: If you have a Costco membership, check with them for rates. We don't see rate increases very often.