I ordered Powerbeats earbuds from Amazon the other day. As a Prime member, I got them to my doorstep in Stowe, Vermont the next day for free.
When I unpacked the box, one of the accessories was missing. I called Amazon's customer service to get a replacement sorted out. But what I was told raised my eyebrows:
"We'll make a one-time exception. Keep the earbuds and we'll issue you a full refund right now."
"Why don't you take them back? They are fine, it's just the wire clip is missing," I asked, puzzled.
"It's too expensive to ship them back…" the customer rep replied.
This surprising story hints at Amazon's Achilles heel that threatens its crown as the king of online retail. And as I'll explain in a moment, America's biggest retailer Walmart has a master plan to use it against Amazon. (Read my investment case for Walmart here.)
Amazon Is Bleeding to Retain Its Crown
As you know, Amazon (AMZN) runs the world's biggest online store, which makes more than half of all online sales in the US. What you may not know is that Amazon is holding its crown at a huge cost.
There's one thing that made Amazon the best, and it's exceptional shipping service.
If you're a Prime member, you can get stuff from thousands of retailers the same day or next day at the latest. For FREE! If you order from your local Whole Foods, Amazon will deliver groceries to your doorstep within two hours.
Amazon falls over itself with ultra-fast shipping to siphon off customers from competitors. While it works wonders, it costs Amazon billions of dollars. Take a look at the chart below that shows Amazon's exploding shipping costs: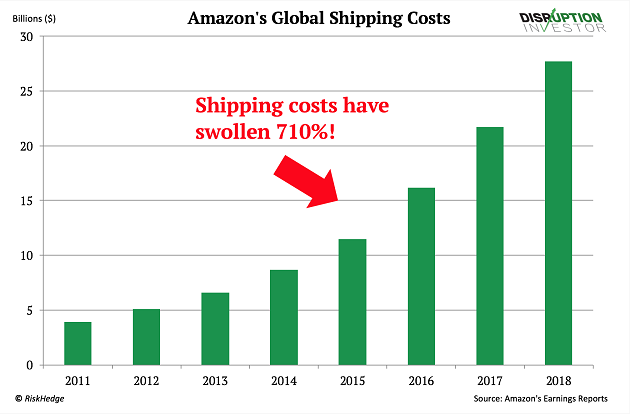 And the rise in shipping costs shows no signs of stopping. According to a QZ analysis, Amazon is expected to spend a record $11 billion on shipping this quarter. That's more than it spent in an entire year just four years ago.
This is a growing problem for Amazon. According to The New York Times, the average Amazon order for one-day shipping is $8.32, which costs $10.59 for Amazon to fulfill. Because of shipping, Amazon's megastore is losing money on most sales.
A Powerful Rival Is Nipping at Amazon's Heels
For a long time, no one dared to stand up to Amazon. But have you seen Walmart (WMT) lately?
The nation's biggest grocery chain is charging headfirst into online retail. Since 2016, Walmart's online sales are up 78%. And get this, Walmart's online sales are now growing twice as fast as Amazon's.
Walmart is already the world's third-largest online store. And since last March, Walmart stock beat Amazon's return by 30%, as you can see below: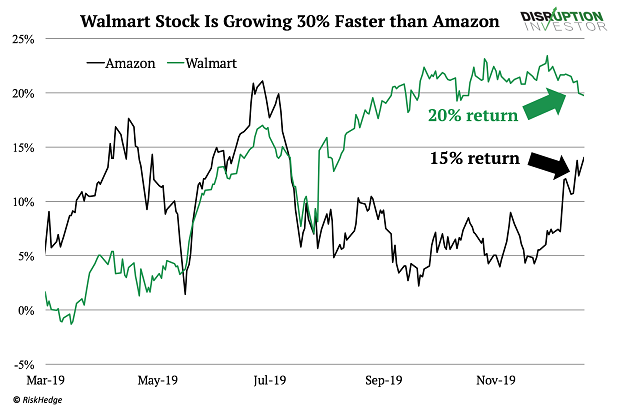 But Walmart is just getting warmed up.
Walmart's Genius Move to Beat Amazon
As America's largest retailer, Walmart has a "footprint." Walmart operates 150+ distribution centers across America. Each is over 1 million square feet!
It also runs 4,789 stores in 49 states, according to Statista. Walmart's footprint is so big that 90% of Americans live within 10 miles of a Walmart store.
No online retailer could match Walmart's logistics network. And Walmart has a master plan to use it in its battle with Amazon.
In last year's talk at the South by Southwest conference, Walmart's former Chief Technology Officer Jeremy King revealed how Walmart is leveraging its physical footprint to charge ahead of Amazon.
It turns out Walmart is using its physical stores as warehouses for online sales. Since stores are already turning a profit from grocery sales, maintaining extra warehouse space adds little to costs.
That means Walmart will soon have the biggest and most effective "shipping network" in America. By the end of the year, Walmart plans to deliver stuff from 1,600 stores. For comparison, Amazon has only 110 warehouses across the US.
Most important, Walmart will pull this off at relatively little cost.
In a World of "Free Shipping," Walmart Has the Upper Hand Over Amazon
A recent NRF study found that 75% of Americans expect free shipping, even on orders under $50. And according to Invesp, 56% of folks expect same-day delivery from online stores.
In other words, free same-day shipping has become the norm. While Amazon is bleeding to deliver on it, Walmart has it all figured out.
Think about it: 9 in 10 Americans will be able to order stuff online directly from their local Walmart store, which is just a few miles away. That will keep Walmart's shipping costs to a minimum.
Since shipping is the biggest expense in online sales, we are talking a big difference in profits. Walmart will dodge Amazon's fate and save billions on shipping.
Buying Walmart Is Like Buying Amazon at a 73% Discount
Ultra-fast shipping is the final frontier in the online retail wars. Those who figure out how to deliver stuff the fastest—while keeping their heads above water—will be the winners.
While both Amazon and Walmart have strong growth prospects, I'm putting my bets on Walmart for the long haul. Not only does it have the biggest shipping network in America, its stock is also selling at a 73% discount relative to Amazon.
Today, Amazon stock trades at a P/E of 84. That means if you bought it today, you would pay $84 for $1 of the company's earnings. If you bought Walmart, you would pay only $23 for $1 in earnings.
That's almost one-fourth of Amazon's price. With so much more room for growth, I'm picking up this bargain.
The Great Disruptors: 3 Breakthrough Stocks Set to Double Your Money"
Get my latest report where I reveal my three favorite stocks that will hand you 100% gains as they disrupt whole industries. Get your free copy here.