Today we'll bust a big lie about investing.
This big lie keeps many investors down. Belief in it is a tall hurdle to building wealth.
How many times have you heard a statement like this?
"The only way to make big profits is to take big risks."
This is the conventional wisdom. It gets repeated in classrooms, on TV, and by stockbrokers over... and over... and over again.
The problem is, it's complete nonsense.
Why This Lie Spreads
Like many lies, people tell this one for one of two reasons. Some genuinely don't know any better. Others are happy to spread it because it's convenient for them.
Mediocre financial advisors hide behind this lie. It's the perfect excuse for when they fail to generate strong returns on their clients' money.
Most academics embrace this lie too. A finance professor who's never bought a stock won't hesitate to lecture you on why markets are "efficient" and trying to beat the averages is a foolish waste of time.
You can see why this lie has become conventional wisdom. It has powerful friends.
Folks who take the lie seriously fall into one of two groups.
Group one thinks: "Well, I'm not willing to take a big risk, so I guess I'm destined to earn small returns."
Group two thinks: "Well, I'm not settling for mediocre returns, so I'll load up on risky stocks."
Both of these mindsets are a shame. They blind investors from great opportunities to make big profits in safe stocks.
If you give me three more minutes, I'll prove to you that it's wrong. I'll also show you how to collect big returns without risking big losses.
So What Exactly Is a "Risky" Stock?
Most folks would agree risky stocks carry a few key traits:
Expensive—stock price is high relative to earnings
Small—company lacks financial resources of larger competitors
Volatile—stock price swings around unpredictably
No dividend—suggests company's profitability is shaky
You most definitely do not have to buy stocks with these risky traits to make big returns.
To prove it, let's flip this on its head. A safe stock should be the opposite of a risky one. It should be cheap, big, stable, and pay a dividend.
Few companies fit the bill better than Disney (DIS)—a stock I've been recommending since July 2018. You can read the most recent investment case here.
To recap, Disney is a huge company—bigger than McDonalds (MCD), Wells Fargo (WFC), and Goldman Sachs (GS).
Its stock traded at just 15-times earnings, which was cheaper than the average US stock.
Disney's stock price is stable. It pays a reliable dividend in the neighborhood of 2%. And it has increased its dividend by 21% per year, on average, over the past five years.
No Reasonable Person Could Call Disney (DIS) "Risky"
By any definition, Disney stock is safe.
Yet it recently leapt 30% in just four weeks: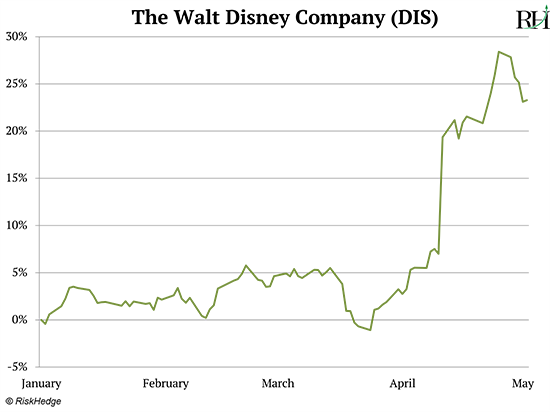 Source: RiskHedge
And since the fall of 2016, its stock has gained 52%—far better than the S&P's 36% gain.
This combination is possible because Disney is a disruptor stock.
The big leap in Disney's stock price came when it unveiled details of its disruptive new streaming project that's threatening Netflix.
I'll give you another recent example of a safe stock exploding higher.
Like Disney, Qualcomm (QCOM) Is Very Safe, and Yet…
I first wrote about computer chip giant Qualcomm (QCOM) late last fall, telling readers it was a "buy."
Even I was surprised when it rocketed 55% in two weeks recently, following news of a favorable legal settlement.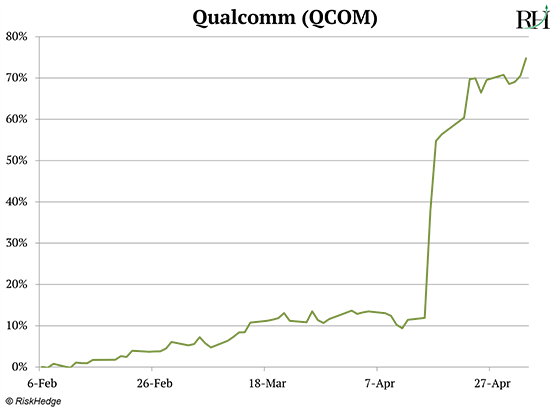 Like Disney, Qualcomm is big. Bigger than Starbucks (SBUX), American Express (AXP), and Lockheed Martin (LMT).
Its stock isn't quite as cheap as Disney's. But at 15-times next year's earnings, its valuation is reasonable.
Its standard deviation is low—which means its stock is not volatile. And it pays close to a 3% dividend, which it's raised for each of the last eight years.
Like Disney, Qualcomm stock is unquestionably safe.
Also like Disney, it has handed investors big, quick profits recently.
And ALSO like Disney, it has tapped into a disruptive megatrend.
As I explained a while back, Qualcomm makes cutting-edge hardware that will be powering 5G phones and computers.
The coming launch of 5G in America is the most disruptive event of the decade.
Clearly big, safe stocks can hand you big profits, if they're on the right side of disruption.