AI claims its first casualty… How to improve the odds of your kid earning a high salary… Eighty percent of kids say they're learning faster with this new tech… My favorite way to play the AI education trend…
ChatGPT claimed its first casualty…
It's a company called Chegg (CHGG).
Chegg offers online tutoring and textbook rentals by charging a subscription.
It was a thriving business. From 2016 to 2022, the company grew subscribers from 1.5 million to 8.2 million.
But then ChatGPT, the popular AI chatbot, burst onto the scene…
Suddenly, everyone had access to their own private tutor… for free.
Overnight, Chegg's business model became obsolete.
Shares have fallen off a cliff over the last couple days as Chegg's CEO warned AI is hurting its business.
Its stock has plummeted 70% since ChatGPT launched in November: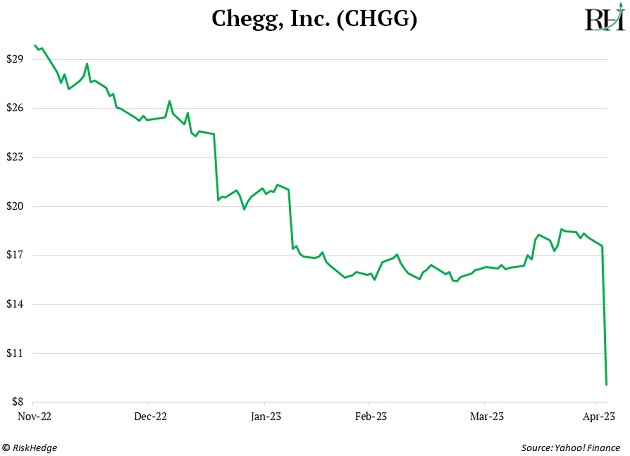 Chegg mentioned customers are using ChatGPT instead of paying for its study tools.
Per Reuters:
What's the cost of students using ChatGPT for homework? For [Chegg], it could be nearly $1 billion in market valuation.
Chegg signaled the rising popularity of viral chatbot ChatGPT was pressuring its subscriber growth and prompted it to suspend its full-year outlook, sending shares of the company 47% lower in early trading on Tuesday.
I warned readers in this RiskHedge Report that AI is disrupting the entire education system from the ground up.
There are several other "ticking timebomb" education stocks like Chegg waiting to be killed by AI.
But there are also smart ways to profit from this huge shift. It has to do with what I call mass personalization, which was never possible before AI.
I'll share a stock to play it in a moment. But first...
After four decades, AI finally solves Bloom's 2 sigma problem…
Bloom's 2 sigma problem is a study from 1984. It shows how students receiving one-on-one tutoring get much better grades than the rest.
Tutored students outperformed 98% of others in the class. It's no surprise...
Kids do far better with one-on-one guidance that fits their needs—not one-size-fits-all teaching meant for a whole classroom of students.
And guess what? Having good grades in school can double your salary later in life.
In 2019, College Board reported people who achieved an "A" average in high school earned a median salary of $51,950. But those who only had a "C" average earned just $28,000.
But it was impossible to give every kid his own teacher… until now.
Have you heard of Khanmigo?
It's a personal AI tutor already used by students in two Silicon Valley schools.
Each student now attends classes with Khanmigo loaded onto a laptop. They can turn to it any time they struggle following a class.
Say a student has trouble figuring out a math problem.
Using this tech, they can have a back-and-forth conversation with Khanmigo… which asks them questions that guide the student to the correct answer… in the same way a teacher would.
Eighty percent of students who've tried Khanmigo say it's helping them learn faster. It also helps teachers in a big way...
The average teacher spends seven hours each week planning lessons. Khanmigo tracks the class's progress in real time and creates future lesson plans automatically.
That allows the teacher to spend more time helping students.
You can't invest in Khanmigo, but this AI stock could disrupt education even more…
In 1973, only 13,000 kids in the US were homeschooled. That number has exploded to over 3 million…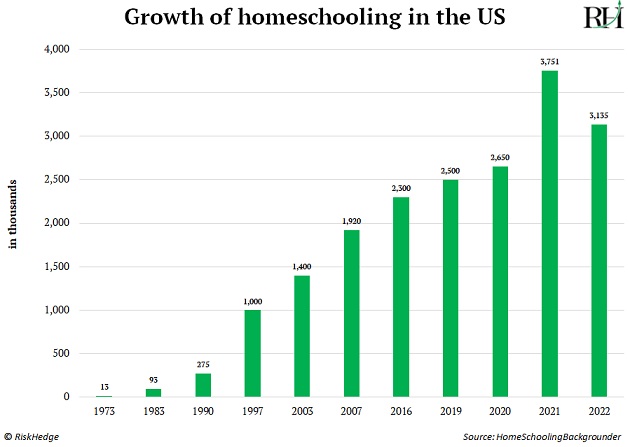 Homeschooling is in a long-term bull market. AI tutors could supercharge this trend even more.
Here's my favorite way to play this trend...
Duolingo (DUOL) is the world's most-downloaded education app.
It turns learning languages into a fun game. And it just got a lot better…
In February, Duolingo revealed it had integrated ChatGPT into its app to take on the role of an AI tutor.
The stock jumped 22% the day of the announcement. And has surged to new 52-week highs since…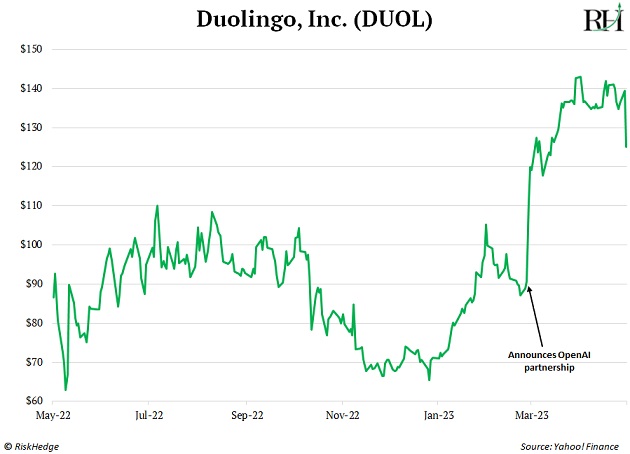 Duolingo is now offering other classes besides languages. It created a separate app where kids can learn third-grade math as well as one for literacy classes.
Both apps became an instant success with parents homeschooling their kids. So, it's just a matter of time before Duolingo expands its AI offerings.
Couple that with AI's amazing tutoring capabilities, and homeschooling is set to soar. Especially with so many parents working from home these days.
Since I last recommended the stock in September, Duolingo has surged 34%. I still consider it a buy at today's prices.
Stephen McBride
Chief Analyst, RiskHedge
-

To get more ideas like this sent straight to your inbox every Monday, Wednesday, and Friday, make sure to sign up for The RiskHedge Report, a free investment letter focused on profiting from disruption.

Expect smart insights and analysis on the latest breakthrough technologies, the big stories the mainstream media isn't reporting on, and much more... including actionable recommendations.

-