Picture 18,000 fans packed into a sold-out Brooklyn arena.
They're watching the championship game in the world's fastest-growing sport…
Along with millions of others watching from home on ESPN's prized prime-time slot.
Are you picturing LeBron James dunking? Tom Brady throwing touchdowns?
No… these crowds are gathered to watch kids play video games.
Professional video gaming—also called "e-sports"—is getting wildly popular.
Fifty-seven million people tuned in to watch a recent professional video game match. That's almost 3x more than the 2018 NBA finals.
Maybe you're thinking it's a stretch to call video gaming a "sport." Call it whatever you want… so long as you understand that massive sums of cash are pouring into this booming sector.
There are now American video gaming leagues modeled after the NBA and NFL. Instead of the Philadelphia Eagles, professional gaming has the Philadelphia Fusion.
And like the NFL, e-sports has millions and millions of hardcore fans who will happily fork over $100 or more for a ticket to watch a big game live.
Many investors dismiss e-sports as a silly fad…
They're wrong, and they're going to miss out on big stock gains.
Do you know that more than 80 American colleges now offer e-sports scholarships?
Or that last year, some of the world's biggest companies like Intel, Coca-Cola and T-Mobile spent $700 million to sponsor e-sports?
Or that the average salary in one American professional e-sports league is $320,000?
All the evidence says that e-sports is going to be a huge moneymaker…
Yet many investors roll their eyes because it sounds like the punchline of a joke.
Let me tell you a different joke that has investors laughing to the bank with 375% gains.
Chances are you've seen at least a few minutes of American professional wrestling.
I'm talking about "Hulk Hogan"-type wrestling. Where muscular guys wearing spandex hit each other in the head with folding chairs.
Juvenile, right?
Well, look at this chart of World Wrestling Entertainment (WWE):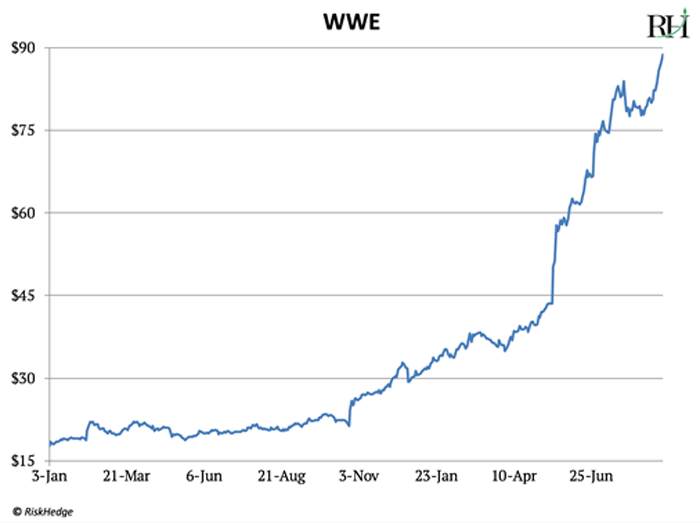 Source: Yahoo Finance
The WWE has turned fake wrestling into a $6.8-billion business. Investors in WWE have made 375% since January 2017. It's the 12th-best-performing medium-to-large US stock this year.
WWE was dead money for 17 years.
It went public in 1999, and its stock fell 25% through 2016.
Everything changed in 2017. As regular readers know from my essays on Netflix and Disney, technology has totally disrupted the business model of TV.
In the past, big cable companies acted as gatekeepers that decided what we watched. Today, we can watch practically anything on streaming services like Netflix and the internet.
WWE took advantage of this to launch a "Netflix-style" streaming service for wrestling. By bypassing cable companies to connect directly with fans, WWE has transformed its business.
Thanks to 1.8 million streaming subscribers, its revenue has jumped to all-time highs. A few years ago, it was at the mercy of cable companies, with half of revenue coming from TV contracts. Today, just one-third of its revenue comes from traditional TV.
Professional video gaming has existed on "the fringe" for decades too...
And like WWE, streaming video is unleashing its full moneymaking potential.
As I mentioned, people can now watch whatever they want on the internet. And it turns out hundreds of millions of people like to watch others play video games professionally.
Have you heard of Twitch? It's a website owned by Amazon (AMZN) that broadcasts video game matches. More people watch it every day than CNN or MSNBC!
And that's the key to this whole thing: Video gaming has a massive audience of engaged fans.
This is an incredibly valuable asset that is crucial for making money in any content business.
In fact, a massive audience of engaged fans is the source of the financial strength of the NFL and NBA. It's why the Dallas Cowboys are worth $4.2 billion and the New York Knicks are worth $3.6 billion.
They've each got millions of fans not only watching them on TV, but buying tickets, memorabilia, and merchandise year after year.
Based on the stats I shared with you earlier, I'm convinced the global fanbase for e-sports is bigger than the NFL and NBA combined.
This fanbase has been there for decades. But it took the disruptive force of streaming video to bring fans together online in huge numbers. E-sports is shining a light on just how gigantic and enthusiastic the video game audience really is.
I believe this industry is just in its infancy. People are going to be shocked at how fast e-sports grow in the next five years.
Okay Stephen, make us some money. How do we profit from this?
This year, people will spend around $138 billion on video games. That's a 95% surge from six years ago. Look at this chart of my three favorite gaming stocks vs. the S&P 500: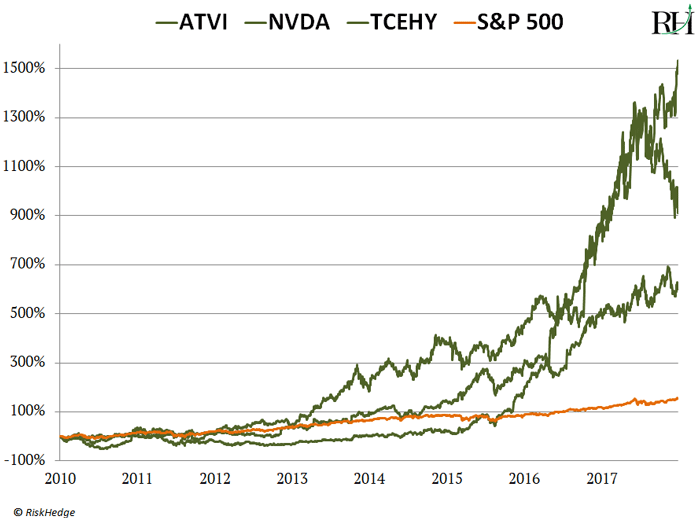 Source: Yahoo Finance
As you can see, they've all trounced the market. I think that'll continue as the popularity of e-sports explodes.
Here's a runown of why I like each stock:
NVIDIA Corporation (NVDA)
NVDA makes high-performance computer chips used for gaming. They can cost up to $3,000 a piece.
NVDA's chips are the gold standard in gaming. 86% of competitive gamers use them, and NVDA has become the official hardware provider for almost every major e-sports league in the world.
Next week, I'm going to tell you more about NVDA and its growing presence driverless cars and artificial intelligence.
Activision Blizzard, Inc. (ATVI)
If you read my other essay on Netflix and Disney, you know I believe producing great content is a bigger competitive advantage today than ever before. ATVI is one of the world's best video game makers.
It's owns five franchises that have brought in over $1 billion in revenue. And its games are among the most widely played in the e-sports world.
And get this… ATVI recently struck a deal with Disney to broadcast its popular Overwatch League matches live on primetime ESPN.
Tencent Holdings Limited (TCEHY)
Not many people know this, but Chinese social media giant Tencent is the largest gaming company in the world. Its gaming revenue is 72% higher than second place Sony.
It owns mega-hits like League of Legends, Fortnite and Clash of Clans. If you have teenage sons or nephews, you probably know that millions of kids from here to China play Fortnite.
Tencent's bread and butter is mobile gaming, like on smartphones. Mobile gaming now makes up 51% of the global gaming market.
That's all for today. To investing in the profitable fringe,
Stephen McBride
Chief Analyst, RiskHedge
READER MAILBAG
In response to my article about the driverless car revolution, RiskHedge reader Wayne writes:
Stephen, I liked your logic and detail. I have a thought that doesn't seem to be reflected in the current debate. Was one of your parents required to "give up the keys?"
I remember my dad and that experience so well. Devasting loss of independence. I believe when the Baby Boom generation starts getting the keys taken away—already happening—then self-driving car sales will explode. Grandpa goes out, gets in the car, says "take me to Karen's or Steve's…" And that generation has the resources.
Wayne, thanks for your thoughtful question. I agree. Driverless ride-sharing is going to restore mobility and independence to elderly people who can no longer drive safely. It'll do the same for teenagers who, statistically, are unsafe drivers. Would you rather buy your 16-year-old son a car, or give him a few bucks to take a Waymo to baseball practice?