By Matt Peterson
The Noise This Week
The foreign ministers of Russia and Iran united at the Munich Security Conference this past weekend to call for a post-Western order based on strong state sovereignty. The conference organizers set up the issue by asking in their flagship report whether a post-Western order is in the works. But where the conference put a question mark behind the idea, Sergei Lavrov and Javad Zarif added an exclamation point. Of the two, Lavrov was the more cynical, that his country's history was "steeped in friendliness." (Ukraine might disagree.) Zarif's position was a more nuanced defense of nonintervention. (Though, again, Syrians could raise an eyebrow.) But both were more aspirational than descriptive. Particularly on security affairs, the world is not yet "post-West," or else we wouldn't have to read Donald Trump's tweets.


One place to look for insight on the changing security order is Iraq and Syria. The campaign that has unfolded in Mosul looks suspiciously like the U.S. leading from behind: a war effort where the front-line troops are largely non-American, pursuing shared interests that matter more to local partners. And by many accounts, it has gone fairly well; Iraqi forces seized Mosul airport on Thursday. The worst-case humanitarian scenarios have not yet come to pass, and the eastern half of the city has been largely spared the physical destruction that accompanied other Iraqi campaigns. But while the fighting moves to the other half of Mosul, where ISIS is more deeply entrenched, the focus of politics is shifting west to Raqqa. U.S. Senator John McCain's secret trip to Kurdish-controlled Syria this week, followed by a meeting with the Turkish president, shows just how sensitive the military campaign is. The current coalition can't just roll into Syria without putting the Kurds and Turks at odds, meaning the U.S. is at odds with a NATO ally over a shared objective. All parties need to work around Russia, as well, not to mention the Syrians. It's an opportunity for a new post-Iraq invasion paradigm to solidify in the region, or for current gains to collapse amid infighting. Stay tuned.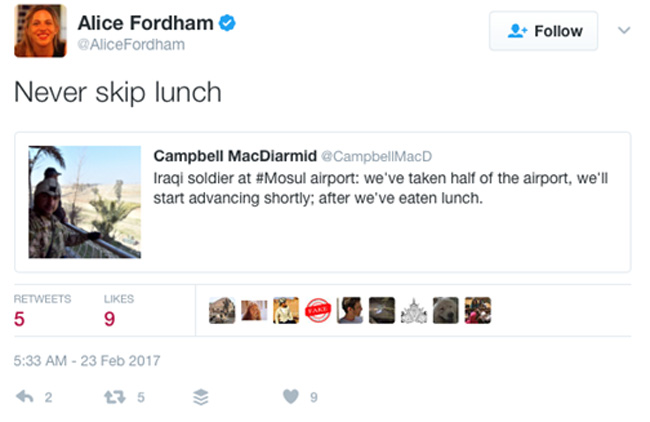 One other big trend to watch: refugee off-shoring. Although Trump can't seem to have a civil phone call with Australia's leadership, he does seem to like Canberra's ideas about how to deal with unwanted migrants. One of the goals of the visit by U.S. Secretary of State Rex Tillerson and Homeland Security Secretary John Allen to Mexico this week is to persuade the Mexicans to take in migrants from third countries rejected by the U.S. (Mexico's foreign minister: "We will not accept it.") That is essentially the arrangement Australia has—and is trying to unwind—with island states in the region. It also bears passing resemblance to the EU's treatment of migrants under the Dublin rules, where would-be refugees must be processed in the EU country they first entered, and the EU-Turkey deal, which seeks to keep migrants from passing into Europe through Turkey. The U.S. taking on this approach would mark a significant shift in the norms that have governed migration for decades. If the global order is shifting, it's the West that's making it happen.
Ranked: Trump's Mixed Messages on Foreign Policy
During the presidential campaign, Donald Trump regularly contradicted himself on foreign policy. Now he has an entire administration to mix up the messages. Trump's team has frequently tried to soften or walk back more controversial statements made by the president. But any effort to walk back the president's words need to be taken with a grain of salt. As then-candidate Trump made clear in a presidential debate, when he said he hadn't spoken to his running mate about Syria, he doesn't feel obliged to coordinate messages with his team. Here are a few key areas where Trump and his team have gotten out of sync.
5. Iraqi oil. Throughout the campaign, Trump repeatedly threatened to seize Iraq's oil. That line of thought culminated in a speech at CIA headquarters the day after the inauguration, when he lamented the missed opportunity to take Iraq's oil, musing "maybe we'll have another chance." That chance could have come as early as this week, when James Mattis, former Marine general and current secretary of state, arrived in Baghdad. But Mattis chose not to take it, declaring: "We're not in Iraq to seize anybody's oil."
4. Israel-Palestine. Standing next to the Israeli prime minister last week, Trump shrugged off decades of official U.S. policy. "I'm looking at two states and one state," he said. "I like the one that both parties like." That message did not go over well, judging by the response from the U.S. ambassador to the U.N., Nikki Haley, who was quickly dispatched with a new line. "The two-state solution is what we support," Haley told reporters. "Anybody that wants to say the United States does not support the two-state solution – that would be an error." Yesterday, Trump opted to re-emphasize his ambiguous position, saying he likes the solution, but "so far it hasn't worked."
3. Europe. Trump has declared NATO "obsolete" and predicted that "more countries will leave" the European Union. Vice President Mike Pence attempted to soften the blow this week, carrying the message on a trip to Europe that Washington is "steadfast and enduring" when it comes to the EU and "unwavering in our commitment" to NATO. That effort was almost immediately undercut when Reuters reported that chief White House strategist Steve Bannon had told the German ambassador to the U.S. that the EU was a "flawed concept." As of Thursday, Trump is "totally in favor of it."
2. China currency. Trump promised throughout the campaign to designate China a currency manipulator on day one of his administration. He even wrote an op-ed about it in the Wall Street Journal. Day one is long past, and this week, Treasury Secretary Steven Mnunchin made clear a designation wasn't coming soon, saying "we're not making any judgments" until a regular review process was complete. That cautious note lasted less than 12 hours, with Trump telling Reuters, "I think they're grand champions at manipulation of currency."
1. Russia. The Trump administration seems to have at least many opinions about Russia as it does officials. Take the issue of sanctions levied on Russia over its invasion of Ukraine. In the run-up to his inauguration, Trump took a strongly skeptical stance toward the sanctions. "Why would anybody have sanctions if somebody's doing some really great things?" he told the Wall Street Journal. But only three weeks later, he reportedly told a former Ukrainian prime minister that he wouldn't lift sanctions until Russia withdrew from Ukraine. During confirmation hearings, Mattis said he needed to meet with the rest of the national security team to craft a strategy on sanctions. But those positions vary. While Pence has said sanctions could be lifted if a cease-fire in Ukraine held—a much lower bar than withdrawal—Secretary of State Rex Tillerson has said he recommends "maintaining the status quo." For now, at least, the status quo seems to be open confusion.
Subscribe to Signal on Eurasia Live. Copyright 2017.