"I can't change the direction of the wind, but I can adjust my sails to always reach my destination."
—Jimmy Dean, American Country Music Singer
On January 20, Donald J. Trump was sworn in as the 45th President of the United States. President Trump steps to center stage, promising to bring us jobs, bring us tax reform, and bring us a grand fiscal infrastructure spending package. That would be positive.
Trump's speech hit hard on the subject of protectionism. "We are going to follow two simple rules, buy American and hire American." He was also direct in saying, "I'm giving you back your government." It's broken. Let's hope that happens.
Tax cuts and the repatriation of $2 trillion sitting on the offshore books of US corporations are in the economic plus column. Thumbs up too on deregulation and fiscal infrastructure spending. Trade wars and protectionism go in the negative column. As former Dallas Fed President Richard Fisher advised on CNBC on Trump's inauguration day, "Be very careful on these issues of protectionism. It could lead to a global depression."
There are reasons for hope and reasons for concern. There will be disruption and I believe that may be a good thing. We'll soon find out exactly what we are going to get.
Let's take a look at the investment landscape through the lens of risk and reward. To that end, you'll find two great charts immediately below.
Return and Risk
Following are two charts that paint the picture.
Return Potential—P/E is calculated by smoothing 10-year earnings. Monthly P/Es (from 1881 to December 31, 2016) are then sorted into five quintiles (shown as vertical blue bars), from the lowest P/E to highest P/E (as you read the chart left to right).
A high P/E means the market is expensively priced. The blue bars then show the subsequent 10-year average annualized real total returns that were achieved (sorted by quintile).
Note the number at the top of each blue bar. That's the average subsequent return in each valuation quintile. See the red "we are here" projecting 2.2% annualized real returns over the next 10 years?
Past history is no guarantee as to what the next 10 years will look like, but I wouldn't stray too far from that bet. I think it is best to play defense and be in a position to play offense when we get to the "we'd be better off here."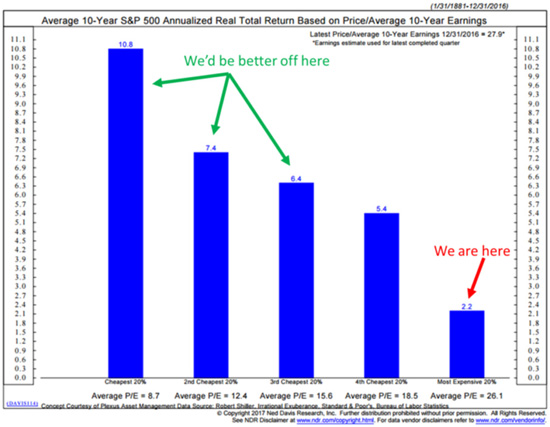 Source: Ned Davis Research
Risk—This chart shows the corrections and the length of days the corrections lasted. Circled in blue are the corrections by percent that occurred in the decade between 2000 and 2010 (left-hand side "Loss %").
For example, the 2001 correction was -30% and lasted 435 days. The 2002 correction took the market down another -32% and lasted about 140 days. Collectively, that compounded to about -50%. The 2009 correction was -55% and lasted about 355 days.
 Also, take a look at the corrections in the 1980s (red circles) and the 1990s (light blue circles).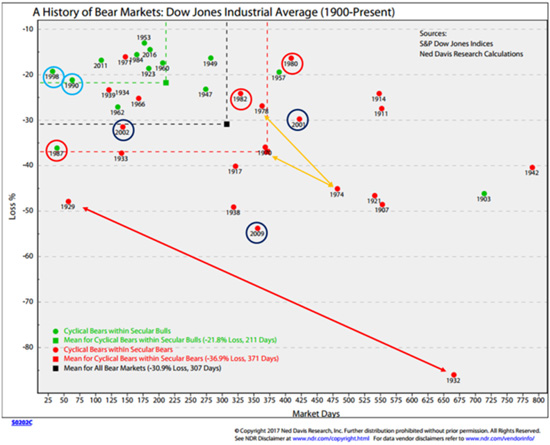 Source: Ned Davis Research
Note that the mean correction for a cyclical bear market that exists within a larger secular bull market cycle is a -21.8% loss that took 211 days. Note too that the mean correction for a cyclical bear within a secular bear market cycle is a loss of -36.9% that took 371 days.
For what it's worth, I believe we sit in a secular bull market cycle.
My friend, John Mauldin, wrote many years ago that he expects three recessions before the deck is reset. We've had the first two.
My point is to stay vigilant, as the largest declines tend to occur from points of extreme overvaluation—which is where we are today. You can find a detailed summary of various assessments of the most recent valuation measurements here.
My other point is that a better opportunity awaits. Stay patient and be prepared to act when we get to the "we'd be better off here" valuation area (quintiles 1, 2, and 3 in chart 1 above).
It's important to keep in mind that the herding of everyday investors into traditional buy-and-hold equity market investing today is in full bloom.
In the late 1990s, many investors were herded into the tech sector. The same thing happened in the 2007–2008 housing and equity markets.
We all know how those two trends ended.
Sometime over the next several years, we'll have a recession. They happen. They're normal. They're healthy. Recessions have occurred on average about once every five years or so since World War II.
As I shared with you in recession charts last week, there is currently no sign of recession. Data dependent, as they say.
Stephen Blumenthal founded CMG Capital Management Group in 1992 and serves today as its Executive Chairman and CIO. Steve authors a free, weekly e-letter entitled, On My Radar. Steve shares his views on macroeconomic research, valuations, portfolio construction, asset allocation, and risk management.

The objective of the letter is to provide our investment advisors' clients and professional investment managers with unique and relevant information that can be incorporated into their investment process to enhance performance and client communication.